U.S. employment overview: tracking trends in real-time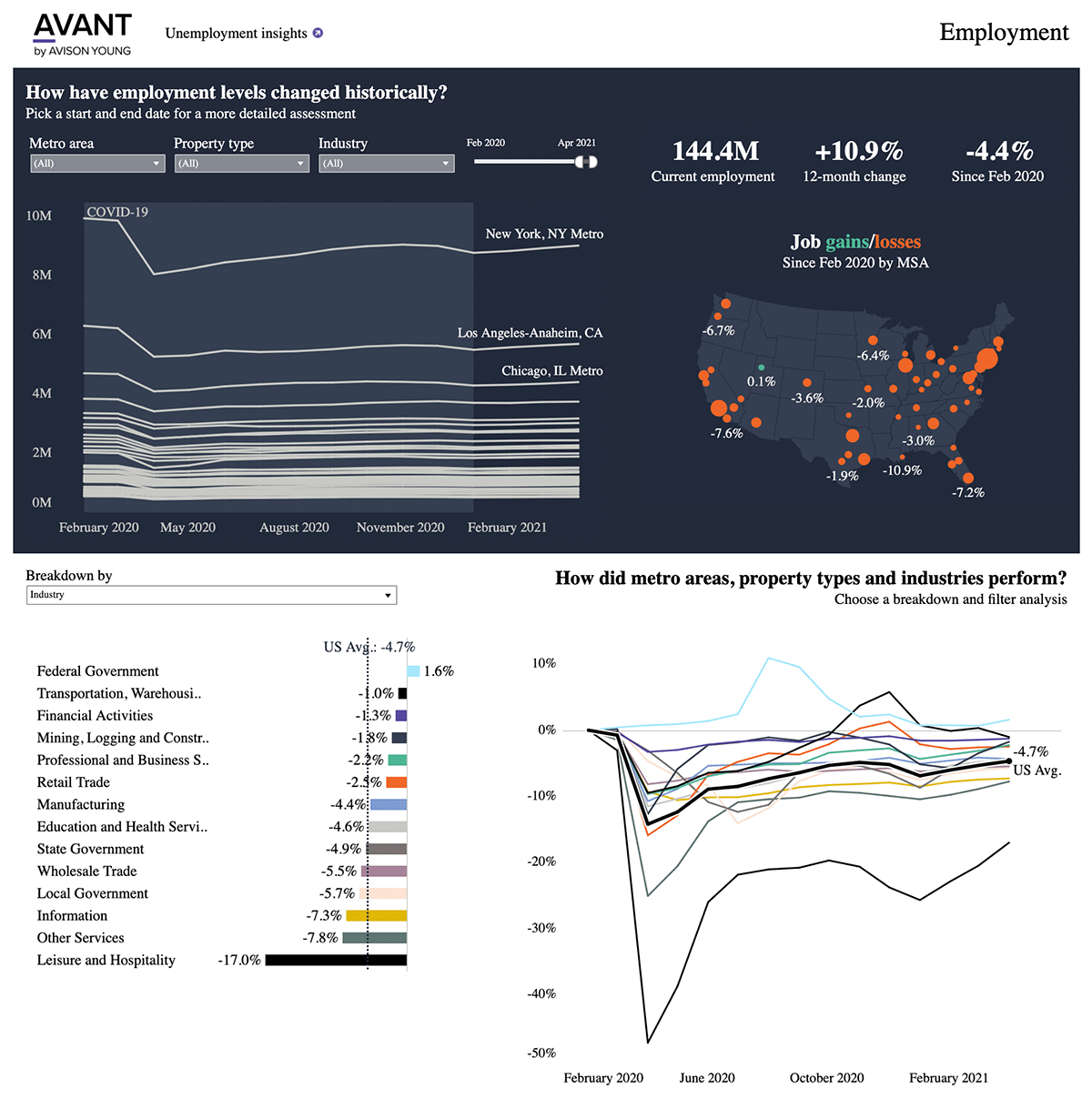 This dashboard is best viewed in a wider browser window.
Despite clear signs that workers are returning from the pandemic sidelines, the U.S. jobs report for November was well under consensus projections. Employers added 210,000 jobs in the month, more than 50 percent below expectations.
For November, the private sector exclusively contributed to job growth, with Professional Business Services alone adding more than 90,000 new jobs. Employment in the Government and Retail sectors were headed in the other direction, losing 25,000 and 20,000 positions, respectively.
Employers continue to face challenges as the economy recovers. Turnover is at record levels, with 4.4 million voluntarily leaving their jobs in November. This indicates increasing worker confidence in the job market, as well as burnout in some sectors. In response, companies have hiked wages to lure staff, jumping an average of 5.3 percent in the past year.
The evidence of heightened confidence in the job market is also demonstrated by the labor participation rate, at 61.8 percent is now at its highest level to date in 2021. The unemployment rate continues to drop, now at 4.2 percent as new workers are hired. For skilled employees—those with college degrees—the unemployment rate drops to a minuscule 2.3 percent as employers struggle to fill those positions.
Regional differences seen over the past several months continued in November. Employment in select Sunbelt markets exceeds pre-pandemic levels, like Austin, Texas, which has posted 3.6 percent growth. East Coast cities continue to see labor force numbers that have not recovered, down 3.5 percent or more in Philadelphia, New York, and Washington D.C. from pre-pandemic levels.
There are reasons for optimism, as re-entrants—those on the sidelines during the pandemic—are returning to work. The share of re-entrants as a percentage of unemployed increased significantly in November, rising to 31.8 percent, a sign of a strengthened job market. It remains to be seen, however, if the rate of turnover among those returning workers will decline, or if it is part of the post-pandemic reality.
This dashboard leverages Avison Young's data-based analytics platform, AVANT by Avison Young. AVANT makes city data more accessible and understandable, allowing clients to make informed, strategic decisions and realize the full potential of their real estate.
Key contacts