U.S. employment overview: tracking trends in real-time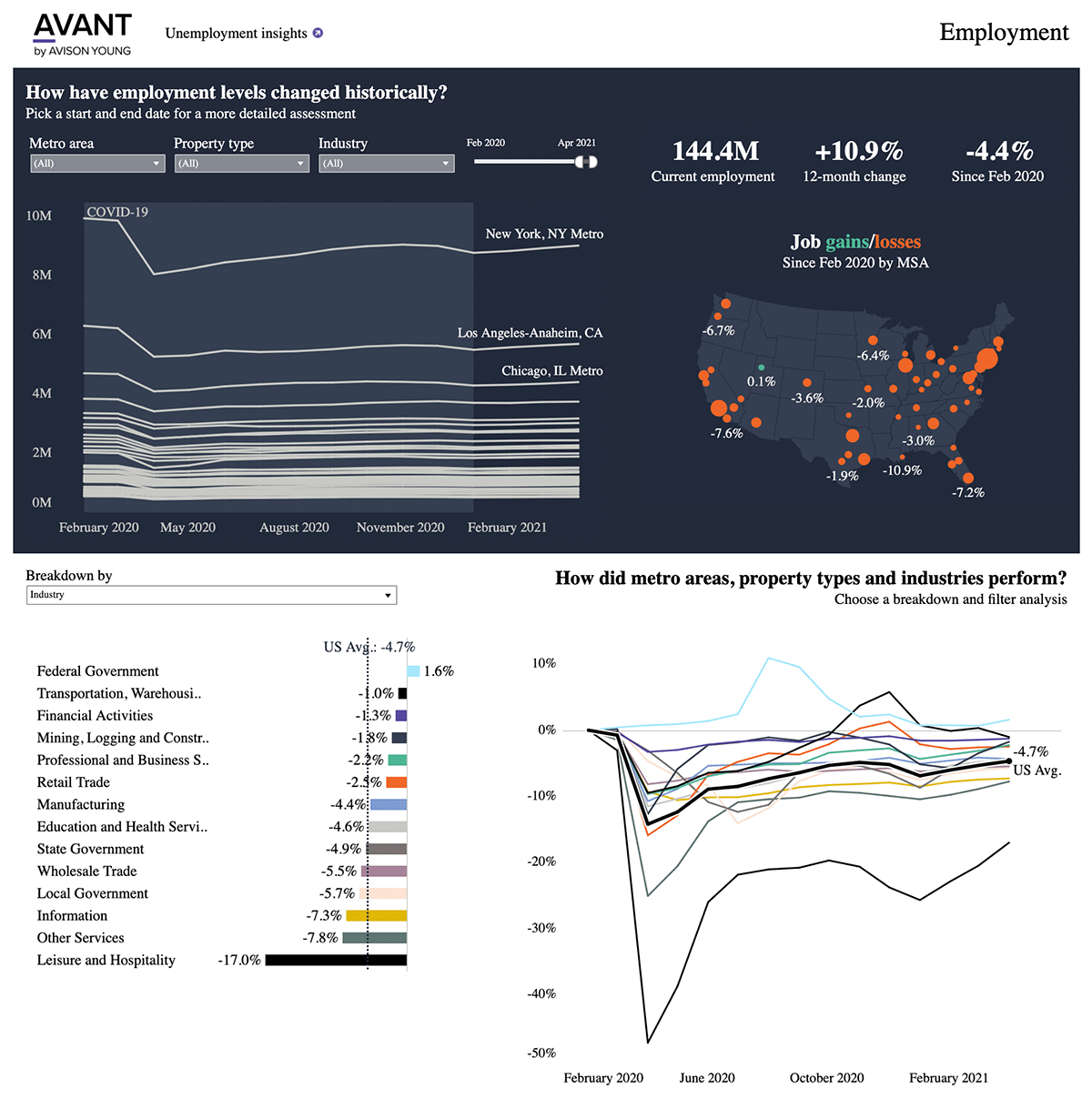 This dashboard is best viewed in a wider browser window.
The U.S. jobs report for December brought mixed messages, with evidence of growing confidence in the jobs market but another month when numbers fell below projections. Employers added 199,000 jobs in the month, which was less than 50 percent of the projected 422,000 jobs.
Despite this missed projection there is strong evidence of growing confidence. The labor participation rate ended 2021 at its highest level for the year at 61.9 percent. Overall unemployment continues to fall, now at 3.9 percent, and even lower among college graduates at a tiny 2.1 percent.
Growth continues to be strong in the private sector, with Leisure and Hospitality and Professional and Business sectors leading the way, adding 96,000 jobs. The Retail sector lost 12,000 jobs, but that was much less than November, as was the case in Government where just 2,100 positions were lost.
The continuing quest to fill open positions is an ongoing challenge for employers, who have responded by hiking wages to lure staff, a move that puts additional inflationary pressure on the economy. Overall wages jumped 4.9 percent in 2021, and a whopping 14.1 percent in the Leisure and Hospitality sector.
Throughout 2021 there were significant regional differences in the labor force, a trend that continued in December. In Sunbelt markets, jobs have surpassed pre-pandemic levels. For example, Austin, Texas posted 4.7 percent job growth in December, up from 3.6 percent in November. But in East Coast cities there was evidence of employment regression, with Philadelphia, New York, and Washington D.C. losing 4.0 percent or more of their respective labor forces compared to pre-pandemic levels.
A bright spot is a notable decrease in the percent unemployed that had permanent job losses, down 150 basis points to 35.8%. The strong job market means that the share of new entrants as a percentage of unemployed also increased, rising to 8.1 percent. It remains to be seen if the rise of the omicron variant disrupts these positive trends or if labor force participation continues to increase.
This dashboard leverages Avison Young's data-based analytics platform, AVANT by Avison Young. AVANT makes city data more accessible and understandable, allowing clients to make informed, strategic decisions and realize the full potential of their real estate.
Key contacts