U.S. employment overview: tracking trends in real-time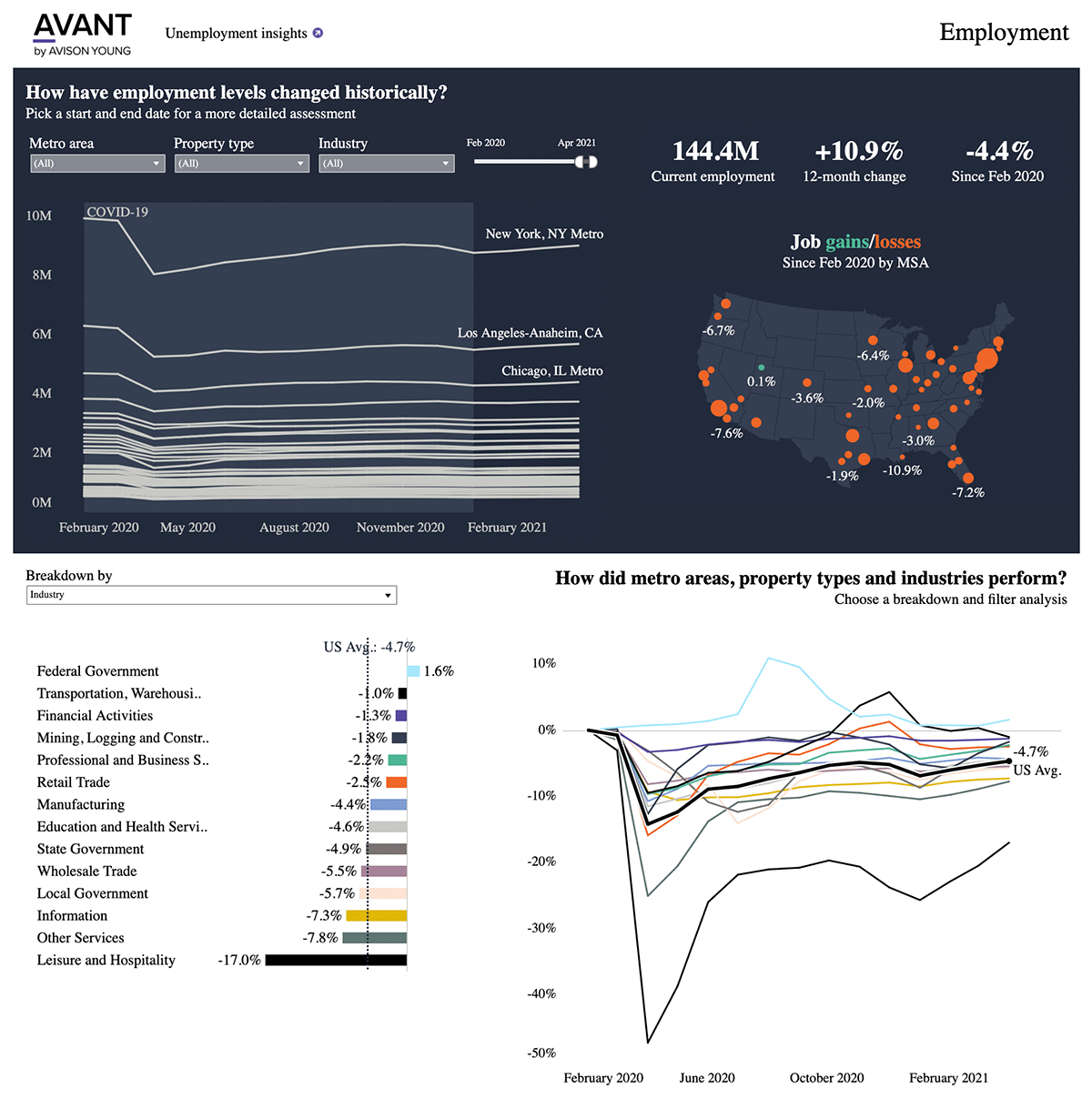 This dashboard is best viewed in a wider browser window.
The U.S. economy continues to outpace job projections and is showing growth across many sectors. However, job openings, inflation, and efforts to stem it are areas of concern heading further into 2022.
May 2022 jobs numbers continued to beat consensus projections, with the economy adding 390,000 jobs compared to the 328,000 projected by economists. However, this is the first time in many months that job adds have dipped below 400,000. The top two sectors were Leisure and Hospitality and Professional and Business Services, which added 84,000 and 75,000 new jobs, respectively. Across major metropolitan areas, more than half now have more jobs than they did pre-pandemic.
The good news is that these increased jobs are bringing workers off the sidelines. Of those unemployed, the percent that were new or returning to the labor force constituted 41.4%, a notable increase from the 39.7% seen last month. Those voluntarily leaving jobs also fell to 12.8%, down from the most recent high of 15.1%.
However, the job market continues to remain tight. The unemployment rate has not budged from 3.6% for another consecutive month and remains near the pre-pandemic low of 3.5%. Combined with a relatively flat labor force participation rate of 62.2%, this has contributed to a historically high number of job openings, currently at 11.4 million.
Inflation continues to be the elephant in the room. Despite its slowing rise, the year-over-year increases are outpacing wage growth in multiple major sectors of the economy. This is directly eating away the real wage gains for many employees. As the Federal Reserve becomes increasingly bullish on interest rate hikes, the question will be whether they can toe the line between lowering inflation while keeping interest rates low enough to avoid a potential recession.
This dashboard leverages Avison Young's data-based analytics platform, AVANT by Avison Young. AVANT makes city data more accessible and understandable, allowing clients to make informed, strategic decisions and realize the full potential of their real estate.
Key contacts