East Bay/Oakland office market reports
Q3 2021: The pandemic has hampered the East Bay/Oakland economy but incremental signs of recovery are spreading across the region.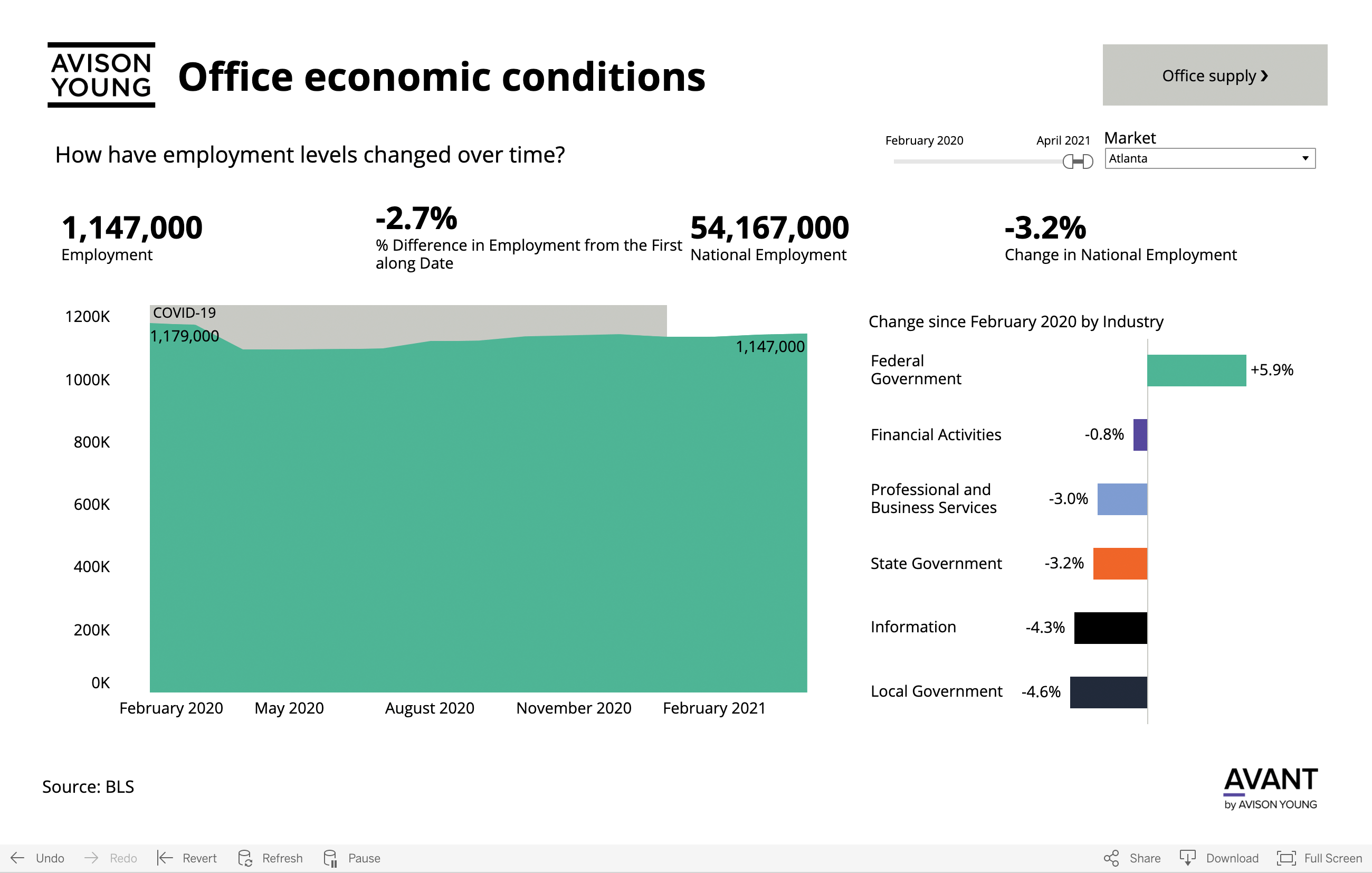 This dashboard is best viewed in a wider browser window.
Tenants and landlords continue to navigate an evolving return-to-work and work-from-home environment, causing leasing demand to sputter. Vacancy remains elevated but tour activity and investment sales are increasing, leading to a growing sense of optimism in the office market.
6.4%
Economic conditions
The East Bay/Oakland unemployment rate continues to decline from a high of 14.6 percent in April 2020 to 6.4 percent now.
-38.5%
Leasing activity
With totals below the historical average, leasing activity mildly improved during Q3 after a slow first half of 2021.
15.9%
Vacancy
Driven mostly by an uptick in Oakland CBD, total vacancy increased 219 basis points from the beginning of the year.
779K
Sublease space
Sublease growth may have subsided as sublease vacancy fell 17.1 percent quarter-over-quarter.
-3.4%
Rental rate
East Bay/Oakland Class A average asking rents decreased by only 3.4 percent from the peak in 2020 through 3Q 2021.
-17.7%
Capital markets
Investment totals for 2021 have eclipsed 2020 but remain depressed by an annualized rate of 17.7 percent compared with the prior five-year average dollar volume.
Your source for the latest East Bay/Oakland office market reports
Get in-depth office market reports and insights from commercial real estate experts in the Greater East Bay/Oakland area. Avison Young advisors look at East Bay/Oakland commercial real estate activities and the latest East Bay/Oakland statistics to provide you expert market research on East Bay/Oakland's office properties.
Explore different topics like the latest office market pricing trends and analysis of East Bay/Oakland's current office real estate market conditions. Gain a better understanding of East Bay/Oaklands office real estate outlook and stay ahead of current office space trends. Make smart decisions when it comes to investing in office properties in East Bay/Oakland's competitive office real estate market. Avison Young is your trusted source for commercial real estate office market insights in East Bay/Oakland.
The dashboard was delivered through AVANT by Avison Young: leveraging real-time data and analytics to make cities and location-based decisions more transparent and efficient. Learn more about AVANT.
Get the latest East Bay/Oakland office market reports right in your inbox