Avison Young's research team provides comprehensive and original intelligence on the commercial real estate market for our clients. Whether you need vacancy rate and absorption details for your local office, industrial or retail market, capitalization rates (cap rates) and sale prices for recent investment properties, or timely overviews of overall market trends, Avison Young offers up-to-date, reliable data coupled with expert insights from our field-based research professionals.
For more information, contact our research staff.
Office Market Snapshot Q1 2021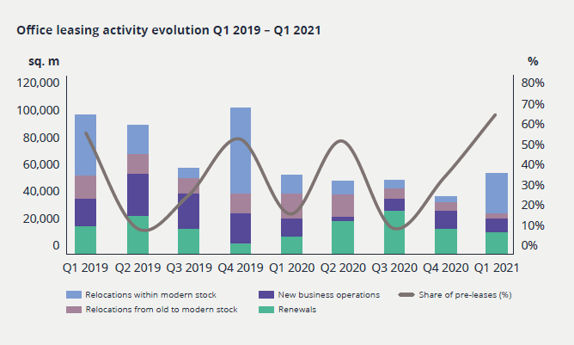 29 Apr 2021
With around 64,000 sq. m completed in Q1 2021, the office stock in Bucharest stands at 3.3 million sq. m. The largest sub-markets in terms of supply continue to be Pipera South, Barbu Vacarescu – Floreasca and Central West.
Five office projects have been finalized, with a total GLA of 64,000 sq. m, the largest being One Floreasca Tower in Barbu Vacarescu – Floreasca submarket and Campus building 6.2 in Central West. By the end of Q4 over 200,000 sq. m are expected to be finalized, out of which 34% are in the Central West area.