John Bowles, Susan Gwin Burks, and Bruce Butler join Avison Young in Dallas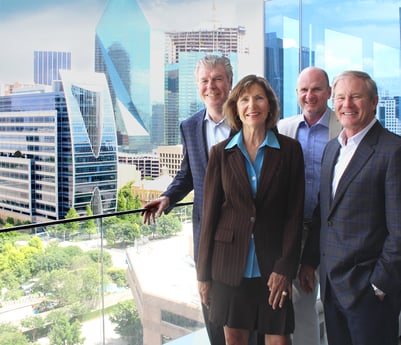 5 Jun 2019
Top investment sales brokers to launch Avison Young's Dallas capital markets team
John Bowles, Susan Gwin Burks,
and Bruce Butler join Avison Young in Dallas
Top investment sales brokers to launch Avison Young's Dallas capital markets team
Dallas — Greg Langston, Avison Young Principal and Managing Director of the company's Dallas office, announced today that John Bowles, Susan Gwin Burks and Bruce Butler have joined the firm in Dallas as a capital markets brokerage team.
Effective immediately, Bowles, Gwin Burks and Butler join Avison Young as Senior Vice Presidents in Dallas. All three come to Avison Young from Colliers International in Dallas with a goal to help grow the firm's investment sales service line across the Dallas-Fort Worth (DFW) metroplex.
"We have found the perfect team to start our capital markets group at a very opportune time in the DFW market," comments Langston. "John, Susan and Bruce all come to us with extensive area knowledge and diverse backgrounds in brokerage, management and investment sales with such companies as Colliers, Bradford, Jackson Shaw, CASE, Cushman & Wakefield and Staubach. Their strong relationships throughout the commercial real estate community and proven track record of representing owners in investment decisions make this team an excellent fit for Avison Young. We are extremely proud to welcome them to Avison Young."
Bowles brings more than 35 years of commercial real estate experience to Avison Young, including running and managing his own commercial real estate firm. The John Bowles Company, which Bowles owned for 20 years, evolved into CASE Commercial Real Estate Partners and was later acquired by Colliers International. Bowles' expertise lies in leasing, acquisitions, strategic planning, demographic and site consultation. He also has a background in a wide variety of tenant and brokerage representation.
Gwin Burks has been in the commercial real estate industry for more than 35 years and has held many leadership positions. Her experience includes roles such as senior director of investment sales at CASE and executive director of Cushman & Wakefield's capital markets division. She has served as president of both the Greater Dallas Association of Realtors (GDAR) and its commercial investment division (CID). In 2000, she was honored by the
North Texas Commercial Association of Realtors and Real Estate Professionals as the first female recipient of the Stemmons Service Award. She has also been active in Commercial Real Estate Women (CREW) and Executive Women of Dallas (EWD).
Butler started his commercial real estate career in 1984 and has been recognized for his accomplishments in the DFW area for several years running. He now specializes in the sale of income properties in multiple product lines, including office, industrial and retail.
"John has built long-term client relationships based on a commitment to integrity, creativity and consistent performance with attention to detail," says Langston. "Bruce has a very diverse and interesting background as a commercial real estate expert and as a highly successful DFW entrepreneur. His varied experience gives him a unique and in-depth perspective on real estate evaluation and decision-making. Susan's milestone achievements are proof of her professional tenacity and love of her job. Her established industry relationships are also a huge plus. Given their combined industry knowledge and experience, I know John, Susan and Bruce will build a solid foundation for capital markets in our Dallas office."
"We are thrilled to join Avison Young's growing platform. We firmly believe that the power is in the team and by suiting up at Avison Young, with the deep bench in place, we have truly elevated our game," says Burks on behalf of the team. "We were drawn to Avison Young because of its collaborative partnership, local-level management and entrepreneurial work environment. We are also eager to collaborate with our new colleagues in Houston and across North America, Europe and Asia."
Langston adds, "With strong potential future growth and the liquidity of a gateway market, Dallas continues to outperform almost every other major market in the country in investment sales. We look forward to participating in this exciting commercial real estate arena."
Avison Young is the world's fastest-growing commercial real estate services firm. Headquartered in Toronto, Canada, Avison Young is a collaborative, global firm owned and operated by its Principals. Founded in 1978, with legacies dating back more than 200 years, the company comprises approximately 5,000 real estate professionals in 120 offices in 20 countries. The firm's experts provide value-added, client-centric investment sales, leasing, advisory, management and financing services to clients across the office, retail, industrial, multi-family and hospitality sectors.
-end-
For further information/comment/photos:
• Greg Langston, Principal and Managing Director, Dallas, Avison Young: 214.269.3115
• John Bowles, Senior Vice President, Dallas, Avison Young: 214.269.3102
• Susan Gwin Burks, Senior Vice President, Dallas, Avison Young: 214.269.3106
• Bruce Butler, Senior Vice President, Dallas, Avison Young: 214.269.3122
Avison Young is a 2019 winner of the Canada's Best Managed Companies Platinum Club designation, having retained its Best Managed designation for eight consecutive years.
Follow Avison Young on Twitter:
For industry news, press releases and market reports: www.twitter.com/avisonyoung
For Avison Young listings and deals: www.twitter.com/AYListingsDeals
Follow Avison Young Bloggers: http://blog.avisonyoung.com
Follow Avison Young on LinkedIn: www.linkedin.com/company/avison-young-commercial-real-estate
Follow Avison Young on YouTube: www.youtube.com/user/AvisonYoungRE
Follow Avison Young on Instagram: www.instagram.com/avison_young_global