Local Group picks up two-story Edgewater office building for $2.53M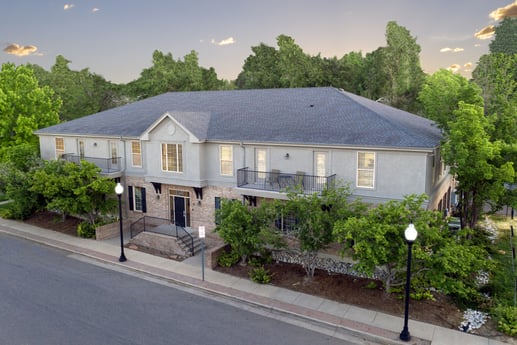 11 Dec 2019
5395 West 25th Ave LLC sells office property in trending Edgewater location
Denver, CO – Avison Young, the world's fastest-growing commercial real estate services firm, announced it negotiated the $2,530,000 sale of 5395 W. 25th street in Edgewater, CO. This 10,038 square foot, two-story office building is located along Edgewater's 25th Avenue historic "MainStreet" in Denver's West office submarket. One hundred percent occupied upon closing, the property sold on November 15, 2019.
Jaimee Keene, a Vice President based in Avison Young's Denver office and Avison Young Principal Rick Egitto, CCIM also in the firm's Denver office, represented the seller, 5395 West 25th Ave LLC, in the transaction. "It was a great time to realize the property appreciation in the market," said Patrick Walsh of 5395 West 25th Ave LLC.
Location, location, location — the urbanized suburban enclave in Edgewater near Sloan's Lake is experiencing a commercial revitalization. Edgewater borders Sloan's Lake neighborhood, which has experienced transformational growth over the past few years, influencing revitalization in Edgewater. The property is just as short walk from the recently opened Edgewater Public Market, Sloan's Lake, and other amenities popping up along Edgewater's historic "MainStreet." Further, it's a 10-minute drive to downtown Denver, and less than 10 minutes to I-25, I-70, or US Highway 6, with two light rail stations nearby.
"Given the rise in demand in this niche, up-and-coming location with limited supply, this property drew high interest from investors as well as owner/users, resulting in multiple offers and going under contract in a month's time," said Keene.
BBG, Inc. occupies much of the building, allowing for Red Chair Realty Advisors, LLC to occupy 50 percent of the building's first floor upon closing.
The buyer, Rick Flannagan of Red Chair Realty Advisors, LLC, was self-represented in the deal. "We're excited to call 5395 W 25tth our new home and feel lucky to find such an attractive investment in an area poised for growth and new development," Flannagan said. "This location is exciting for us also because of the proximity to Sloan's Lake and quick access to Denver central." The location is to serve as the headquarters location for the growing Red Chair Realty Advisors.
Avison Young is the world's fastest-growing commercial real estate services firm. Headquartered in Toronto, Canada, Avison Young is a collaborative, global firm owned and operated by its Principals. Founded in 1978, with legacies dating back more than 200 years, the company comprises approximately 5,000 real estate professionals in 120 offices in 20 countries. The firm's experts provide value-added, client-centric investment sales, leasing, advisory, management and financing services to clients across the office, retail, industrial, multi-family and hospitality sectors.