Avison Young team spends Day of Giving at two Houston non-profit organizations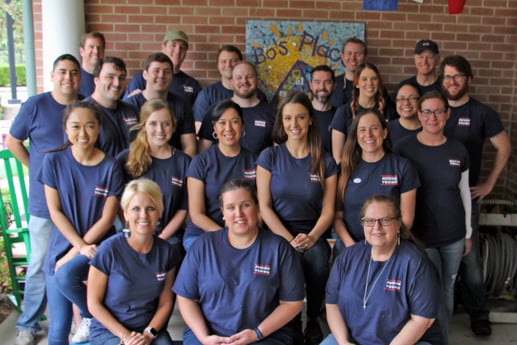 26 Oct 2018
Houston — Avison Young's Houston team rolled up their sleeves to volunteer at two charitable organizations, Bo's Place and Interfaith Ministries for Greater Houston (IM), for their fifth annual global Day of Giving on Thursday, October 25, 2018. All 84 Avison Young offices in the U.S. and around the world simultaneously participated in their communities on a volunteer project of their choice.
Avison Young's Houston employees spent the morning planting, painting and quilting at Bo's Place, Houston's largest free-standing bereavement center. The center has a special place in the hearts of the firm's staff because it was named in memory of Laurence Bosworth "Bo" Neuhaus, Jr., brother of Avison Young Principal Charlie Neuhaus. Bo passed away at the age of twelve from liver cancer in 1985.
"Avison Young's commitment to community service is truly inspiring," says Neuhaus. "I am extremely proud to serve as a principal for a company that takes the time to make a difference for those who need guidance and assistance during difficult times. It's not always about the profit at Avison Young. It's about the people."
Neuhaus and Avison Young Principal Harry Holmes previously served on the Board of Directors of Bo's Place and currently serve on its Advisory Board.
The Avison Young team continued their day-long community service in the afternoon at IM, a non-profit organization that brings people of all faiths together to serve people in need in the greater Houston area. They assembled pet care packages for IM's aniMeals on Wheels program, sorted donations and placed wellness check calls to IM clients.
"When you have a company that promotes the spirit of giving and encourages their employees to give back to their communities, you have a tremendous opportunity to improve the well-being of society," remarks Rand Stephens, Avison Young Principal and Managing Director of the company's Houston office. "Today we focus on Bo's Place and Interfaith Ministries, but throughout the year, our office actively supports other local charities as well, such as the YMCA's Operation Backpack, Casa de Esperanza and the Houston Area Women's Center. "I'm proud to say that our office has big-hearted individuals that give back to their communities and continue to make Houston strong."
Avison Young Group at Bo's Place2018
Avison Young Staff Working at Bo's Place2018
Avison Young Working at IM2018
Avison Young is the world's fastest-growing commercial real estate services firm. Headquartered in Toronto, Canada, Avison Young is a collaborative, global firm owned and operated by its principals. Founded in 1978, the company comprises 2,600 real estate professionals in 84 offices, providing value-added, client-centric investment sales, leasing, advisory, management, financing and mortgage placement services to owners and occupiers of office, retail, industrial, multi-family and hospitality properties.
-end-
For further information/comment/photos:
Sandra Hill, Communications Coordinator, Houston, Avison Young: 713.993.7840