Avison Young negotiates 15,780-square-foot lease for HighTower Texas in uptown Houston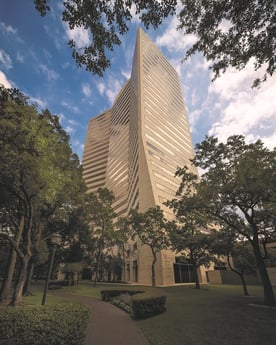 14 Nov 2018
Space will become headquarters for company's planned Texas expansion
Houston — Avison Young, the world's fastest-growing commercial real estate services firm, announced today that it has negotiated a long-term, 15,780-square-foot (sf) office lease on behalf of wealth management firm HighTower Texas in uptown Houston.
HighTower Texas, the tenant, committed to an eight-year lease term with landlord SRI Nine Five POP, L.P. Avison Young Principal Harry Holmes, who is based in the company's Houston office, represented the tenant with Trey Strake of Cushman & Wakefield. The landlord was represented by Damon Thames of Colvill Office Properties.
HighTower, one of the nation's largest registered investment advisors, recently acquired Salient Private Client (SPC) and Salient Trust Co., LTA. The wealth advisory and trust business will now be known as HighTower Texas and will be relocating its new headquarters on the 26th floor of 4400 Post Oak Parkway in uptown Houston from 4265 San Felipe. This transaction is HighTower's largest single-office-location acquisition to date and marks the firm's entry in Texas, one of the fastest-growing markets in the U.S. January 2019 is the anticipated move-in period. The space will receive modern upgrades to be installed prior to the firm's move-in. The property recently added a 3,600-sf conference center and a 3,000-sf fitness center.
"We are excited to assist HighTower Texas with its relocation as the firm enters the Texas market and expands its wealth-management footprint with a well-established advisory practice," comments Holmes. "The employees of HighTower Texas will enjoy a quality office building in an amenity-rich location that is easily accessible."
"The 4400 Post Oak Parkway location provides convenient access for our client base concentrations in River Oaks, Tanglewood, Memorial, West University, and downtown Houston," says Matthew P. Summers, Director, HighTower Texas. "It gives us the space necessary to continue to grow our practice."
Avison Young is the world's fastest-growing commercial real estate services firm. Headquartered in Toronto, Canada, Avison Young is a collaborative, global firm owned and operated by its principals. Founded in 1978, the company comprises 2,700 real estate professionals in 85 offices, providing value-added, client-centric investment sales, leasing, advisory, management, financing and mortgage placement services to owners and occupiers of office, retail, industrial, multi-family and hospitality properties.
-end-