Avison Young Capital Markets Group Brokers $10M+ Class A Office Building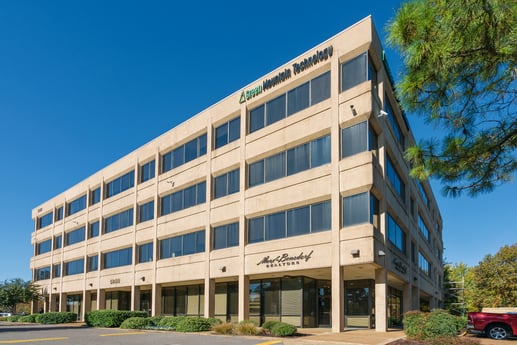 13 May 2019
Memphis, TN - Avison Young, the world's fastest-growing commercial real estate services firm, announced that it has negotiated the sale-leaseback of Green Mountain Technology's 53,907-sf Class A office headquarters in Memphis, Tennessee.
Avison Young's Shane Soefker, Jacob Biddle, and Greg deWitt represented the seller, Trafalgar Village Investments, LLC. New York-based Royal Oak Realty Trust purchased the property for $10.05 million. The property is a single-tenant office building located in the 204-acre Ridgeway Center Master Planned Development in the heart of the East Memphis Business District at Poplar Avenue and Interstate 240. It has served as the corporate headquarters for Green Mountain Technology (GMT) since the firm purchased the property in 2014.
"We are seeing sustained demand for quality properties across product types and submarkets in the Memphis market," said Soefker. "This transaction was a true win-win for both parties involved as Green Mountain Technology leveraged the opportunity to monetize their headquarters assets and secured a long-term lease to continue to operate its headquarters facility. Royal Oak Realty Trust secured a rare opportunity to purchase a property within the premier office submarket in the Memphis MSA with a well-capitalized and respected tenant. The resulting transaction brought value to both the buyer and seller."
GMT partners with the world's largest parcel shippers to plan, execute and monitor high volume parcel networks. GMT's Parcel Spend Management (PSM) solution simplifies network complexity, drives increased profitability, and enhances the customer experience through a suite of tech-enabled services. It starts with a best-in-class parcel audit and invoice automation, then leverages that data for advanced analytics, optimization, and ongoing network improvement and contract management projects. GMT's highly engaged, strategic delivery model, unique network modeling and re-rating technology, and Fortune 500 customer base, uniquely positions the firm to deliver unparalleled value. GMT customers represent more than $5 billion in parcel spend and consistently experience a 5-10X return, net of fees. GMT's outcomes are proven by numerous customer honors including QVC's Supply Chain Partner of the Year and Office Depot's Partnership Award.
Avison Young is the world's fastest-growing commercial real estate services firm. Headquartered in Toronto, Canada, Avison Young is a collaborative, global firm owned and operated by its Principals. Founded in 1978, with legacies dating back more than 200 years, the company comprises approximately 5,000 real estate professionals in 120 offices in 20 countries. The firm's experts provide value-added, client-centric investment sales, leasing, advisory, management and financing services to clients across the office, retail, industrial, multi-family and hospitality sectors.