PRESS RELEASE: Avison Young Hosts "Evaluating the New Normal for Commercial Real Estate" Webinar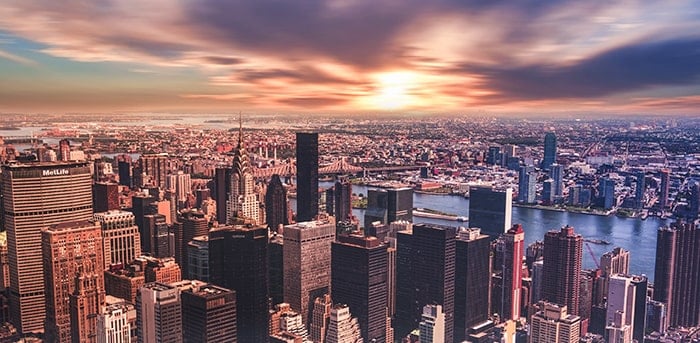 13 May 2020
James Nelson, head of Avison Young's Tri-State Investment Sales, along with global director of research Nick Axford and NYC head of project management Kirsten Beck, analyze the future for CRE in a post-pandemic world
New York City – May 13, 2020 – James Nelson, head of Avison Young's Tri-State Investment Sales Group, along with Avison Young colleagues Nick Axford, Global Director of Research based in London, and Kirsten Beck, Vice President and head of the firm's project management initiatives in the New York office, hosted a recent webinar presentation and discussion entitled Evaluating the New Normal for Commercial Real Estate.
Over 200 attendees dialed into the hour-long online presentation examining both the "new normal" for the future of commercial real estate as well as what it will be like to return to the workplace in a post COVID-19 pandemic environment.
"The commercial real estate profession we left at the start of the COVID-19 outbreak will not be the same one we return to," notes Nelson. "New information and projections are being discussed constantly on what will change as a result of the pandemic, but no one knows with absolute certainty what will happen. This is a fluid situation that's having an unprecedented impact on our industry - this webinar was a chance to do a deep dive into what potentially lies ahead for both commercial real estate and the office workplace in general."
During the webinar, all three discussed a framework about what the "new normal" may look like. Axford began the session stressing the difficulties of planning when there is still so much uncertainty out there. Until there is a vaccine, or a much more effective treatment, we're always going to be living on the basis that we've got to do everything we can to reduce the risk of further transmission and infection. He also mentioned that no one really knows what the full economic fallout is going to be or what impact this will have on real estate and investments.
But down the road, there will be various categories that will likely be part of the new normal:
Structural changes that were already underway that have been accentuated by COVID. Things like flexible working, the impact of technology and remote working, people assessing supply chains and supply chain risk, and a focus on wellness at work have been happening but they're now being accelerated.

Business travel will change dramatically. With the substantial increase in Zoom calls since the pandemic started and concerns about planes and mass transit, as well as cost-benefit, the idea of traveling for business will be altered.

Also, on a "bigger picture" level, we're always going to be living with the threat of a future virus and it will be a different world. Office space is going to look different, and flexible working in all sorts of forms is likely to play a more important part for many more people and many more organizations going forward. A parallel situation is the post-9-11 world, in which there were social changes and adjustments such as increased building security that we adapted to that are considered normal now.
Beck followed up with an analysis of when New York is going to reopen and when workers will go back to the office. Everything is predicated on a four-phase plan from Governor Cuomo, but more importantly there are seven protocols that every region in New York has to meet. These benchmarks include:
14-day decline in hospitalizations or under 15 new hospitalizations on a three-day average

4-day decline in hospitalized deaths or under five new on a three-day average

New hospitalizations: Under two per 100,000 residents on a three-day rolling average

Share of total hospital beds available (threshold of 30 percent)

Share of ICU beds available (threshold of 30 percent)

30 per 1,000 residents tested monthly (seven-day average of new tests per day)

30 contact tracers per 100,000 residents or to meet current infection rate
Beck also discussed new office design changes in the wake of the COVID-19 pandemic. There will likely be reduced density in offices just by nature of having to maintain social distance, not to mention that there are people that just are not going to come back to the office. There will be a need for more protection between individuals and we'll see a movement away from things like desk phones and increased use of laptop computers. Behavioral changes such as cleaning one's desk at the end of the day will also be a part of this new normal.
The three webinar participants went on to discuss a number of things that will potentially be part of the future workforce including how commuting will change significantly; screening of employee medical conditions and taking temperatures will need to be considered; and how a reduction of employee collaboration, particularly in the short term, will take place. The end result of a post-pandemic world is that the flexible, multi-environment, collaborative, information sharing office space we've been used to will no longer be a part of our daily lives.
A Q&A period followed the presentation which addressed how sectors like industrial and medical appear to be industries that are going to emerge out of this; how there should be a countercyclical thinking approach to investing and that feared sectors such as hotel and retail may still have long-term value; an analysis of residential living and working that highlighted the potential resurgence of townhomes and increased appeal of suburban offices; and dissecting of overall commercial real estate pricing, which predicted a cap rate expansion of office and an expected increase in tenant concessions.
The session concluded with the final thought of how people are adaptable and whatever the "new normal" ends up being, the world will find a way to adjust. A full recording of the session is available by clicking HERE. A copy of the Avison Young report Evaluating The "New Normal" for Commercial Real Estate can be accessed HERE.
About Avison Young
Avison Young is the world's fastest-growing commercial real estate services firm. Headquartered in Toronto, Canada, Avison Young is a collaborative, global firm owned and operated by its Principals. Founded in 1978, with legacies dating back more than 200 years, the company comprises approximately 5,000 real estate professionals in 120 offices in 20 countries. The firm's experts provide value-added, client-centric investment sales, leasing, advisory, management and financing services to clients across the office, retail, industrial, multi-family and hospitality sectors. For more information, please visit Avison Young New York or follow them on Twitter.
Media Contacts:
Gail Donovan, Senior Director of Marketing, Tri-State
Avison Young
[email protected]
212.210.5990 - direct
or
Tom Nolan | Great Ink Communications
t
[email protected]
908.392.0333