PRESS RELEASE: Impact of COVID-19 Weighed Heavily on Manhattan Office Leasing Activity in 3Q20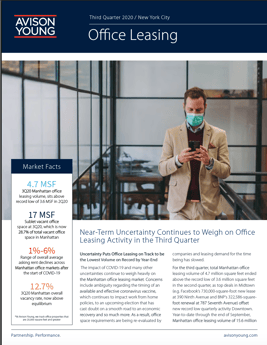 8 Oct 2020
Uncertainty Puts Manhattan Market on Track to End Year with Lowest Volume on Record
New York, NY – In the first three quarters of 2020, Manhattan office leasing volume fell 43.0 percent to 15.6 million square feet compared to the same period in 2019, putting the market on track to end the year with the lowest volume on record, according to Avison Young's Third Quarter 2020 New York City Office Leasing Report.
Manhattan office leasing volume totaled 4.7 million square feet in the third quarter, above the record low of 3.6 million square feet in the second quarter, as top Midtown deals including Facebook's 730,000-square-foot new lease at 390 Ninth Avenue and BNP's 322,586-square-foot renewal at 787 Seventh Avenue offset new record low quarterly activity Downtown.
"Renewals and extensions by some of the larger tenants, and subleases by the smaller ones, made up 25.0 percent of leasing activity in the third quarter," said Marisha Clinton, Senior Director of Research, Tri-State. "The impact of COVID-19 and many other uncertainties continued to weigh heavily on the Manhattan office leasing market. The longer the route to an economic and health recovery, the longer we can expect to see more renewals and subleases (many short-term in duration) comprise a meaningful amount of the leasing activity."
Clinton said an analysis of sublease space additions shows that approximately 6.6 million square feet of discounted sublease space has been added since March 1, of which 3.3 million square feet came on the market in the third quarter alone, bringing the total amount of sublet vacant space in Manhattan to 17.0 million square feet.
Clinton added, "The 17.0 million square feet of sublet vacant space now represents 28.7 percent of total vacant space available at the end of the third quarter. At almost 29.0 percent of total vacant space, we anticipate seeing the impact on direct average asking rents, which translates into downward pressure on overall pricing."
After rising a modest 1.0 percent year-over-year last quarter due to higher-priced inventory being left on the market, Manhattan overall average asking rents ended the third quarter at $78.90 per square foot, down 5.0 percent year-over-year.
The record high Manhattan overall vacancy rate of 12.7 percent is now above equilibrium, after coming in at 10.9 percent the end of the last quarter, indicating highly tenant favorable market. Similar record high third quarter vacancy levels were reached in Midtown (12.8 percent), Midtown South (12.5 percent) and Downtown (12.7 percent).
Click here for a copy of Avison Young's Third Quarter 2020 New York City Office Leasing Report.
Avison Young creates real economic, social and environmental value as a global real estate advisor, powered by people. As a private company, our clients collaborate with an empowered partner who is invested in their success. Our integrated talent realizes the full potential of real estate by using global intelligence platforms that provide clients with insights and advantage. Together, we can create healthy, productive workplaces for employees, cities that are centers for prosperity for their citizens, and built spaces and places that create a net benefit to the economy, the environment and the community.
Avison Young is a 2020 winner of the Canada's Best Managed Companies Platinum Club designation, having retained its Best Managed designation for nine consecutive years.
Follow Avison Young
Twitter (News) │ Twitter (Deals) │ Blog │ LinkedIn │ YouTube │ Instagram
For more information: