Chicago CBD office market reports
Q2 2021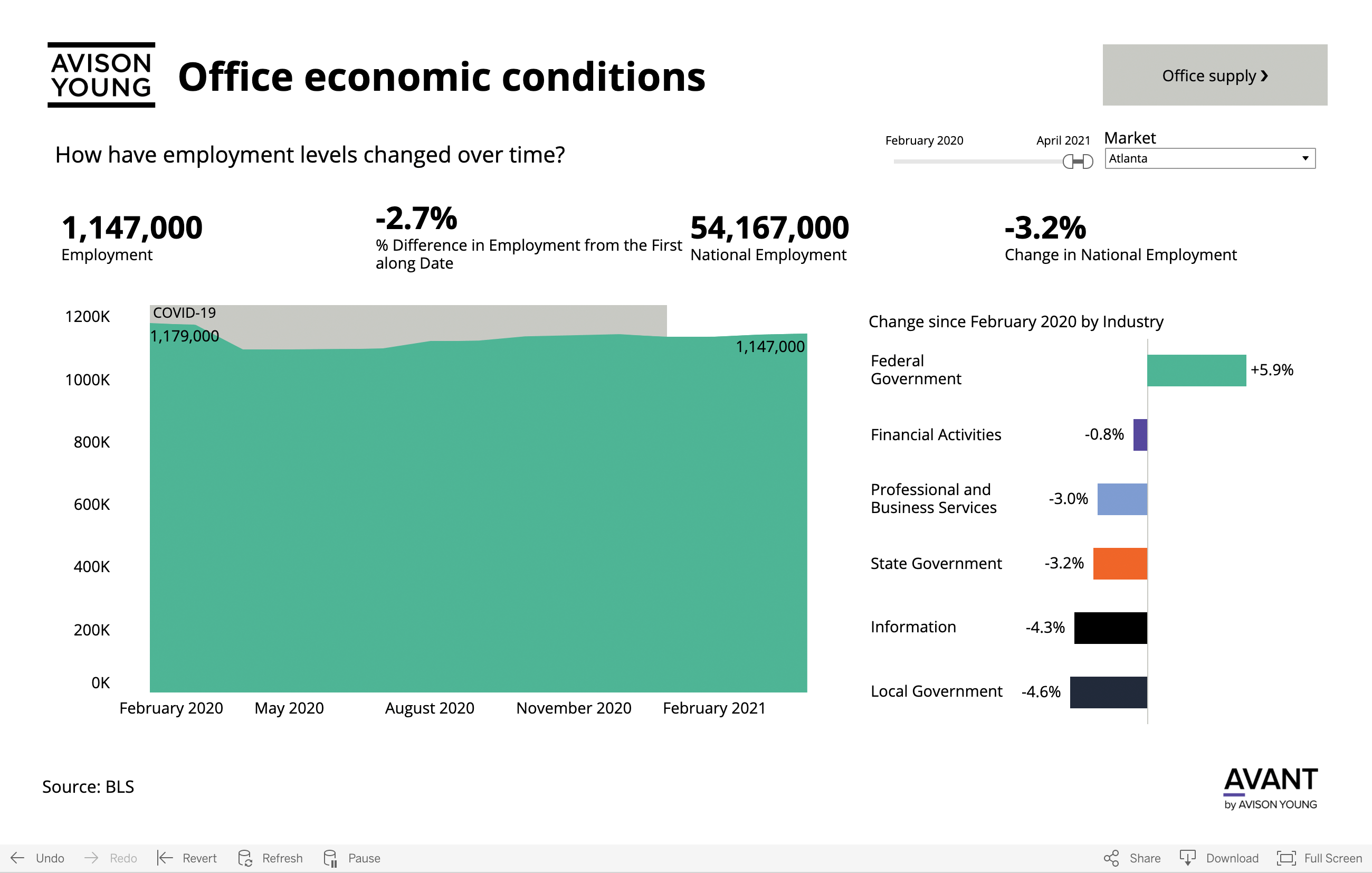 This dashboard is best viewed in a wider browser window.
Chicago CBD continues to recover from COVID-19 economic impact. As local government and businesses continue to reopen, the return to normalcy will be a progression. In the office sector, businesses are taking various approaches to return to office. Most are employing a flexible schedule not only to accommodate any ongoing health risks, but also to witness how a hybrid model operates for their specific business. Cook County vaccination rates remain slightly higher than national averages at 47.5% and 46.1% respectively. Leasing activity remains stagnant down -59.5% and sublease space has continued to spike towards 6.0 msf, though there is anticipated demand as return-to-office plans begin to take shape.
7.5%
Economic conditions
Reopening efforts and higher vaccination rates have allowed the Chicagoland unemployment rate to rebound from a high of 16.5 percent to 7.5 percent.
4.1%
Office-using job losses
Office-using job losses have totaled 4.1 percent compared with 11.0 percent for other industries' job losses, underscoring the disproportionate impact the pandemic had on the discretionary segments of the local economy.
35.7%
Recovery rate
The overall post-COVID rate of recovery based on extrapolated cell phone data is 35.7 percent.
19.7%
Chicago recovery index for select occupiers
Chicago office occupiers have navigated their return-to-work strategies differently, with banking and media firms returning more quickly than tech and law firms. The overall rate of recovery is a comparatively low 19.7 percent, though bellwether companies are beginning to mandate that their employees return to the office.
59.5%
Office leasing activity
Leasing activity has paused, decreasing by 59.5 percent compared with long-term historical averages.
60%
Office demand
The Class A segment accounts for a 60 percent share of post-COVID sublease supply.
Your source for the latest Chicago office market reports
Get in-depth office market reports and insights from commercial real estate experts in the Greater Chicago area. Avison Young advisors look at Chicago commercial real estate activities and the latest Chicago statistics to provide you expert market research on Chicago's office properties.
Explore different topics like the latest office market pricing trends and analysis of Chicago's current office real estate market conditions. Gain a better understanding of Chicago's office real estate outlook and stay ahead of current office space trends. Make smart decisions when it comes to investing in office properties in Chicago's competitive office real estate market. Avison Young is your trusted source for commercial real estate office market insights in Chicago.
The dashboard was delivered through AVANT by Avison Young: leveraging real-time data and analytics to make cities and location-based decisions more transparent and efficient. Learn more about AVANT.
Get the latest Chicago office market reports right in your inbox