Denver office market reports
Q2 2021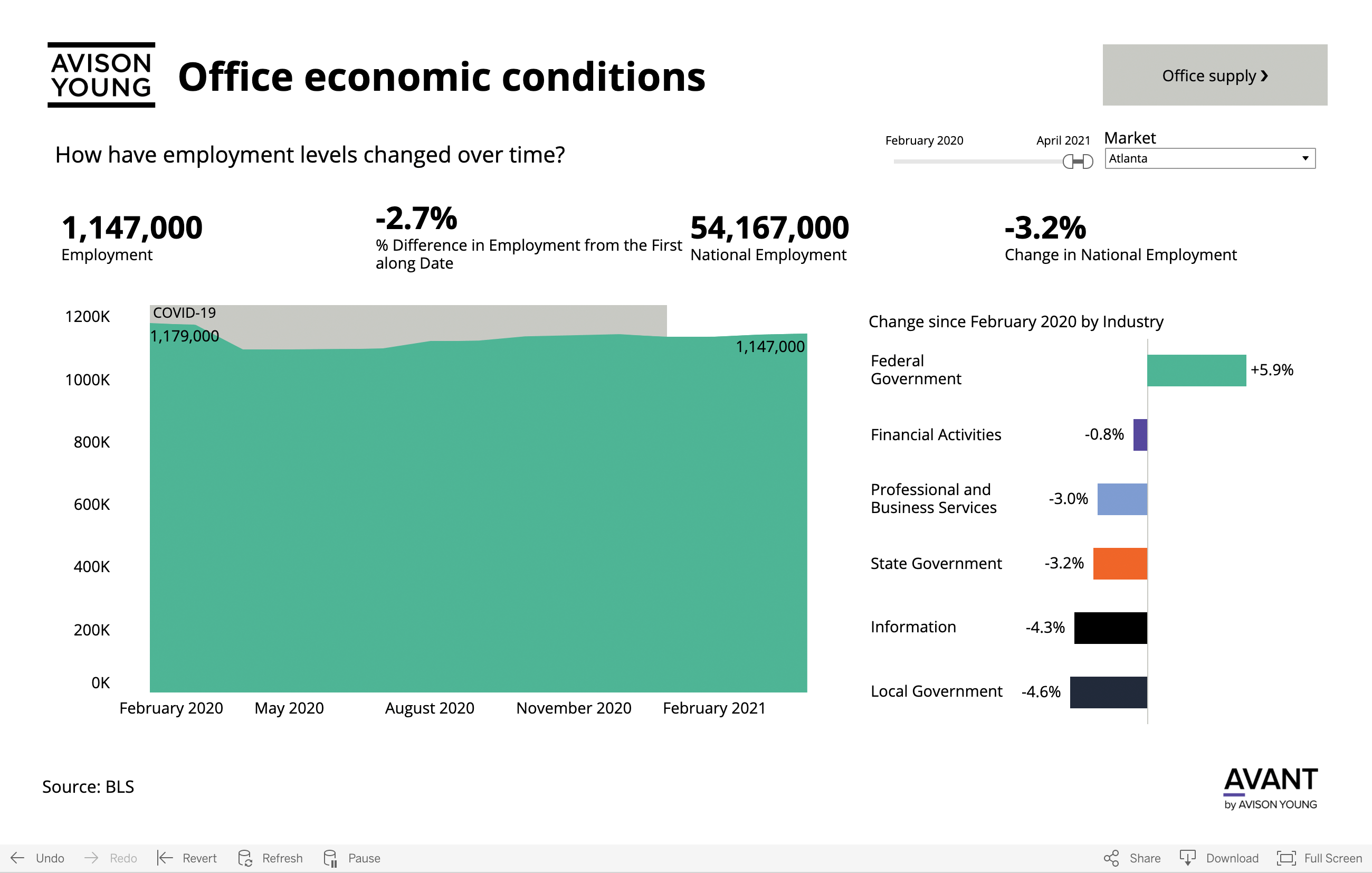 This dashboard is best viewed in a wider browser window.
Historically tightened labor market conditions were halted by the pandemic with 246,592 job losses between February and April 2020. However, reopening efforts enabled the Denver MSA to recover 83% of jobs lost at the height of the pandemic. Asking rents have held firm despite the pandemic, while the "flight to quality" trend persists as tenants begin searching for higher quality, more efficient space as they transition to return-to-work.
6.4%
Economic conditions
Unemployment rate in Denver, improved from 12.2 percent at the height of the pandemic.

57.2%
Recovery rate
Post-COVID rate of recovery based on employees returning to the office in representative locations through Q2 2021.
60.2%
Office demand
Increase in leasing activity for Q2 2021 vs. Q2 2020.

1.04 msf
Office supply
Total amount of office construction underway; office developments slated to deliver by year-end 2021 (285,000 sf), are currently 65.1 percent preleased.
$30 psf
Pricing trends
Average rental ratefor the Denver office market. Demand for high quality, efficient space continues to grow and has driven pricing among new developments into the upper $30s NNN psf.
$420.1M
Capital markets
Total office investment volume in Denver for in Q2 2021, surpassing total sales activity from the last 12 months which totaled $357.8 million.
Your source for the latest Denver office market reports
Get in-depth office market reports and insights from commercial real estate experts in the Greater Denver area. Avison Young advisors look at Denver commercial real estate activities and the latest Denver statistics to provide you expert market research on Denver's office properties.
Explore different topics like the latest office market pricing trends and analysis of Denver's current office real estate market conditions. Gain a better understanding of Denver's office real estate outlook and stay ahead of current office space trends. Make smart decisions when it comes to investing in office properties in Denver's competitive office real estate market. Avison Young is your trusted source for commercial real estate office market insights in Denver.
The dashboard was delivered through AVANT by Avison Young: leveraging real-time data and analytics to make cities and location-based decisions more transparent and efficient. Learn more about AVANT.
Get the latest Denver office market reports right in your inbox