Indianapolis office market reports
Office insights Q2 2021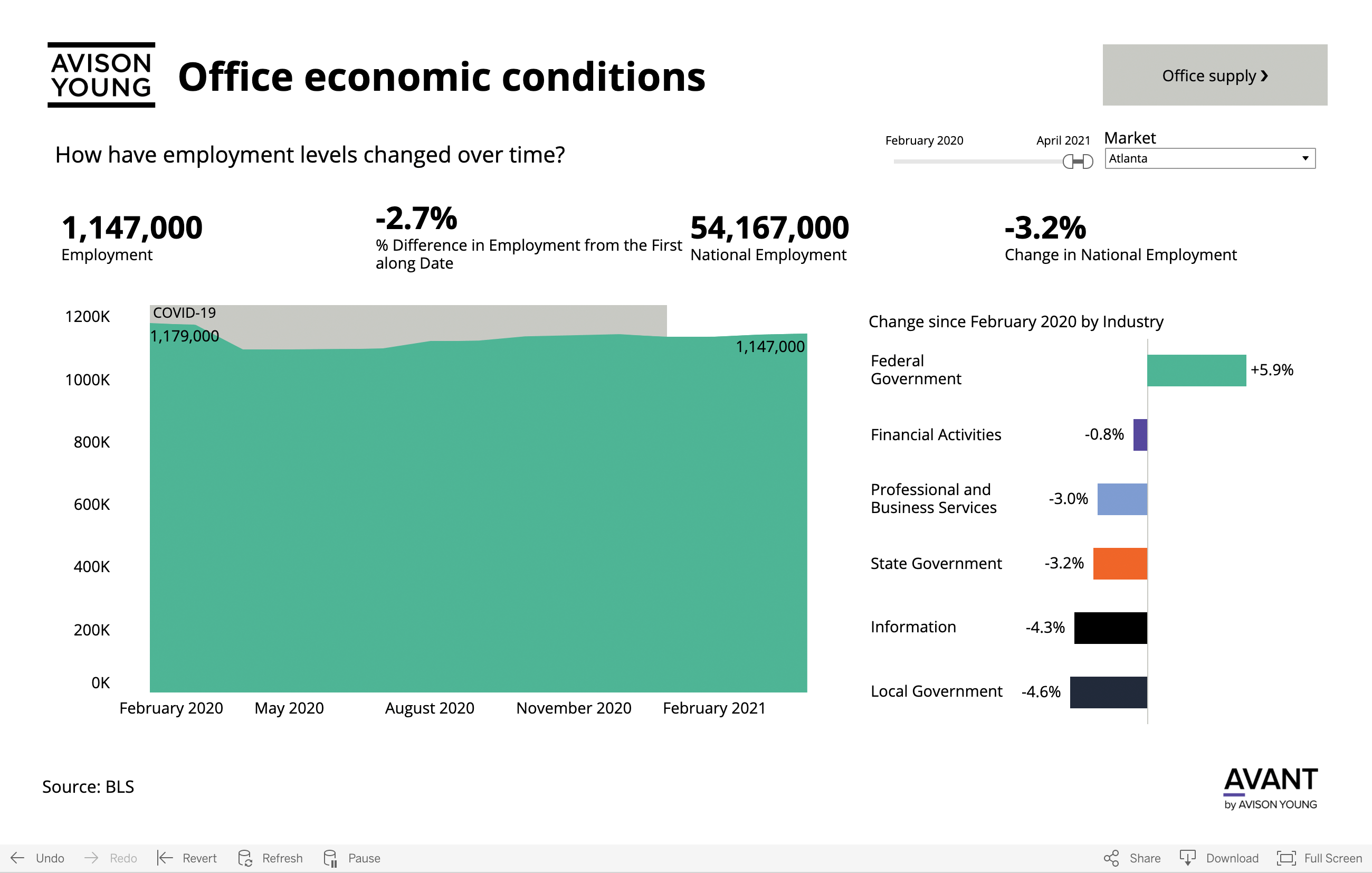 This dashboard is best viewed in a wider browser window.
Indianapolis MSA job losses have declined by 2.9% since the start of the pandemic, though office-using jobs contracted by 4.0%. The office-using labor market has been slower to recover, however signs are trending toward pre-COVID levels. Recent announcements by some of the largest employers in Indianapolis will add increased pressure to the office market.
Additionally, The city of Indianapolis completed a new Justice Center which opens in Fall, 2021; this moves the correctional jail from CBD to nearby suburb, with courts scheduled to open in 2022. Currently there are around 100.0K sf of "public defender's offices/prosecutors' offices/bail-bondsmen/public attorneys" offices in CBD. This move will likely alter office use and activity in this area by 2022. There is no real office inventory where Justice Center is being moved to, so many law offices are waiting to see what happens. Large positive trend in market is the recent accouchements of inbound Biotech/Pharmaceutical users aggregating around the Fishers area. This may lead to a clustering of Life Science users in the Indianapolis area.
43.9%
Vaccination rate
Indianapolis vaccination rate of 38.1 percent far below national average, however full MSA rate of 43.9 percent on par with national trends.
4.2%
Unemployment rate
Indianapolis unemployment rate as of April 2021, down from peak of 12.8% in April 2020.
-4.0%
Office-using employment
Change in office-using employment during pandemic. The office-using labor market has been slower to recover than overall employment, possibly due to lower-than U.S. average vaccination rates.
23.4%
Vacancy rate
Indianapolis vacancy rate is a record high in terms of direct and total percentages, as sublease rates trickle upward.
Stable
Asking rents
Asking rents have remained stable since the beginning of COVID, however this is largely due to inactivity in the market.
$24.2
Investment sales
Office sales activity has largely temporarily halted during the risk-pricing crisis, decreasing by an annualized rate compared with the prior five-year average dollar volume.
Your source for the latest Indianapolis office market reports
Get in-depth office market reports and insights from commercial real estate experts in the Greater Indianapolis area. Avison Young advisors look at Indianapolis commercial real estate activities and the latest Indianapolis statistics to provide you expert market research on Indianapolis' office properties.
Explore different topics like the latest office market pricing trends and analysis of Indianapolis' current office real estate market conditions. Gain a better understanding of Indianapolis' office real estate outlook and stay ahead of current office space trends. Make smart decisions when it comes to investing in office properties in Indianapolis' competitive office real estate market. Avison Young is your trusted source for commercial real estate office market insights in Indianapolis.
The dashboard was delivered through AVANT by Avison Young: leveraging real-time data and analytics to make cities and location-based decisions more transparent and efficient. Learn more about AVANT.
Get the latest Indianapolis office market reports right in your inbox