Phoenix office market reports
Q2 2021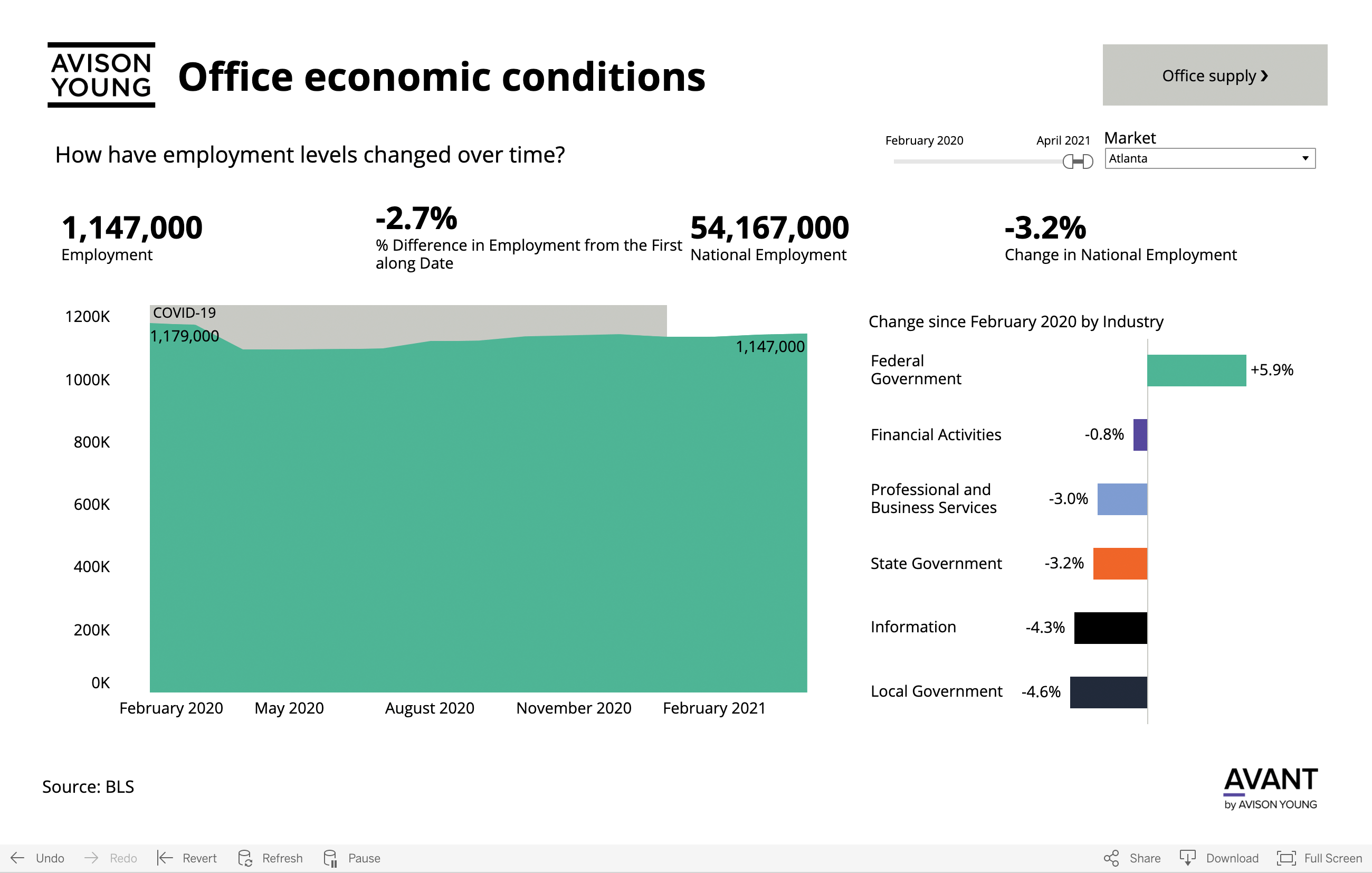 This dashboard is best viewed in a wider browser window.
The long-term effect of the pandemic has yet to be fully realized by office occupiers. New prevailing utilization strategizes around companies "re-strategizing" their space usage is still unfolding. Arizona never had an impactful shutdown compared to other markets, which has been a significant driver of its recovery helping give confidence to its business climate. Despite a rebound in the economy, tenants view office space differently in this post-COVID environment as we continue to see a rise in vacancy and sublease activity.
6.0%
Economic conditions
Reopening efforts have enabled the Phoenix unemployment rate to rebound from a high of 13.5 percent in April 2020 to 6.0 percent in April 2021.
Post-COVID office-using job losses totaled 3.2 percent compared with leisure and hospitality job losses that totaled 13.2 percent, underscoring the disproportionate impact the pandemic had on the discretionary segments of the local economy.
30.8%
Office demand
Leasing activity is on the mend as office workers return and the economy reopens. Post-pandemic leasing activity has decreased by 30.8 percent compared with the prior 20-year annual level.
Healthcare-related companies remain a dominant driver of office demand; however, tech companies Robinhood and Arrivia accounted for two of the top five largest deals to date in 2021.
16.2%
Office supply
Vacancy totaled 16.2 percent in Q2 2021. While elevated compared with historical levels, the aftermath of the Global Financial Crisis caused the Phoenix vacancy to surpass 21.0 percent from 2010 and 2011.
The sublease market accounts for 1.9 msf of vacant space.
9.4 msf of office space is under construction and proposed.
0.5%
Pricing trends
Asking rents have remained steady, decreasing by 0.5 percent over the past two years as landlords prompted tenant commitments through concessions packages and favorable lease provisions while keeping base rents relatively steady.
Demand is rising as the economy reopens and tenants that postponed their long-term occupancy strategies re-enter the market.
$1.2B
Capital markets
Deal volume is returning to pre-COVID levels. Nearly $1.2B of Phoenix offices have been sold since the beginning of 2021, an increase of 48.2 percent compared with the same period one year ago.
Asset pricing has increased by 10.3 percent from December 2019 to Q2 2021 as previously sidelined investors return to the market.
Your source for the latest Phoenix office market reports
Get in-depth office market reports and insights from commercial real estate experts in the Greater Phoenix area. Avison Young advisors look at Phoenix commercial real estate activities and the latest Phoenix statistics to provide you expert market research on Phoenix's office properties.
Explore different topics like the latest office market pricing trends and analysis of Phoenix's current office real estate market conditions. Gain a better understanding of Phoenix's office real estate outlook and stay ahead of current office space trends. Make smart decisions when it comes to investing in office properties in Phoenix's competitive office real estate market. Avison Young is your trusted source for commercial real estate office market insights in Phoenix.
The dashboard was delivered through AVANT by Avison Young: leveraging real-time data and analytics to make cities and location-based decisions more transparent and efficient. Learn more about AVANT.
Get the latest Phoenix office market reports right in your inbox