Phoenix office market report
Q3 2021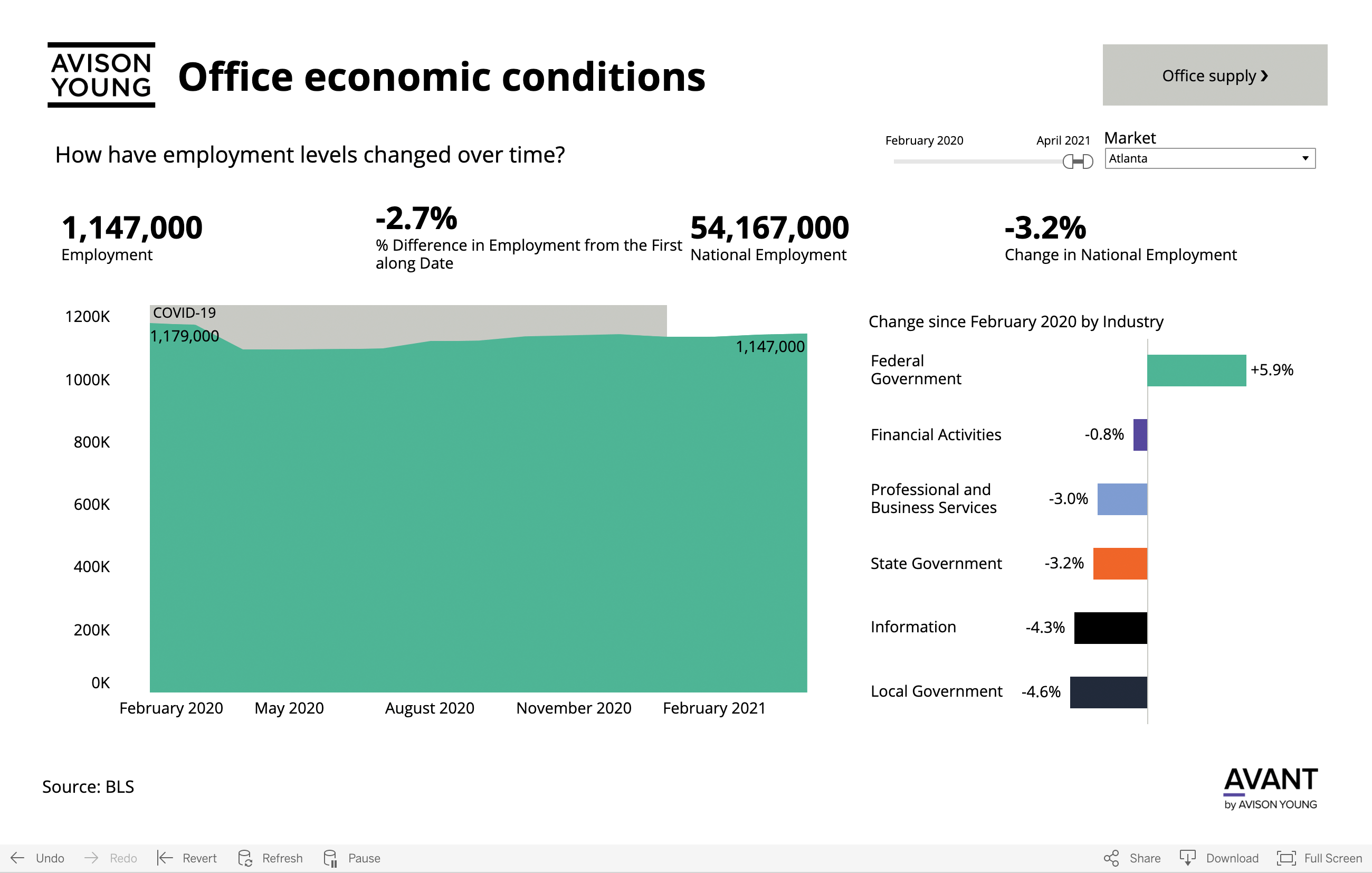 This dashboard is best viewed in a wider browser window.
The job market is looking healthy as employment in the Phoenix MSA is at an all-time high and the unemployment rate is continuing to decline. Office leasing activity is still down significantly from before the pandemic, a sign that the office market will take more time to recover as employer's re-evaluate their needs for traditional office spaces. Some tenants have taken advantage of these market conditions to relocate to higher quality trophy and class A properties. Office vacancies remain elevated, but seem to be at a turning point as Q3 saw a very minimal increase in the amount of vacant office space.
5.7%
Economic conditions
The Phoenix unemployment rate of 5.7% is just slightly above the average unemployment rate over the last 20 years of 5.6%.
2.45M
Recovery rate
There are 2.45 million people that are employed in the Phoenix area, surpassing the pre-pandemic high for the first time. The recent trend of corporations and new residents moving into Phoenix are two additional signs that the local economy is on course for a relatively quick recovery.
5.7 msf
Office demand
Office leasing activity from 2020 through 2021 Q3 pro-rated accounted for 5.7 msf per year. This level of leasing activity trails the previous 20 year average by 22.9%.
19.3%
Office supply
Direct and sublease vacancies totaled 19.3% in Q3 2021. This rate is higher than pre-pandemic vacancy rates of recent past, but below the 24.4% vacancy rate that was present in 2010 and 2011 following the Global Financial Crisis.
1.7%
Pricing trends
Base rents have increased by 1.7% in 2021 through Q3, or an increase of $0.48 psf. Since 2012 base rents have grown at an annual rate of 4.0%. Increases in base rents in 2021 are in part due to the flight to quality in the region, as tenants are willing to pay more for trophy & class A properties.
$1.6B
Capital markets
Through Q3 of 2021 there have been $1.6B worth of transactions, just $93M less than the entirety of 2020. Q4 is typically a strong quarter for capital market activity and should result in a further rebound of deal volume.
Your source for the latest Phoenix office market report
Get in-depth office market reports and insights from commercial real estate experts in the Greater Phoenix area. Avison Young advisors look at Phoenix commercial real estate activities and the latest Phoenix statistics to provide you expert market research on Phoenix's office properties.
Explore different topics like the latest office market pricing trends and analysis of Phoenix's current office real estate market conditions. Gain a better understanding of Phoenix's office real estate outlook and stay ahead of current office space trends. Make smart decisions when it comes to investing in office properties in Phoenix's competitive office real estate market. Avison Young is your trusted source for commercial real estate office market insights in Phoenix.
The dashboard was delivered through AVANT by Avison Young: leveraging real-time data and analytics to make cities and location-based decisions more transparent and efficient. Learn more about AVANT.
Get the latest Phoenix office market reports right in your inbox