Memphis industrial market report (Q3 2021)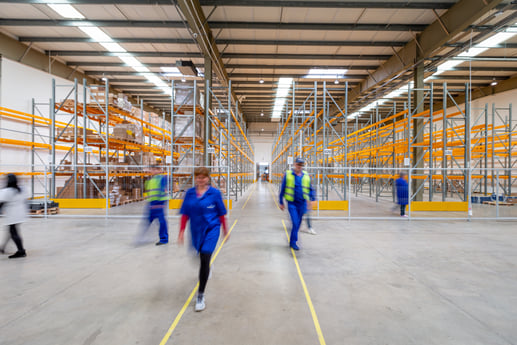 October 11, 2021
The regional economy continued to see steady improvement despite the surge of Delta variant cases in Shelby County and the surrounding area. In its latest Beige Book release, the Federal Reserve Bank of St. Louis reported that wages and prices experienced an increase from last quarter while business activities were challenged by staffing shortages and low inventory due to the disruption of the global supply chain.
COVID-19 diagnoses due to the Delta variant surpassed the number of cases in previous waves, exacerbating labor shortages and delaying some employers' return-to-work plans. According to the Shelby County Health Department, 43.6% of the county's population is fully vaccinated and after a surge of infections and hospitalizations in August, the positivity rate has finally begun to decline.
According to the Bureau of Labor Statistics, only 235,000 jobs were added to the national economy in August, severely short of the 750,000 that economists projected. In the Memphis MSA, the preliminary unemployment rate came in at 6.1% in August, a decrease of 0.8 percentage points (pp) from July. The U.S. Decennial Census revealed that population growth between 2010 and 2020 was limited in Shelby County while Fayette and DeSoto Counties saw growth of 9% and 15%, respectively.
The Memphis industrial market's hot streak persists with large sale transactions and record-breaking deliveries and leasing activity. Exciting news reverberated throughout the Mid-South as Ford Motor Company and SK Innovation announced a $5.6 billion investment in the Memphis Regional Megasite. The Blue Oval City campus will sprawl over 3,600 acres, creating over 5,800 jobs that will directly impact the Memphis MSA.
Leasing
The direct vacancy rate recorded 6.2%, a decrease of 0.4 percentage points (pp) from second quarter of 2021 and a decrease of 0.1 pp from the same time last year. More than 9.3 msf of leasing activity was reported this quarter, consisting of 6.3 msf of new transactions and 3.0 msf of renewals. The largest recorded lease transaction this quarter occurred in DeSoto County, where Milwaukee Tool leased and occupied 1.2 million square feet (msf) at Olive Branch Distribution Center. The Southwest submarket also saw a fair amount of activity with several renewals and a 110,000-sf expansion by Supply Chain Solutions at Memphis Depot Industrial Park.
The Southeast submarket recorded 4.1 msf of leasing activity, bringing the year-to-date transaction volume to 11 msf. Medtronic Logistics signed for more than 1.0 msf at Memphis Airport Logistics Center, the largest new lease in the Southeast submarket recorded this cycle. TPA Group's Memphis Airport Logistics Center is expected to deliver in the fourth quarter of 2021.
Sales
Total industrial investment volume reached $320 million this quarter. Several notable portfolio sales occurred, including Granite REIT's acquisition of two buildings totaling 1.3 msf at Crossroads Distribution Center for $97 million and Mapletree Investments' purchase of two buildings totaling 1.6 msf at Memphis Trade Center III and 5200 Tradeport for $71.2 million. LRC Properties, which first entered the Memphis market at the beginning of the year, purchased three more industrial properties - Memphis Logistics Center I and II and Centerpoint III - from Ares Capital for $57 million. IDI Logistics disposed of 3292 East Holmes Road, presently occupied by Amazon, for $45 million. Bixby Land Company purchased DeSoto 55 Logistics Center Building A2 from Core5 Industrial Partners for $25 million.
Construction
The Memphis industrial market is adding product at a furious pace and has already surpassed the record-setting amount of inventory added to the market in 2020. Seven buildings totaling 4.8 msf delivered to the market this quarter, bringing the year-to-date total to 10.6 msf. Another 13.0 msf is currently under construction, 3.3 msf of which broke ground this quarter.
At I-269 Industrial Park in Marshall County, H&M Development completed two buildings, including Baxter's 850,000-sf build-to-suit at Site 6 as well as the 707,940-sf distribution center at Site 1 which will house Milwaukee Tool. Construction also began this quarter on the tool manufacturer's expansion of 432,000 sf in the same building.
In the DeSoto County submarket, Hillwood Investment Properties delivered a 1.1-msf speculative building at Marina Commerce Center and broke ground on Helen of Troy's 2.0-msf build-to-suit at Winstead Trade Center. Scannell Properties completed their 1.0-msf speculative warehouse at Scannell 55 Logistics Center which is partially occupied by XPO.