Memphis Office Market Report (Q1 2021)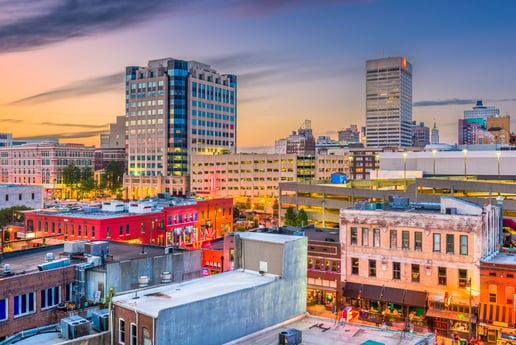 9 Jun 2021
The Memphis market starts the new year off with a cautiously optimistic outlook as local, state, and federal lawmakers allow businesses to reopen with the rollout of novel coronavirus (COVID-19) vaccinations ramping up and a new administration settling in with plans to rebuild the economy.
This time last year, COVID-19 spread quickly into the U.S., posing a serious health risk to much of the population and wreaking havoc on the economy as local governments mandated business closures, propogating a general day-to- day uncertainty seemingly without an end in sight. Fast forward nine months and Pfizer and Moderna vaccinations hit the market at the end of fourth quarter of 2020 with distribution and administration seeing even more significant strides in the first quarter of 2021.
In March, 900,000 jobs were added to the economy nationally, with the hospitality sector accounting for the largest portion of those jobs according to the Federal Reserve Bank of Atlanta. In Memphis, the unemployment rate is down 0.4 percentage points (pp) from last quarter and up 2.4 pp from first quarter of 2020.
With encouraging news of coronavirus vaccine efficacy, optimism from both investors and consumers fuels the economy as we head into a new year. Despite the significant impacts of COVID-19 on the office sector, area brokers are optimistic that office demand will rebound and show an uptick in activity as vaccination rates increase and employees return to the workplace.
Leasing
During the first quarter of 2021 the market recorded 248,000 square feet of leasing activity, a notable increase from the 121,000 sf that was reported in the fourth quarter of 2020 and a positive sign that the office activity is beginning to pick up. The majority of activity occurred in the East and 385 Corridor submarkets, which accounted for approximately 70% of the quarter's leases. The largest lease, however, was a short-term renewal by IMC Companies for 35,205 sf at their current location at Lenox Park.
The direct vacancy rate, which came in at 19.2% this quarter, has steadily risen since the start of the pandemic. However, the majority of negative absorption has been the result of anticipated downsizing by corporate tenants such as FedEx Freight, Comcast, Lucite and Medtronic vacating more than 330,000 sf in 2020 as well as Cargill Cotton vacating 89,000 sf in first quarter of 2021.
Sales
Sales volume in the first quarter of 2021 ($40.2 million) was down 60% from the quarter prior. 12-month average pricing also fell from $189 psf in fourth quarter to $169. Medical office sales dominated the roster this quarter; in the largest transaction by price, Tryon Capital purchased 3495 Hacks Cross Road, a fully occupied 114,000-sf medical office building, for $24.4 million. Pergament Properties expanded its Memphis holdings with the acquisition of 7101 Goodlett Farms Boulevard, Cargill, Inc's former headquarters in the Northeast submarket, for $3.4 million. Cargill recently relocated its Memphis operations to the Downtown submarket. Also Downtown, Townhouse Management Company disposed of 147 Jefferson Avenue for $2.8 million to Houston- based Trident Capital of America.
Construction
Supply chain disruption and the rising cost of construction materials has subsequently delayed delivery dates and caused a bottle neck effect in all sectors. Expected completion of Renasant Bank's headquarters in East Memphis, for example, has been pushed back to third quarter. Work continues on IMC Companies' new 75,000-sf headquarters in Collierville, which is scheduled to deliver by the end of the year.