CEO Mark Rose discusses global service delivery and vision for CRE on CREWcast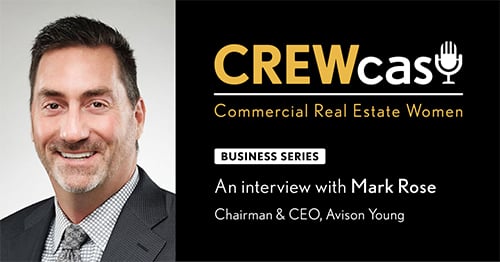 29 Jan 2021
Chicago, IL – Our Chairman and CEO, Mark E. Rose, recently sat down with Wendy Mann, CEO of CREW Network, for CREWcast. The podcast features top thought leaders in commercial real estate, shares important industry insight and inspires change.
Mark and Wendy discussed industry trends, our global expansion, and his vision for creating a more diverse, inclusive and equal industry.
From Mark in discussing our strategic growth: "We're huge fans of both Central and Eastern Europe where robotic processes, automation, broker price opinion and great tech talent exists and is thriving. There is incredible talent and from a platform point of view…it works well, but we're also getting a diversity of opinion and talent brought in to our organization. This is what we've done all throughout, starting in Canada, moving in to the U.S., then in to Europe and in to Asia as well. We care deeply about where top talent exists."
Listen to the full podcast here.