Avison Young news: Find out the latest industry happenings
Quarterly and topical research insights to help your business gain competitive edge in commercial real estate.
Avison Young - Southern California - Day of Giving 2019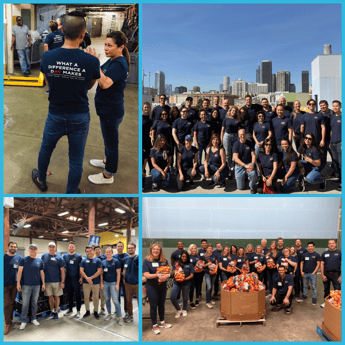 November 27, 2019
On Thursday, October 24th, Avison Young's six Southern California offices and more than 95 employees took part in the firm's annual global dAY of Giving event which is part of the company's Global Citizenship strategy. Company-wide each Avison Young office chooses its own community volunteer project in collaboration with the charity that will receive the assistance. This year, Avison Young's Southern California regional offices chose charities that care for and feed the homeless and needy in their communities.
dAY of Giving aligns with Avison Young's culture and values and is a reminder of how important it is to give back to local communities.
Our SoCal Emerging Leader, Vice President Cody Lerner along with Associate, Blake Pittman co-organized the event and stated: "I think dAY of giving is a wonderful initiative I'm proud to be a part of something bigger than ourselves. It's so easy to get stuck in a routine and think about your immediate circle of impact, but events like this remind us of our community and its needs. It's important to give back in all stages of life, and to teach others to do the same. Days like this bring us back to our company's culture of collaboration and giving and remind us to always be grateful and help those less fortunate than us."
The consensus among the AY volunteers was positive and compassionate.
Marking Coordinator, Annette Cole stated "I loved that I had the opportunity to be immersed in the experience with co-workers and participate in the opportunity to give back to the community. It was an eye-opening experience to volunteer at the Union Rescue Mission. I participated at the "Women's Day Room" and painted nails and got to connect with the women there … it was truly rewarding to help make the women feel good about themselves."
Director of Operations for Southern California, Rosanne Kuder, who volunteered at the food bank shared:
The team building and team bonding were unlike any other, because we're all coming together for a selfless cause to help others.
Ultimately, this experience made us all feel grateful and blessed to be able to help others. We are also very fortunate to work for a company that embraces the importance of giving back. I am so proud of Avison Young's commitment to community, and for fostering a culture of giving, collaboration and global citizenship."
This Thanksgiving, we take a moment to give thanks for family, friends, colleagues and freedom. Take a moment to help someone who is less fortunate than ourselves; and take a moment to let someone know you care.