News Releases

Search our commercial real estate news and announcements.
Avison Young New Jersey 2021 Forecast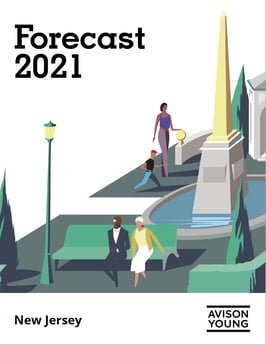 11 Dec 2020
Pandemic increases demand for industrial sector, while office tenants look to modify their footprint, according to Avison Young New Jersey 2021 Forecast Report
Morristown, NJ – The COVID-19 pandemic has created shifts in both the office and industrial sectors that will last beyond 2020, according to the Avison Young New Jersey 2021 Forecast Report. The New Jersey region may also capitalize on companies migrating out of New York City due to shifting workplace strategies and lower occupancy costs.
"While the pandemic has increased the demand for an already historically tight industrial market, it has also affected the office market for New Jersey," noted Jeff Heller, Principal and Managing Director, Avison Young New Jersey. "Office tenants are now looking to modify their footprint while embracing online, remote working."
Avison Young's report forecasts sublease office availability to significantly increase from 2020 levels, while the industrial sublease availability will remain historically low. Avison Young is expecting employers to continue the "working remotely" trend as many companies have become more comfortable with employee efficiency levels.
The industrial sector will continue on its current trajectory as a highly desirable market in New Jersey in 2021. Avison Young anticipates four trends for the sector:
A further acceleration of e-commerce
An increased demand for cold and refrigerated storage.
Companies will look to reshore some of their manufacturing and supply chain.
New Jersey's legalization of marijuana may lead to increased demand for industrial space.
As the industrial market has flourished with expansion of e-commerce, the retail market has been forced to change. Avison Young expects that the retail sector will adapt to the changing climate. Avison Young's New Jersey Research Manager, Jason Bloom, adds "With the lines between retail and e-commerce/logistics continuing to blur, the use of retail locations will change as well, to include micro-distribution centers and "dark stores" to serve as "last mile" distribution locations."
Click HERE for a link to the Avison Young New Jersey 2021 Forecast Report.
Avison Young creates real economic, social and environmental value as a global real estate advisor, powered by people. As a private company, our clients collaborate with an empowered partner who is invested in their success. Our integrated talent realizes the full potential of real estate by using global intelligence platforms that provide clients with insights and advantage. Together, we can create healthy, productive workplaces for employees, cities that are centers for prosperity for their citizens, and built spaces and places that create a net benefit to the economy, the environment and the community.
Follow Avison Young
Twitter (News) │ Twitter (Deals) │ Blog │ LinkedIn │ YouTube │ Instagram