null - Read Avison Young News Here | Avison Young US - United States
Avison Young news: Find out the latest industry happenings
Quarterly and topical research insights to help your business gain competitive edge in commercial real estate.
Avison Young arranges the largest office lease in the market since mid-2019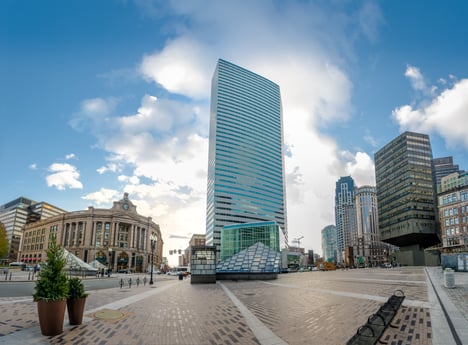 April 20, 2021
Loomis, Sayles & Company signs 232,000-square foot lease extension and restructuring at One Financial Center in Boston
Boston – In the largest office lease transaction in the Boston market since mid-2019, global investment management firm Loomis, Sayles & Company has signed a long-term 232,000 square-foot lease extension and restructuring that runs through mid-2037 at One Financial Center, one of the most recognized office buildings in downtown Boston.
"Staying at One Financial Center with a 'right-sized' long-term lease extension made the most sense for our business operation and employees," said Kevin Charleston, Chairman & CEO of Loomis Sayles.
Loomis, Sayles has a 35-year relationship with Avison Young, which began in 1985 when Loomis, Sayles first occupied its original space at One Financial Center. The Avison Young team in Boston comprised of Ron Perry, Larry Epstein and Matt Perry represented the tenant in the transaction. The building's owner, a joint venture between MetLife Investment Management and Norges Bank Investment Management, was represented by Bill Anderson, Dave Martel, and Allison Cavanaugh of Newmark. MetLife Investment Management's interest in One Financial Center dates back to its construction in 1984.
"Loomis Sayles was looking for the best combination of location, value, and flexibility in its new lease as well as a strategy that created the least disruption to its operations," said Perry. "We were able to structure a transaction that allowed them to stay at their current headquarters on a long-term basis to meet the needs of their employees now and for the future."
"The Avison Young team's familiarity with the needs of Loomis Sayles, along with the decisive and opportunistic decision making of our client, served us well in getting this transaction finalized before year-end," added Epstein.
About Loomis, Sayles & Company
Since 1926, Loomis, Sayles & Company has helped fulfill the investment needs of institutional and mutual fund clients worldwide. The firm's performance-driven investors integrate deep proprietary research and integrated risk analysis to make informed, judicious decisions. Teams of portfolio managers, strategists, research analysts and traders collaborate to assess market sectors and identify investment opportunities wherever they may lie, within traditional asset classes or among a range of alternative investments. Loomis, Sayles has the resources, foresight, and the flexibility to look far and wide for value in broad and narrow markets in its commitment to deliver attractive sustainable returns for clients. This rich tradition has earned Loomis, Sayles the trust and respect of clients worldwide, for whom it manages $347.8 billion ** in assets (as of December 31, 2020).
**Includes the assets of Loomis, Sayles & Co., LP, and Loomis, Sayles Trust Company, LLC. Loomis, Sayles Trust Company is a wholly-owned subsidiary of Loomis, Sayles & Company, LP.
About Avison Young
Avison Young creates real economic, social and environmental value as a global real estate advisor, powered by people. As a private company, our clients collaborate with an empowered partner who is invested in their success. Our integrated talent realizes the full potential of real estate by using global intelligence platforms that provide clients with insights and advantage. Together, we can create healthy, productive workplaces for employees, cities that are centers for prosperity for their citizens, and built spaces and places that create a net benefit to the economy, the environment and the community.
Follow Avison Young
Twitter (News) │ Twitter (Deals) │ Blog │ LinkedIn │ YouTube │ Instagram
For more information:
Ron Perry, [email protected], +1 617.966.6153
Tom Collins, [email protected], +1 617.702.8880