Avison Young news: Find out the latest industry happenings
Quarterly and topical research insights to help your business gain competitive edge in commercial real estate.
Avison Young selected to arrange around $80 Million in financing for construction of manufacturing facility near Nashville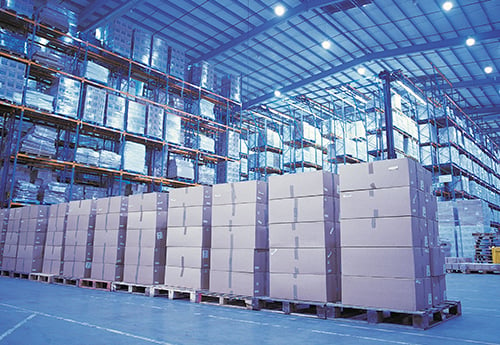 13 Jul 2021
Portobello America is building an 890,000-SF facility to manufacture ceramic tiles in Baxter, TN
BAXTER, TN — Avison Young's Capital Markets Group announced today that it has been exclusively retained by Portobello America to arrange financing for the construction of an 890,000-square-foot manufacturing facility in Baxter, TN.
Portobello selected Tim Hall and Jim Hanson, both Principals at Avison Young, to raise the capital — expected to be around $80 million. It will fund construction of the manufacturing facility, which will make ceramic tiles, as well as Portobello's U.S. headquarters.
"We are proud to work with Portobello Group to help construct its first U.S. manufacturing plant," Hall said. "This is an incredible opportunity for an investor to finance and own a best-in-class facility leased to a global leader in manufacturing."
Portobello Group, the largest tile manufacturer and distributor in Brazil, estimates the facility will create about 220 local jobs and generate over $100 million in annual revenue.
"This new facility is the cornerstone of Portobello's U.S. growth strategy," said Luiz Felipe Brito, CEO of Portobello America. "It will help us better serve our American customers by ensuring we can provide our products more quickly and inexpensively by increasing our local presence."
The 92-acre project site is located on the south side of Interstate 40 within the city limits of Baxter, TN. The site was formerly known as the Tennessee Speedway Dirt Racetrack. It is located in Putnam County, considered a national hotbed for ceramic tile manufacturing due to the region's vast natural supplies of clay and feldspar.
Portobello America purchased the property and is now seeking capital for Phase 1 construction of the manufacturing facility and headquarters. Investors have the opportunity to partner with Portobello in a sale-leaseback, build-to-suit transaction, resulting in the fee-simple ownership of the facility. Portobello will execute a long-term lease of the facility when construction is complete, which is expected in late 2022.
The Phase 1 construction will include the main manufacturing, warehouse and office building, which will be constructed on the south side with access to Ditty Road, and will contain the corporate headquarters, a showroom, research-and-development lab and production lines.
"Recognizing growing opportunities in the U.S. market, Portobello Group chose to build its first facility outside Brazil to diversify its business, capitalize on rapid market growth, generate synergies with its Brazilian operations and increase our presence in the U.S. market," said César Gomes Júnior, Chairman of the Board, Portobello Group. "The U.S. is one of the largest ceramic markets in the world and is critical to our international expansion strategy."
Added Hanson: "We are excited to help make this dream a reality for Portobello Group and bring this dynamic and growing company to Baxter, TN. This world-class facility will bolster the economy and provide high-quality jobs for years to come."
Portobello America started operating in the United States in 2018 as part of Portobello Group's internationalization strategy. It currently has two distribution centers in the U.S. market, strategically located in Florida and Tennessee, where the future industrial facility will be located. These distribution centers serve several distributors.
About Portobello America
Portobello America, a Portobello Group company, creates, produces and distributes complete and competitive coating solutions focused on the U.S. market. We believe that design can transform the way people feel by shaping the environments in which we live. This idea is the essence of Portobello America. Our business model is an integrated one. With expertise in retail and logistics, as well as being founded on design and innovation, our company is uniquely positioned to provide comprehensive support to our partners. To learn more, visit www.portobelloamerica.com.
About Portobello Group
Headquarted in Tijucas, Santa Catarina, Portobello Group is the largest company in the coating segment in Brazil, with the most extensive retail network in the country. The trademark is a national leader and global player in the industry. The company is listed in the São Paulo Stock Exchange (B3), under the ticker PTBL3. The group has a multi-channel offering, with operations structured in four Business Units — Portobello, with distribution to Homecenters, Projects and Exporting to more than 70 countries; Portobello Shop, its retail trademark with more than 130 stores throughout Brazil; Portobello America, pioneer in the group's internationalization, headquarted in the United States; and Pointer, trademark with democratic design established in Brazil's northeast. With a very sustainable production process, respecting the environment and the use of natural resources, Portobello serves countries in five continents, connecting with clients and architecture professionals from all over the world. To learn more, visit www.portobello.com.br.
About Avison Young Capital Markets Group
The Avison Young Capital Markets Group works in partnership with clients to provide high-quality, data-supported, integrated services that guide the strategic and financial objectives of our clients. The Avison Young Capital Markets Group includes senior professionals in Europe and every major North American market, working seamlessly and collaboratively across borders to deliver real estate solutions for our clients. We provide a full range of real estate services to local, regional, national and international clients and we have a proven track record of exceeding client expectations.
Avison Young is a 2021 winner of the Canada's Best Managed Companies Platinum Club designation, having retained its Best Managed designation for 10 consecutive years.
For more information:
Timothy Hall, Principal, Avison Young, Capital Markets: +1 202 249 6291