Avison Young news: Find out the latest industry happenings
Quarterly and topical research insights to help your business gain competitive edge in commercial real estate.
Charleston Commercial Real Estate Women (CREW) honors two Avison Young professionals at 2021 award ceremony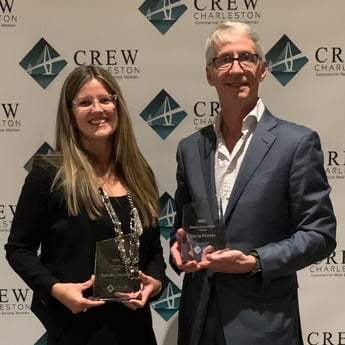 November 11, 2021
Chris Fraser, CCIM and Ashley Jackrel, CCIM were celebrated at this year's event
Charleston, SC – Announced today, Chris Fraser, CCIM and Ashley Jackrel, CCIM were honored at the CREW Charleston 2021 Awards Event. Fraser, Principal and Managing Director of the firm's South Carolina and Savannah offices, received the Distinguished Leader Award. Jackrel, a Senior Associate in the firm's Charleston office, received the Rising Star Award. The honorees were announced at the November 5 awards dinner held at the Hyatt Hotel.
The Distinguished Leader award is designed to honor an individual in the Commercial Real Estate (CRE) community who exemplifies the qualities of an outstanding leader through their inspiration to others, unique ability to strategize, accountability and responsibility, and other exemplary leadership traits.
Elyse Welch, CREW Chapter President, said while honoring Fraser with the award, "a distinguished leader is one who continues to forge new road while leaving where they have been in a better place, and often inspiring and encouraging those following and those who support them."
"It is an honor to be recognized by CREW Charleston as they work to advance success of women in our industry, a mission which I fully support," said Fraser, Principal and Managing Director of the firm's South Carolina offices.
Fraser is heavily involved in community, with volunteer leadership roles throughout the region including areas of education, arts and economic development. Within Avison Young, he is a member of the Global Diversity and Inclusion Council where he was responsible for developing five priority areas of focus for attracting and maintaining diverse talent.
In a 2020 CREW Benchmark Study Gender and Diversity in Commercial Real Estate, the data revealed that women occupy 36.7% of the commercial real estate industry and 29% of brokerage positions. The South Carolina offices Fraser has managed for 9 years, outpace these averages;58% of the firm's roles are occupied by women and 33% are women in brokerage positions.
"Chris has a long history of growing a successful firm by creating strategy, inspiring others, and developing a culture of accountability and respect," said Jackrel... "He is a champion in every sense of the word, within our global organization and at home in our community."

The Rising Star award recognizes an individual CREW Charleston member who has contributed to the organization through volunteering, engagement, and participation, and is known for their exemplary work in the industry. This award honors the outstanding contributions to CREW Charleston and recognizes and celebrates their talent and achievements in the industry as an emerging leader.
While honoring Jackrel at the 2021 awards, Elyse Welch said, "The Rising Star award winner is someone, that has already been making a name for herself with diligence, flair and the best shoes. She has special talent for finding what some would consider to be the toughest assignments and meeting those with enthusiasm and asking for more!"
"Being recognized alongside five other industry leaders – especially our own Principal and Managing Director, Chris Fraser – is truly an honor," said Jackrel. "It's been immense fun to represent broker interests at the local, state and national level and in the words of CREW President and award presenter, Elyse Welch, to do it with "flair!' Life is too short to be boring. "