Avison Young news: Find out the latest industry happenings
Quarterly and topical research insights to help your business gain competitive edge in commercial real estate.
Avison Young welcomes multi-service delivery in St. Louis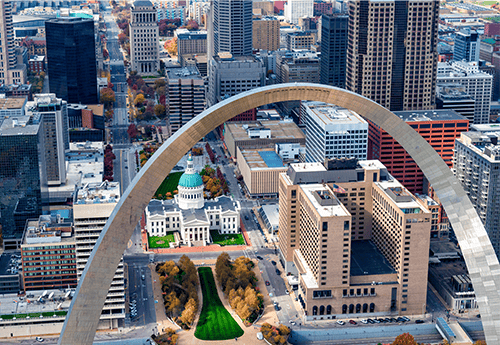 December 14, 2021
Leading St. Louis Office/Industrial team to join Avison Young as an affiliate, bringing depth of experience across the Midwest
St. Louis, Missouri – Avison Young today announced that the office and industrial team at Cresa St. Louis and its parent company Pace Properties will be affiliating with Avison Young effective January 1, 2022. This new affiliation will broaden the firm's collective intelligence in the Midwest. The Cresa St. Louis/Pace Properties team is an established leader in the Midwest's commercial real estate landscape and offers a comprehensive range of sales, leasing, advisory, and project management services to clients throughout the Midwest region.
The affiliation strengthens Avison Young's presence in the St. Louis market by adding a team of expert real estate advisors and broker professionals that will deliver innovation and insights to clients, with a strategic focus on office, industrial, project management and property management services.
"Growing Avison Young's diverse breadth and depth of experience is a critical priority to bolster our already-strong presence in the Midwest," said Juan Bueno, Principal and President at Avison Young in the U.S. "I am delighted to welcome the office and industrial team at Cresa St. Louis and Pace Properties to the Avison Young family – together we will achieve tremendous collective success."
By combining all non-retail operations at Cresa St. Louis and Pace Properties under the Avison Young banner, this affiliation will deliver strong leadership for clients across a range of specialties, including occupier and corporate services, lease administration, tenant representation, property management, and professional services (such as corporate real estate and workplace consulting, project management, real estate and infrastructure consulting, and valuation and advisory services).
The retail brokerage and retail property management segments of Pace Properties will continue to operate as Pace Properties. Pace Properties is one of the leading retail brokerage firms in the Midwest, helping clients make the most informed real estate decisions possible.
"This seamless transition is aided by a like-minded culture, powered by people," said Rick Dames, Managing Director of Avison Young in St. Louis. "Joining Avison Young and combining the expertise of our teams allows us to further enhance our service offering in the changing landscape of the Midwest commercial real estate market."
Avison Young and their new team in St. Louis share core values centered around an unwavering commitment to people, helping drive value for clients. The firm's office in
St. Louis will continue to provide significant value by leveraging new technology, data, and insights unparalleled in commercial real estate when helping clients reach their economic, social, and environmental goals.
This past year, Avison Young has expanded its client experience and professional services teams to best help occupiers, owners and investors navigate increasingly complex and accelerating marketplace needs around the future of work and city resiliency.
About Pace Properties
Our dedicated professionals have trusted market knowledge and strong relationships with tenants, landlords, communities, lenders, and investors that maximize outcomes for our clients. Our assets are our people. As a 100% employee-owned company, our culture is collaborative, and we believe that collectively we are better than the sum of our parts. We are unique in that we share information and work together to provide the best results.
About Avison Young
Avison Young creates real economic, social and environmental value as a global real estate advisor, powered by people. As a private company, our clients collaborate with an empowered partner who is invested in their success. Our integrated talent realizes the full potential of real estate by using global intelligence platforms that provide clients with insights and advantage. Together, we can create healthy, productive workplaces for employees, cities that are centers for prosperity for their citizens, and built spaces and places that create a net benefit to the economy, the environment and the community.
Avison Young is a 2021 winner of the Canada's Best Managed Companies Platinum Club designation, having retained its Best Managed designation for 10 consecutive years.
For more information:
MEDIA:
BUSINESS DEVELOPMENT:
Rick Dames, Managing Director, St. Louis: +1.314.785.7605