null - Read Avison Young News Here | Avison Young US - United States
Avison Young news: Find out the latest industry happenings
Quarterly and topical research insights to help your business gain competitive edge in commercial real estate.
Grosvenor awards Avison Young exclusive leasing assignment of four boutique Union Square office and retail properties totaling 133,000 sf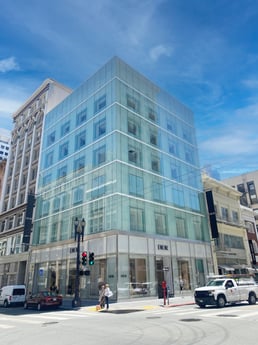 September 27, 2022
The leasing team of experts includes Kelly Glass, Sean McCallum, William O'Daly and Melinda Ta, who are based in Avison Young's San Francisco office.
"Our seasoned team's proven success in downtown San Francisco as well as the competitive advantages provided by our analytics platform AVANT by Avison Young, were key factors in being selected for this leasing portfolio assignment," said Glass. "We are looking forward to creating additional value for Grosvenor as well as negotiating favorable leases with new and existing tenants for these ideally located and well-managed properties."
The Avison Young team noted that it will be targeting small- to mid-sized companies seeking boutique office space that is convenient to public transit as well as retail and dining amenities. Venture capital, law, finance, insurance, architecture, engineering, and marketing groups are some of the core users that will be attracted to the properties.
"As downtown San Francisco slowly recovers, we believe that Grosvenor's properties are well-positioned to be some of the first to rebound in the market as these buildings align well with companies that are refocusing on their return-to-office and hybrid schedule strategies," said McCallum. "Additionally, Grosvenor is a long-term landlord with pride of ownership and a commitment to improving places for the benefit of communities, which resonates well with tenants."
"Located in the heart of San Francisco's vibrant Union Square shopping district, our unique portfolio of properties offers unparalleled views, exceptional management, and dynamic tenant spaces," said Nathan Lundell, Investment Manager for Grosvenor's North American property business. "Our partnership with Avison Young is longstanding, and we look forward to working together on this assignment. The team's skills and deep knowledge of the area will undoubtably assist in attracting well-suited tenants seeking top-tier office space."
Following is information on each of the assets:
214 Grant Avenue is a four-story 31,050-sf asset built in 1908. The property has a newly renovated top floor, speculative suite with a kitchen, lounge, and conference room (4,631-sf) available for immediate occupancy.
240 Stockton Street is a 10-story 40,442-sf LEED Gold Certified building built in 1908. Four full floor suites including conference rooms and kitchens are available, with the ability to combine two of the suites for a total of 7,384 sf.
170 Grant Avenue is a six-story 24,785-sf property built in 1907. Two full floor suites with abundant natural light (3,425-sf) are available for immediate occupancy, with the ability to combine both floors for a total of 6,850 sf.
251 Post Street is a six-story 37,000-sf LEED Gold Certified asset built in 1908 with a newly renovated lobby and restrooms. The property has four suites available for immediate occupancy, with the ability to combine two suites for a total of 2,415 sf.
AVANT by Avison Young
Avison Young's data-based analytics platform, AVANT by Avison Young, makes cities (and thus real estate) more transparent, accessible and understandable, allowing Avison Young's clients to make informed, efficient and strategic decisions and realize the full potential of their real estate – be it from the investor, developer, occupier or public sector side. AVANT powers the Avison Young Vitality Index – a real-time window into the movement of people in major cities across North America that measures the pace of return to downtowns.
About Avison Young
Avison Young creates real economic, social and environmental value as a global real estate advisor, powered by people. As a private company, our clients collaborate with an empowered partner who is invested in their success. Our integrated talent realizes the full potential of real estate by using global intelligence platforms that provide clients with insights and advantage. Together, we can create healthy, productive workplaces for employees, cities that are centers for prosperity for their citizens, and built spaces and places that create a net benefit to the economy, the environment and the community.
Avison Young is a 2022 winner of the Canada's Best Managed Companies Platinum Club designation, having retained its Best Managed designation for 11 consecutive years.
Follow Avison Young
Twitter (News) │ Twitter (Deals) │ Blog │ LinkedIn │ YouTube │ Instagram
About Grosvenor
Grosvenor has been an active owner and developer in the U.S. and Canada for over 70 years. We focus on vibrant urban locations, making positive contributions to neighborhoods and communities. In 2019, we were one of the first North American companies to sign the World Green Building Council's Net Zero Carbon Buildings Commitment and have been publicly reporting our annual consumption and reduction values for over 10 years. We are guided by industry leading ESG business principles and we report to the Global Real Estate Sustainability Benchmark (GRESB).
Our US$3.4bn Development pipeline focuses on projects in urban, transit-oriented and/or amenity-rich neighborhoods and includes urban mixed-use residential projects in Washington, D.C., San Francisco, Silicon Valley and Metro Vancouver, Canada.
Our Investment Program acquires value-add residential and commercial properties while actively managing and improving a US$2.8bn portfolio of 74 high-quality properties in the US and Canada.
Our Structured Development Finance business provides funds for much-needed residential development projects in growth markets across North America.
We are part of an international property company with a track record of over 340 years developing, managing and investing to improve property and places across many of the world's leading cities, promoting sustainability within the built environment and enhancing the wellbeing of our customers and communities. We are a values-led organization which represents the Grosvenor family. Our work in property, alongside Grosvenor's other activities in food & agtech, rural estate management and support for charitable initiatives, shares a common purpose – to deliver lasting commercial, social and environmental benefit – addressing today's needs while taking responsibility for those of future generations.