null - Read Avison Young News Here | Avison Young US - United States
Avison Young news: Find out the latest industry happenings
Quarterly and topical research insights to help your business gain competitive edge in commercial real estate.
Valcre Adds Avison Young to Growing List of Enterprise Clients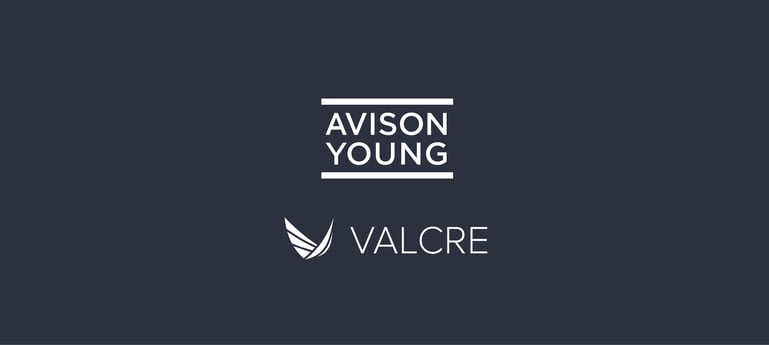 March 14, 2023
Top appraisal firms across North America increasingly turn to the leading valuation platform to elevate delivery of premium services with multi-year enterprise agreements
SAN DIEGO, U.S. and TORONTO, CANADA (March 14, 2023) — Valcre, the premier valuation software for the commercial real estate industry, today announced its continued expansion across North America with new enterprise client Avison Young, equipping the technology-driven real estate advisory firm with appraisal software for its Valuation and Advisory service line.
Valcre is trusted by more than 300 leading organizations as the gold standard for appraisers, empowering valuation professionals with a more organized, efficient and intelligent path to produce and present their work. More than 50,000 commercial real estate appraisals, worth greater than $50 billion, are delivered annually by users leveraging Valcre.
"We are excited to work with Avison Young's powerhouse team of Valuation and Advisory professionals across North America on the adoption of Valcre's state-of-the-art appraisal software," said Lucas Rotter, Valcre Co-founder and CEO. "Valcre helps rapidly expanding teams accelerate growth by further streamlining workflow efficiencies, and addressing company-wide technology initiatives, thereby saving professionals a minimum of two hours a day. Having a fully committed partner like Valcre in their corner will empower them to scale even further."
Founded in 2016 by technologists and valuation professionals, Valcre has amassed a client base that includes Kidder Mathews, Kroll, Apprise by Walker & Dunlop, RSM, and CohnReznick. Enterprise clients like Avison Young are partnering with Valcre to reinforce commitments to investing in technology that will strengthen their ability to provide higher quality appraisals in less time to clients around the globe.
"Avison Young is a technology-driven firm, focused on offering clients the real estate experience of the future, and this starts with how we use intelligence platforms that yield efficiencies, insights and advantages," said Matthew McWatters, Principal, Executive Vice President and Canadian Leader, Valuation and Advisory Services, Avison Young. "Matching our appraisal professionals across North America with the best tech solutions is a key differentiator and is essential to our ability to exceed client expectations – so I am pleased to be working with Valcre's software to help us advance our business offering."
Valcre and Avison Young's newly executed multi-year enterprise agreement promises to equip North America's top appraisers with the necessary tools, database and templates to provide the very best services to their clients.
About Valcre
Valcre is the premier valuation software for the commercial real estate industry. It is trusted by more than 300 leading organizations as the gold standard for appraisers. Valcre's web, mobile app, and valuation models provide an end-to-end solution for appraisal workflow, including job and client management, property research, inspections, analysis, and report writing.
Valcre customers save time while delivering higher quality appraisals. With integrations into industry-leading data providers, customized report templates and cloud-based software, Valcre accelerates the appraisal process, giving firms of all sizes, across five countries, a durable and meaningful competitive advantage.
For the latest news from Valcre, visit www.valcre.com or follow us on Facebook, Instagram, LinkedIn, TikTok and Twitter
About Avison Young
Avison Young creates real economic, social and environmental value as a global real estate advisor, powered by people. As a private company, our clients collaborate with an empowered partner who is invested in their success. Our integrated talent realizes the full potential of real estate by using global intelligence platforms that provide clients with insights and advantage. Together, we can create healthy, productive workplaces for employees, cities that are centers for prosperity for their citizens, and built spaces and places that create a net benefit to the economy, the environment and the community.
Avison Young is a 2021 winner of the Canada's Best Managed Companies Platinum Club designation, having retained its Best Managed designation for 10 consecutive years.
Media contacts:
Ilyas Frenkel, PR Advisor, Valcre, [email protected]
Andrea Zviedris, Director, Media Relations – North America, Avison Young, [email protected]