Avison Young grows Multifamily expertise in Las Vegas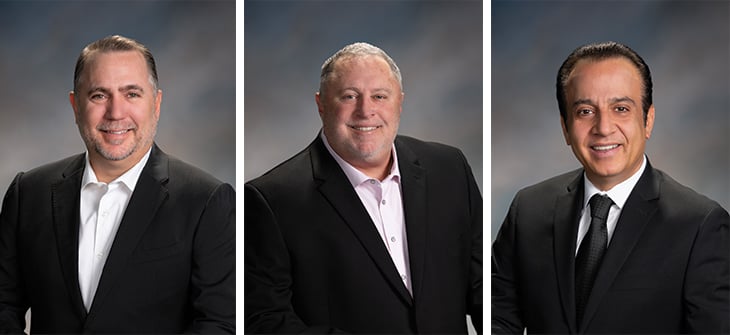 14 Apr 2020
Three new Principals specializing in multifamily investment sales join firm
Las Vegas, NV – David Jewkes, Avison Young Principal and Managing Director of the firm's Las Vegas office, today announced the appointment of Patrick Sauter, Art Carll-Tangora and Steve Nosrat as Avison Young Principals, based in Las Vegas. The team specializes in multifamily investment sales.
"Patrick, Art and Steve are a great addition to the Avison Young family in Las Vegas," said Jewkes. "They bring expertise and unparalleled connections in multifamily disposition and acquisition of multifamily investment properties throughout the market, and their specialized know-how will help clients make intelligent market decisions to optimize the sale or performance of multi-family property assets as we all navigate the evolving real estate landscape."
Avison Young's deep knowledge of local markets combined with an international investor network can help clients find the best strategy to meet their multi-family investment goals. The team combines the acumen, tools and market insight to identify opportunities, reach a broad network of buyers and sellers, and execute market transactions for maximum returns.
Sauter has been instrumental in the sale of more than $3 billion of investment real estate, including more than 20,000 multifamily units, large shopping centers and office buildings in the Las Vegas market since he began his career in 1998. Prior to joining Avison Young, Sauter was the principal and broker of a top-five real estate investment firm in Las Vegas for 20 years. He has been ranked consistently as a CoStar Power broker and is active throughout the community, as a board of the nonprofit development company, Nevada H.A.N.D., and as a member of the Southern Nevada Multi-Family Association, the Nevada Development Association, and the Las Vegas Chamber of Commerce.
"Though we are all currently managing through an unprecedented time, the Las Vegas multifamily market has traditionally thrived as younger generations are drawn to apartment living over home ownership," said Sauter. "Art, Steve and I were drawn to Avison Young's collaborative, Principal-owned and -led culture, and we look forward to what we can achieve together in this partnership."
Carll-Tangora brings 17 years' experience in commercial real estate, specializing in the disposition and acquisition of multifamily investment properties. He has been involved in more than $2.5 billion of investment real estate transactions in the Las Vegas market. Carll-Tangora has built his career on creating long-lasting relationships with his clients over his 28 years of managerial and principal experience, forming strong connections with private investors, regional syndicators, and numerous lender relationships.
Nosrat brings more than 15 years of international real estate experience to Avison Young, including several years working in Dubai UAE, where he was part of the largest private real estate
developer Aziz Developments, and played a significant role in launching 24 luxury apartment towers across the UAE. Nosrat has called Las Vegas home since 2014, and previously served as the Vice President of investment sales at NAI Vegas/Sauter Multifamily Group.
Also joining the team is Elena Jacob as client services coordinator. A Las Vegas native, Jacob has family roots in real estate and obtained her real estate license in 2018.
Avison Young is the world's fastest-growing commercial real estate services firm. Headquartered in Toronto, Canada, Avison Young is a collaborative, global firm owned and operated by its Principals. Founded in 1978, with legacies dating back more than 200 years, the company comprises thousands of real estate professionals in more than 100 offices around the world. The firm's experts provide value-added, client-centric investment sales, leasing, advisory, management and financing services to clients across the office, retail, industrial, multi-family and hospitality sectors.
Avison Young is a 2020 winner of the Canada's Best Managed Companies Platinum Club designation, having retained its Best Managed designation for nine consecutive years.
Follow Avison Young
Twitter (News) │ Twitter (Deals) │ Blog │ LinkedIn │ YouTube │ Instagram
For more information:
Download photos of Patrick Sauter, Art Carll-Tangora and Steve Nosrat
Kate Murphy, Global Director of External Communications: 704.413.0234
David Jewkes, Principal, Managing Director, Las Vegas: 702.472.7979
Patrick Sauter, Principal, Multifamily, Las Vegas: 702.475.7726
Art Carll-Tangora, Principal, Multifamily, Las Vegas: 702.780.6765
Steve Nosrat, Principal, Multifamily, Las Vegas: 702.780.6758