Adaptive reuse: The way forward for America's aging malls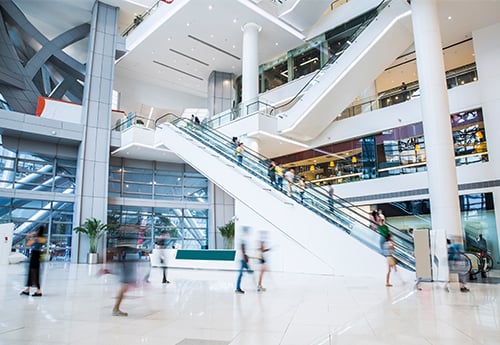 May 11, 2021
The retail sector is contending with a high degree of disruption and structural change, with singular distress taking place within the once stalwart regional mall category. There are still about 1,000 regional and super regional malls operating in the U.S. today, many of which are at risk of going permanently dark given they are not generating enough sales to remain viable over the long term. Prior to the pandemic, retailers were already facing fiscal challenges. Increasing debt burdens, moderating revenue growth, and compressing margins, in addition to the death blow of failing to find fresh new ways of connecting with consumers. According to Coresight Research, 10,000 store closures are expected to be announced by retailers in 2021, down 22% from total store closings in 2020, and many of those closures will be in America's malls. Credit Suisse has even posited that one in four malls could close by 2022.
The reality is simple – malls must adapt or fail, particularly class B and C malls, which comprise about 75% of the total. There is a viable argument that the U.S. is simply over-retailed, with CoStar Research calculating it may be overbuilt by as much as 1.1 billion square feet primarily due to overbuilding prior to the Great Recession and the rapid growth of e-commerce. According to research from PwC, there is approximately 24 sf of retail space for each person in the U.S. – 50% more than second-ranked Canada, twice that of Australia, and nearly six times that of the U.K. Add to that the fact that vacancy rates for regional and super-regional malls shot up 90 basis points during 1Q-2021 to hit a record vacancy of 11.4%, according to Moody's REIS - a significant quarter over quarter increase. So, what can be done?
Enter adaptive reuse. Owners and developers are getting creative and finding the inherent opportunity that comes with once prominent regional malls – their location. The uncontested pillars of real estate – location, location, location – are still critical, and functionally obsolescent and struggling malls are coveted spaces for adaptive reuse since by necessity most are advantageously located near major transportation corridors proximate to significant population centers and include generous parking fields. After all, adaptive reuse is simply the transformation of an existing structure into a new, more economically viable use.
The CCIM Institute has forecasted that adaptive reuse of retail centers and malls will be the most impactful trend for retail between now and 2025, and that the 5 regions that are expected to see the greatest number of mall closings and contraction in per capita retail by 2025 based on mall inventory and deteriorating performance metrics will be California, Florida, Texas, Pennsylvania, and New York.
Architects and developers are increasingly occupied with transitioning projects from pure retail to mixed-use, hospitality, office, education, healthcare, and even residential campuses. Dark big box retail buildings are finding new life as mixed-use office and retail space. Stores have turned into mini-fulfillment centers and pickup points in response to a surging e-commerce sector. Retail landlords are leasing mall space to coworking companies. A new retail story is beginning to be written, and the future is now.
Now consider the implications and benefits for the healthcare sector. Empty shopping centers are being converted to medical space as a growing patient base creates additional demand for services, and repurposing existing buildings conserves both capital and time resources, enabling them to serve their patients more quickly. Many vacant shopping malls are transitioning through adaptive reuse to serve as an extension of a larger hospital system. For example, in the Lakeview neighborhood of Chicago a dark Sports Authority was recently transformed into an outpatient clinic. An aging mall center in Nashville, TN, once the city's largest retail center, has been redeveloped as a 'medical mall' and secured Vanderbilt University and its multiple clinics, as a primary tenant. In its new life, 100 Oaks Mall has 891,000 sf of usable space, with a medical center accounting for roughly half of that space, and the balance comprised of retail and office space.
Distribution centers, schools, medical campuses, hotels, multifamily projects, and senior living facilities are all options that developers are increasingly considering as alternative uses for struggling and functionally obsolete malls.
Industrial titan Prologis is looking beyond the industrial sector with the acquisition of the nearly empty Hilltop Mall in Richmond, CA for $117 million. There are multiple redevelopment possibilities and the site will likely include a mix of modern logistics, retail and residential uses. While not technically an adaptive reuse project as Prologis has said that it will not pursue the redevelopment of the mall itself and will likely rebuild from the ground up, the acquisition does mark the firm's first foray into mixed-use development space.
Some malls have been completely rehabilitated for alternative uses. Westside Pavilion in Los Angeles was leased by Google on a 14-year deal and is being turned into a 584,000-square-foot complex for the tech giant. It will be known as One Westside when the work is complete in 2022, and is being marketed as "a first of its kind conversion" from shopping mall to creative office space. In Austin, Texas The Highland Mall was failing due to a lack of economic support from the surrounding area as demographics eroded over time but was situated in a prized location proximate to the central business district and the airport. Austin Community College and RedLeaf Development purchased the struggling property and converted it into an academic campus and mixed-use center. The second phase of the project, due to be completed later in 2021, will transform 81 acres into 1,200 residential units, 100,000 sf of commercial space, 800,000 sf of office space, and ample green space.
Providence Arcade in Rhode Island was once the oldest mall in the nation and thrived for years before failing financially. Now, it is home to affordable micro-apartments and will redevelop once again into condos, with retail units available to purchase. In San Diego, developer Stockdale Capital Partners is underway on a $550 million conversion of the former Westfield Horton Plaza mall into a creative campus that has been described by public officials as key to attracting life sciences and technology tenants to the downtown business district. The former 5-story Nordstrom is being expanded to 10 floors and the entire project will have 700,000 sf of office and 300,000 sf of retail space upon completion in 2022. Further south, the once vacant Hickory Hollow Mall in Nashville was redeveloped with a multi-functional strategy several years ago. The mall, now called Global Mall at the Crossings, features a combination of community centers including a library, a satellite campus, and a practice rink for the Nashville Predators, the city's NHL team, along with traditional retail space.
Let's think green for a moment. The reuse of older structures is an eco-friendly and sustainable choice in building as there are also environmental benefits in choosing adaptive reuse over new development. There is a significantly lessened impact on the environment as acquiring an existing property preserves the site and building, resulting in less physical and energy waste through reuse of discarded material, decreased transportation costs, and fewer costs for materials, manpower, and structural building construction.
Circling back to the issue of an oversupply of retail space in the U.S., the adaptive reuse of functionally obsolete real estate - and in this case, malls – also helps to address the problem. By combining an existing viable footprint with mixed-use components and sustainable business models that better serve the community, developers can create engaging living, working and social environments that will stand the test of time and offers benefits that will appeal to multiple stakeholders in the process.