Sightlines - United States
Huge expectations for Black Friday, but will supply chain issues darken the day?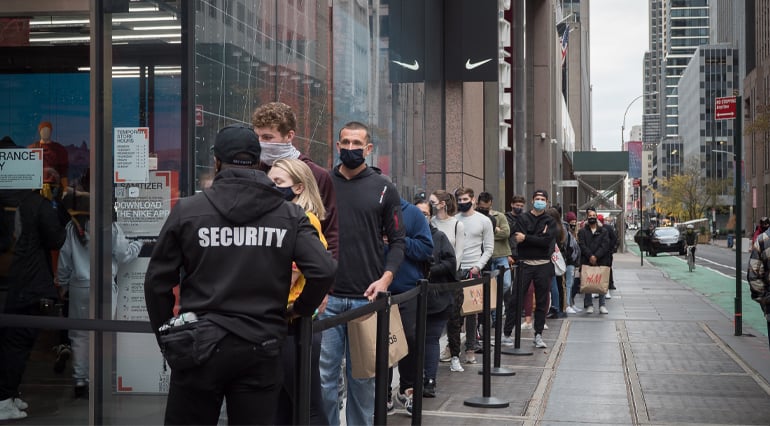 November 11, 2021
As Black Friday approaches, we look at how retailers are faring during this challenging start to the holiday season. Port congestion, labor issues, and inflationary pressures are creating an uncertain landscape for retailers as they try to meet an expected surge in consumer demand. How are businesses responding and can the industrial sector shift and turn quickly enough to help move a massive amount of holiday goods through the pipeline? We shall see...
Best,
Erik Foster
Principal
Head of Industrial Capital Markets
[email protected]
+1 312.273.9486
Holiday 2021: Shop early and often
Black Friday has long been the start of the pivotal holiday shopping season, a time when consumer spending increases and retailers move into a more profitable position. Last year's Black Friday sales surged by 22 percent from the year before, reaching approximately $9 billion, according to CNBC.
This year's Black Friday sales are expected to increase notably as well, despite the uncertainties around port congestion, labor shortages and other issues impact the flow of goods. Retail executives have an upbeat outlook for the season, where spending gains will largely be driven by high-income groups. Overall holiday sales are expected to grow by 7% to reach $800 billion, according to Bain. Deloitte expects shoppers to spend an average of $1,463 each this season, up 5% year-over-year, as more shoppers return to in person shopping.
With many industry experts predicting a chaotic shopping and shipping season, retailers have been forced to change merchandising, sales and warehousing strategies to maneuver around many obstacles. Deloitte notes 64% of retail executives are concerned about not receiving inventory on time. Some retailers began their holiday ordering months in advance to secure goods and avoid shortages of in-demand products such as laptops, toys and clothing. Others expanded their products offering to have alternative goods on hand in hopes of avoiding the "empty shelf" syndrome.
Retailers have also pushed back the traditional Black Friday start of holiday promotions, hoping to even out the flow of shopping, shipping and fulfillment. Amazon took the lead in early October with a series of "Black Friday-worthy" deals and discounts across many types of merchandise. Retailers such as Best Buy, Walmart and Target also followed suit. This early push is designed to move a massive volume of online and "ship to store" orders more efficiently through an already congested pipeline. According to Deloitte, 40% of retail executives surveys expect double digit online sales growth this year, which will continue to fuel expansion in the industrial sector.
These early deals may not translate to deep discounts. Given the slowdown in items moving through the supply chain, retailers have fewer products in their inventories and less incentive to offer deep discounts. Retail tracking firm Adobe Analytics expects holiday discounts to range from 5% to 25%, a decrease from the 10% to 30% seen in the past.
Consumers start early, find shortages
An October poll by Morning Consult found that half of the respondents had already started holiday shopping and more than 50% found items to be out of stock in stores and online. Among Millennials and Gen Z adults, the figures jumped to 70%, with one-third of those shoppers reporting multiple instances when items were out of stock.
According to Adobe Analytics, out-of-stock messages online are expected to increase by 172% this holiday season compared with 2020, with the apparel category leading the pack, followed by sporting goods, baby items and electronics.
A look at shipping service levels
The shipping and package delivery sector is also experiencing delays that are likely to create challenges for consumers. The USPS recently implemented service changes that could slow down 30% of all first-class mail. Goods that had been transported by planes are now being moved by truck, which will further delay deliveries.
A study by Deloitte found that people are most likely to blame the delays on delivery services, such as UPS and FedEx, despite the slowdowns stemming from factory shutdowns during the pandemic, a shortage of truck drivers and many other factors.
This stress in the delivery engine is translating to lower service levels in recent months. According to software provider ShipMatrix, FedEx had an 85.1% on-time performance in September, compared with 95.2% at UPS and 95.5% at the USPS. All of those measurements were lower than in previous years.
Solutions on the horizon?
There are efforts underway, through government intervention and industry efforts, to try to combat supply chain congestion. The recently passed infrastructure legislation contains billions of dollars in funding to expand the capacity of U.S. ports as well as provide funding for highway and rail projects across the country. Timelines are still being determined, however, but some port related work is expected to begin in the next 60 days. There also are talks underway to allow Southern California ports to operate on a 24-7 schedule to help clear the backlog of 70 or more ships that routinely idle near Los Angeles and Long Beach.
These efforts could take months to create an impact, however. Until then, industrial warehouse workers and package delivery drivers will continue to be center stage in the industry's efforts to move products through the pipeline. And, consumers will have to work harder to find good deals and, more importantly, find the goods they want in stock.
Sources: Business Insider, CNBC, CNN, Deloitte, Washington Post
Click the image for Economic Indicators