Sightlines - United States
Inflation and shortages may mean clean-up in aisle 22, but there are promising signs in the grocery supply chain this year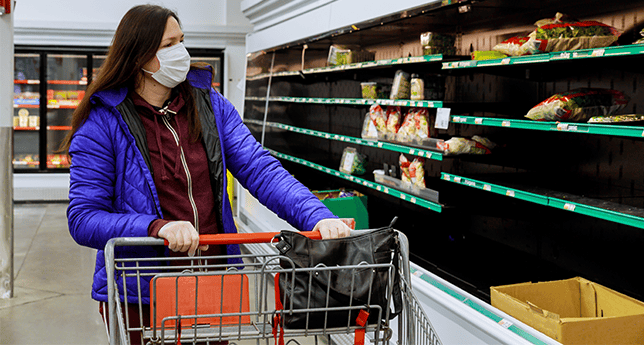 February 4, 2022
If you've been in a grocery store lately, you have seen a few empty shelves, fewer options and different brands replacing your old mainstays. Are we heading back to the days of toilet paper hoarding seen in 2020? We take a look at the complex issues impacting our food & grocery supply chains and the critical role that industrial real estate & location optimization play in any retail grocery company's ability to deliver goods. Investing in the right market(s), with the right forward-looking economic & demographic drivers, will maximize value and cash flow. This is a complex, fast-moving and ever-evolving sector, and we also note some bright spots on the retail front and what to expect for new store openings in the months ahead.
Best,
Erik Foster
Principal
Head of Industrial Capital Markets
[email protected]
+1 312.273.9486
Grocery stores grapple with empty shelves, labor & supply chain issues
Walk into a grocery store today and you might find some empty shelves in the bread aisle, a limited selection of pasta sauce, and lots of off-brand toilet paper instead of the Charmin. While it might seem like déjà vu, the current grocery store shortages are different from those found in early 2020 when hoarding toilet paper and bleach wipes was the norm.
While supply chain disruption continues to slow down product flow, there are many reasons for this current delay in grocery store deliveries. The omicron variant has had a significant impact on grocery store workers and has sidelined many who would typically stock the shelves or check out customers at the cash registers. The story is similar for workers in food production, manufacturing, shipping and distribution.
Albertson's noted in a recent earnings call that the company was having trouble recovering from supply chain issues due to omicron's impact on its work force. Consumer foods giant Conagra noted similar issues regarding absenteeism due to the variant.
Recent winter storms and other severe weather and the ongoing labor shortage in the trucking and food sectors have also slowed deliveries. According to the California Grocers Association, there are notable differences with today's shortages versus those seen in 2020. Today's shortages are typically short-term in nature, with items being out of stock on one day and back in stock within a day or two.
Broader climate change issues are also a factor in food shortages, with severe weather impacting locations around the world, reducing corn and soy output to feed farm animals, and ultimately the availability of meat, eggs, and dairy products. Heavy rains in Brazil have impacted coffee production, while storm related road closures in the Northeast and Washington state, for example, have slowed food shipments to other areas.
Another important factor is the availability of labor. Many grocery store employees have quit their jobs over the past year, after working on the front lines through the height of the pandemic. A survey by the National Grocers Association found that many grocers reported operating with only half of their typical workforce. This often translates to fewer open checkout lanes throughout the day.
Some grocery businesses are increasing their reliance on automation to address these challenges, including adding more self-checkout terminals to move customers through the store without needing additional labor. Technology is also being utilized to update pricing and manage inventory, tasks that often were handled by workers. With the labor shortage now seen as a long-term issue, grocers are continuing to look at new options to help keep stores stocked and food products flowing through the pipeline.
Brick & mortar rebounds
With the massive expansion in e-commerce and issues related to the pandemic, commercial real estate owners have been hit hard by retail store closures in recent years, The pendulum appears to be swinging back in the other direction, however. According to Coresight Research, traditional retail stores are making a comeback. For the first time in five years, store openings may top store closures this year.
One notable expansion is Foxtrot, the upscale Chicago convenience store chain that has raised more than $100 million and plans to open 50 retail stores by 2023. Half of those locations will open in Boston, Austin and Chicago – where the Willis Tower, Tribune Tower and the Wrigley Field neighborhoods will see new stores.
Despite the trend of brick & mortar stores closing during the pandemic, Foxtrot saw traffic into its retail locations increase over the past two years. The company expanded its headquarters in the Fulton Market with a 30,000-sf lease, about four times the size of its former headquarters in the River North submarket.
Other retailers that are expanding their storefronts include several large national chains that could open thousands of stores in the next 12 months. Dollar General plans to open 1,100 new stores in 2021, including many of its more upscale Popshelf stores.
Dollar Tree /Family Dollar is planning to add 400 stores, including those with revamped formats and some that combine both brands in one location. Neither brand has an online presence, as is true for most of the dollar store space.
Big Lots plans to open 50 stores this year and then or more annually for the next several years. And, discount grocery store Aldi plans to add 100 locations in the next year and would be the third largest grocery chain, based on store locations, after Walmart and Kroger.
Among the other retailers that are expanding are Costco, Five Below, and Tractor Supply. Wayfair plans to add its first three permanent stores. While some projections on store openings will be scaled back, the overall forecast for new retail sites is more positive than it has been for 15 years.
Sources: CNBC, KPMG, Forbes, NPR, RetailDive, The Real Deal, Supermarket News
Click the image for Economic Indicators.