Avison Young Releases 2020 Global CRE Trends Forecast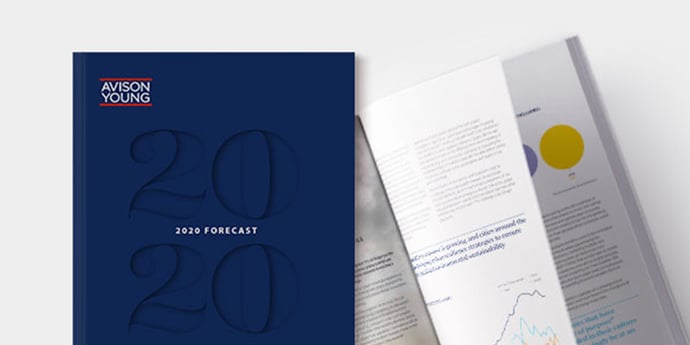 January 21, 2020
Metro Atlanta CEO - Avison Young released its global 2020 Commercial Real Estate Forecast Report yesterday, which highlighted 10 trends that will impact commercial real estate in 2020
Metro Atlanta CEO - Avison Young released its global 2020 Commercial Real Estate Forecast Report yesterday, which highlighted 10 trends that will impact commercial real estate in 2020. The report included both national and local outlooks, including Atlanta. The annual report series helps to understand economic, geopolitical and business drivers and provides perspective on how global events, trends and indicators impact commercial real estate in a variety of sectors, including capital markets, office, retail, industrial, multi-family and hospitality, among others. The goal is to create resilient real estate strategies.

Some of the trends impacting real estate strategies and business identified by Avison Young, include:

Lower for longer: How investors are dealing with a low inflation, low interest rate world.
Power to the people: Landlords, developers and occupiers need to pay increasing attention to local political activism, as today's street protests increasingly signal tomorrow's policy initiatives.
(De)globalization: The pace of globalization is slowing, and in some areas is starting to reverse as nearshoring and the localization of supply chains gathers momentum.
Building resilience: Cities across the world are leading the charge in responding to climate change, to ensure economic, social and environmental sustainability.
Placemaking is becoming the focus of socially responsible investors looking for impact investment opportunities.
"For the seventh year straight, Georgia was once again named the No. 1 state in which to do business. Atlanta continues to see unprecedented rental rates in the upper $50s for new construction projects and currently has 20 million square feet of industrial construction underway," said Steve Dils, Managing Director - Avison Young Atlanta. "However, factors like sustainability, co-working and changing legislation are beginning to impact tenants, developers and owners. Avison Young's research is critical in providing our clients with current and forecasted trends and more importantly, allows us to advise our clients on how those trends may impact their current and future real estate transactions," he added.

The report also indicated that while there is uncertainty from a global standpoint, opportunities remain across all sectors driven by an increased focus on responsible investing, climate change, the implications of continued low interest rates, and other factors.