Cloud Software Company Sets Up East Coast Shop At 1100 Peachtree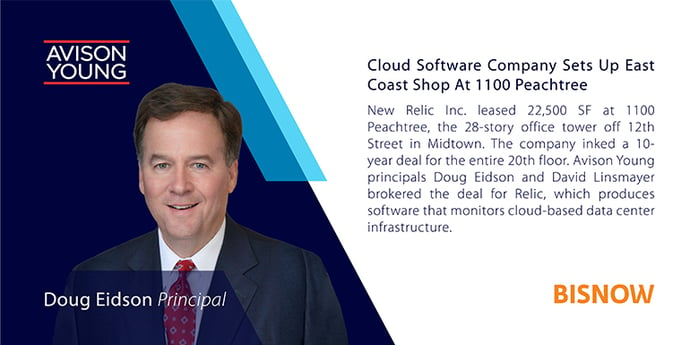 March 10, 2020
Doug Eidson with Bisnow Atlanta
Bisnow - A California software company is moving its Atlanta team out of coworking space and into permanent offices.
New Relic Inc. leased 22,500 SF at 1100 Peachtree, the 28-story office tower off 12th Street in Midtown. The company inked a 10-year deal for the entire 20th floor. Avison Young principals Doug Eidson and David Linsmayer brokered the deal for Relic, which produces software that monitors cloud-based data center infrastructure.
Avison Young officials said in a release the new space allows for New Relic to add employees.
"New Relic's growth profile meant that the company needed a dedicated space for its growing Atlanta team," Eidson said in the release.
The company didn't identify which coworking facility New Relic is moving from.
New Relic is just the latest tech company moving to Midtown. The submarket has seen tremendous growth in its corporate presence as companies strive to be closer to a pipeline of graduating students from nearby universities, especially Georgia Tech.
"Really, the reason anybody comes down there is to poach the talent," Georgia Tech Executive Director of Real Estate Tony Zivalich said during a Bisnow event last week. "[Companies] need fresh thinking, new ideas. And us older folks in the room here, we got it right for a while, but if we're not relearning every day, we're behind the curve."

Read the full article here