New office leases expand around Perimeter area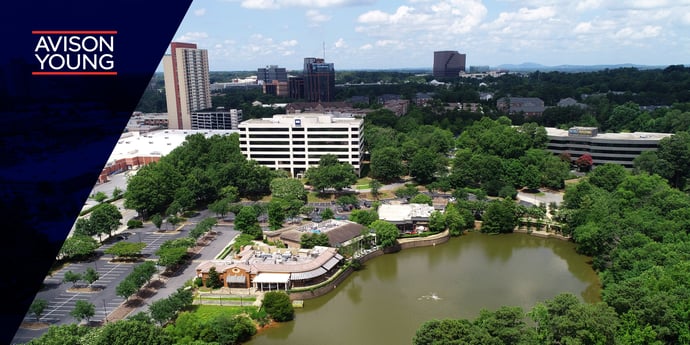 April 13, 2020
Kirk Rich - Atlanta Business Chronicle
Atlanta Business Chronicle - As Dunwoody has grown as a center for live, work, play in metro Atlanta, companies are increasingly making their home in its expanding crop of new and renovated Class A office spaces. In the past year, net absorption hit 573,000 square feet in a market that totals more than 8.1 million square feet of office.
After that run, property owners and companies are wondering what impact the COVID-19 pandemic will ultimately have on occupancy. Will it be a bump in the road as shelter-in-place orders are eventually rescinded and companies recall telecommuting workers? Some real estate brokers concede that if the pandemic produces a deep recession, lease plans may end up being reconsidered.
So far, most companies have their employees working from home. Those just getting their certificates of occupancy have to decide when it is safe to move in their staff.
"For the most part, the deals we've been working on are continuing to proceed – which is good," said Boone DuPree, president of Preferred Office Properties. "It's not like 12 years ago [during the Great Recession] when people were saying, 'We don't need this space anymore.'"
The uncertainty and the hope that economic life could resume has made companies reluctant to abandon their plans, "because they know that they'll need that space eventually," said DuPree. "They're just saying, 'Let's hit pause.'"
"We're in a new era and we're not sure what to expect moving forward," said Michael Starling, Dunwoody's director of economic development.
Dunwoody's office leasing continued to expand through 2019 and the beginning of this year.
"We were really on a great trajectory," said Kirk Rich, principal with Avison Young's Agency Leasing Group, who represents 900 Ashwood. "I hope that trajectory continues."
A number of office leases have been finalized including Insight Global. The company took 230,000 square feet in the new Twelve24 building. With a certificate of occupancy in hand, the company is expected to move its workers into the building once it is deemed safe to do so and shelter-in-place orders from the government have been lifted.
RECOMMENDED
Three Ravinia Drive in Central Perimeter is the new home of Zillow Offers and Lease Query, each taking 50,000 square feet.
These companies are in "growth mode," said DuPree. "For so many companies, office space becomes a recruiting tool. That ranges from the location, the accessibility, the amenities, just general quality of the experience."
Easy access to transit is a selling point for many companies and their employees. A survey by CBRE found that about 10% of Ravinia workers took MARTA to work – the highest in the Dunwoody submarket, according to DuPree.
As State Farm has continued to build out its campus, it is slowly closing out leases in buildings around the submarket, including about 183,000 square feet in Ravinia. Some 130,000 of that space is yet to come back on the market, according to DuPree.
Companies are attracted to Dunwoody because of its community feel, CRE experts said. Amenities such as sidewalks, bike and pedestrian paths, lighting and "good branding" have helped raise the city's profile for businesses, said Rich.
Vacancy rates go up and down as companies move around and take more space.
At 900 Ashwood Parkway, which recently signed Pathbuilders as a tenant, the 18% vacancy is due to the completion of renovation work on floors held by Oldcastle. The company occupied other space during the renovation, and recently returned those floors to the market, according to Rich.
Brokers agreed that the city has streamlined the process of getting a certificate of occupancy and dealing quickly with problems.
"From from the top down, the city officials understood how important it was to make the process easy," said Steve DeVinney, senior vice president with Stream Realty.
Sterling Pointe has attracted a broad array of tenants, including companies in electronic payments, insurance, consulting, hardware, software and professional services.
Fast-growing payment transaction company Paya moved its headquarters into office space at Sterling Pointe. Other recent leases include Mutual of Omaha, which combined two other Atlanta locations into one office to take advantage of the Central Perimeter's walkability and an onsite hotel, according to DeVinney.
As office developers in Dunwoody contend with current reality, they continue to look to the future. For example, the long-vacant Gold Kist headquarters in Dunwoody's Perimeter Center is being remodeled and renovated. The site will offer many of the amenities that have made other buildings attractive, including walkability to Dunwoody MARTA, Perimeter Mall and the new State Farm campus.
"We are currently conducting interior demolition," said Phil Mays, principal with RocaPoint Partners. "In addition, we are in architectural design and land planning phases for 244 Perimeter Parkway, and are bringing a number of world-renowned partners onboard to bring our vision for the renovation to life."
The existing building sits on a 13-acre site and consists of 265,000 square feet, with 80,000-square-foot floor plates and 14-foot ceilings.
"Given its unique history and amazing location, this building would be perfect for a number of companies," said Mays. "It has always been a single-tenant building, and we think that a single user continues to make sense, however, we are still evaluating our options."