Q1 2021 Dallas Office Market Report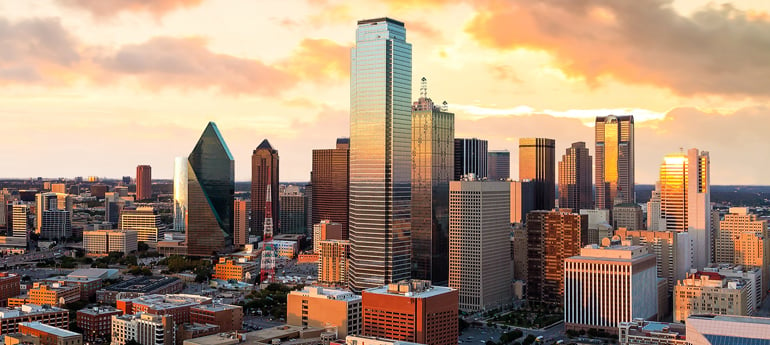 12 May 2021
Excitement begins to return even amidst the harsh numbers
The Dallas-Fort Worth metro (DFW) saw another quarter of negative net absorption as a result of the COVID-19 pandemic. The market finished Q1 2021 with an eye-opening -5,578,390 sf of 12-month net absorption and -2,469,077 sf of quarterly net absorption. As a result, the office vacancy rate rose to 18.2%.
The office market saw a substantial 3.2 msf deliver in the last 4 quarters. Cranes continue to fill the skyline as construction carried on with 6.9 msf underway; down from the cycle highs of 2016, which saw 14 msf under construction, but still enough to make DFW one of the most active markets in the county.
Corporate relocations and expansions continue to generate buzz in the market as well as drive most leasing activity. As the pandemic shifts to recovery, expect more and more migration to the state and metro.
The market's record 9.1 msf of available sublease space will likely be a defining transaction driver for 2021. Class B and older properties continue to post negative net absorption, while newer product and build-to-suits host the vast majority of deals and absorption.
Sales volume is gaining momentum, seeing another quarter of rising activity. Office product saw $895M in sales for the quarter, drawing back closer to the pre-COVID quarterly average of >$1B.
Dallas is showing signs of pivoting to growth once again now that recovery excitement is palpable. Measures such as vaccine rollouts and state legislature reopening capacity levels will likely bolster companies' abilities to return to their offices. Looking ahead, expect companies to continue re-evaluting their CRE needs and integrating flexible office options + Work From Home capabilities into their office strategy.