Avison Young negotiates office leases spanning 48,511 sf in northwest Houston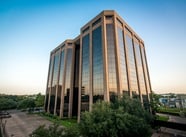 June 17, 2019
Harris County Engineering Department-Recovery and Resiliency Division, Flood Control District and Community Services Department to occupy spaces
Houston, TX – Avison Young, the world's fastest-growing commercial real estate services firm, announced today that it has negotiated two leases, one for 21,943 square feet (sf), and the second for 26,810 sf, totaling 48,511 sf of office space at 13105 Northwest Freeway in Houston.
Avison Young Principals Sam Hansen and Doug Pack, who are both based in Houston, and Jonathan Cohen, a Senior Associate in the firm's Houston office, represented the landlord, NW Crossing Management, LLC in five-year leases with Harris County. The Harris County Engineering Department- Recovery and Resiliency Division, Harris County Flood Control District (HCFCD), and the Community Services Department will occupy offices on the fourth and sixth floors to increase the number of professionals necessary to deliver flood-risk reduction projects throughout the county.
"NW Crossing Management, LLC provided the ideal location for the expansion of Harris County's offices," comments Hansen. "The easy access to Highway 290, Loop 610 and Sam Houston Parkway will be a huge benefit to commuting employees."
"We are proud to offer class A building amenities and services to HCFCD in order to enhance and facilitate the delivery of vital flood-mitigation and disaster-recovery services to Harris County residents," says Berzin Bhandara of NW Crossing Management.
"We are pleased to be in a space that will accommodate three Harris County departments and still be near the headquarters for both Harris County Flood Control and Harris County Engineering," adds HCFCD Communications Officer Rob Lazaro.
Beeman Strong & Co., Inc. represented the tenant.
Harris County is expected to move into the space in July.
Avison Young is the world's fastest-growing commercial real estate services firm. Headquartered in Toronto, Canada, Avison Young is a collaborative, global firm owned and operated by its Principals. Founded in 1978, with legacies dating back more than 200 years, the company comprises approximately 5,000 real estate professionals in 120 offices in 20 countries. The firm's experts provide value-added, client-centric investment sales, leasing, advisory, management and financing services to clients across the office, retail, industrial, multi-family and hospitality sectors.
-end-