Avison Young holds sixth annual global Day of Giving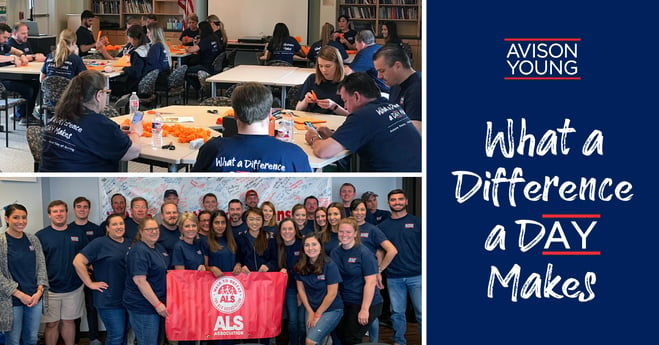 October 25, 2019
Firm's Houston staff provide volunteer services to ALS Association and Bo's Place
Editors/Reporters
• Please click on links to view and download photos of Avison Young's Day of Giving in Houston:
Houston, TX – Avison Young's Houston team pulled double-duty volunteering at two charitable organizations, the ALS Association, Houston Chapter and Bo's Place, for their sixth annual global Day of Giving on Thursday, October 24, 2019. Approximately 100 Avison Young offices in the U.S. and around the world simultaneously participated in their communities on a volunteer project of their choice.
The firm's Houston staff spent the morning at the ALS Association getting their offices organized and ready for their upcoming "Walk to Defeat ALS" events in Houston and The Woodlands.
The Avison Young team continued their day-long community service in the afternoon at Bo's Place, Houston's largest free-standing bereavement center. More than 40 employees worked diligently on various decoration projects for the center's upcoming event, "Ofrenda – A Dia de los Muertos Festival.
The center has a special place in the hearts of the firm's staff because it was named in memory of Laurence Bosworth "Bo" Neuhaus, Jr., brother of Avison Young Principal Charlie Neuhaus. Bo passed away at the age of twelve from liver cancer in 1985.
"Avison Young's commitment to community service is truly inspiring," says Neuhaus. "I am extremely proud to serve as a principal for a company that takes the time to make a difference for those who need guidance and assistance during difficult times. It's not always about the profit at Avison Young. It's about the people."
Neuhaus and Avison Young Principal Harry Holmes previously served on the Board of Directors of Bo's Place and currently serve on its Advisory Board.
"When you have a company that promotes the spirit of giving and encourages their employees to give back to their communities, you have a tremendous opportunity to improve the well-being of society," remarks Rand Stephens, Avison Young Principal and Managing Director of the company's Houston office. "I'm proud to say that our office has big-hearted individuals that give back to their communities and continue to make Houston strong."