Avison Young tenant rep team completes lease of an additional 3,762 sf of office space for Houston-based architectural design firm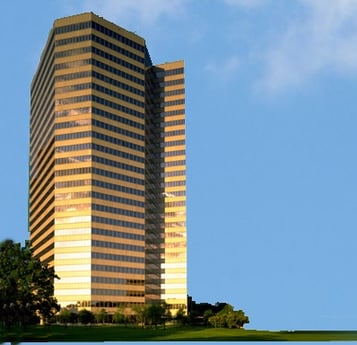 August 25, 2020
Less than 90 days after signing lease, Goree Architects, Inc. adds more space to headquarters
Houston, TX – Avison Young announced today that the firm's Houston office advised Goree Architects, Inc. on the expansion of their leased space at Sage Plaza, 5151 San Felipe St. in Houston, TX, by an additional 3,762 square feet (sf). This brings the firm's total office footprint to 17,968 sf, occupying nearly the entire 17th floor.
The architectural design firm signed its Sage Plaza lease in May consisting of 14,206 sf. Since then, Goree Architects has experienced substantial growth within their commercial division resulting in the need for additional office space. They expect to occupy the space by November 2020.
Goree Architects was represented by Avison Young Principal, Anthony Squillante, and Associate, Collin Roach, who are based in the company's Houston office. The landlord, Granite Barnhart Sage Plaza LP was represented by Nina Seyyedin, Senior Associate, and Jason Presley, Senior Vice President, both with CBRE.
"During these precarious economic times resulting from COVID-19, it is great to see a company not let circumstances beyond its control deter their progress," said Squillante. "It's an exciting time for Goree Architects as they continue to experience tremendous growth and success," added Roach.
The design of retail automotive facilities has been the core segment of Goree Architects' business since 1963, and over the last few years the firm has also established a presence in the commercial and corporate interior(s) sectors spanning the industrial, manufacturing, office, and retail markets. Goree's team serves both landlord and tenant-represented projects and has a healthy pipeline of each at present.
"The rapid growth of our Commercial and Interiors Divisions drove the decision to add more space before completing our current build-out. It's a very exciting time for our team here," said Steve Craney, President of Goree Architects, Inc.
"We look forward to welcoming Goree Architects to Sage Plaza, and we are honored to have been selected as the headquarters for this innovative and growing company," added Seyyedin.
Avison Young is the world's fastest-growing commercial real estate services firm. Headquartered in Toronto, Canada, Avison Young is a collaborative, global firm owned and operated by its Principals. Founded in 1978, with legacies dating back more than 200 years, the company comprises thousands of real estate professionals in more than 100 offices around the world. The firm's experts provide value-added, client-centric investment sales, leasing, advisory, management and financing services to clients across the office, retail, industrial, multi-family and hospitality sectors.
Avison Young is a 2020 winner of the Canada's Best Managed Companies Platinum Club designation, having retained its Best Managed designation for nine consecutive years.