Las Vegas office market report Q3 2021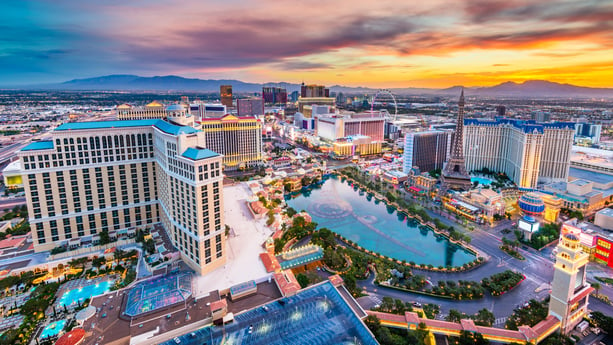 October 22, 2021
Key takeaways:
Economic conditions
The Las Vegas unemployment rate briefly peaked at 33.3% in April 2020 and was at 9.3% in July 2021. From 2000 until February 2020, the average unemployment rate in Las Vegas was 7.0%. Nevada's July unemployment rate was the highest of any state at 7.7%.
Office-using job losses since the start of the pandemic reached 9.2% in July 2021. In the three months, state government roles declined by 14.1% while the leisure and hospitality sector
roles increased by 3.7%. The latter trend is an encouraging sign for the tourism-reliant Las Vegas economy.
Recovery rate
Las Vegas monthly gambling revenues reached an all-time high in July at $794 million. This
amounted to a 46.2% increase relative to July 2019. A strong rebound in gaming revenues has
some analysts predicting a prepandemic rebound occurring as early as mid-2022.
The number of people who visited Las Vegas in July was up 129.7% year-over-year. Compared to July
2019, the total number of visitors was 10.4% lower in 2021.
Office demand
2021 pro-rated leasing activity is 13.4% lower than the average annual leasing level from 2010 to 2019.
From 2014 to 2020, the amount of total leasing activity had declined each year. 2021 is on pace for 2.8 msf of office leasing activity, which would surpass both 2019 and 2020.
Morgan Stanley signed a new 22,000 sf lease in July, relocating from their current regional operations location in Las Vegas. Their move is slated to take place in Q2 2022 as a tenant in the UnCommons mixed-use project. The project expects to have 500,000 sf of office space, with 175,000 sf delivering in the next two quarters.
Office supply
The Q3 2021 vacancy rate is 15.5%, down from 15.9% last quarter. Vacancy rates are still well below the levels reported after the Global Financial Crisis, which exceeded 20.0% from 2010 through 2014.

Sublease vacancies stabilized quarter-over-quarter, increasing by roughly 17,000 sf. This trend could be the first sign of positive absorption in upcoming quarters, which would enable vacant sublease space to decrease below the current level of 1.0 msf.
Pricing trends
Net effective rents grew by 5.0% year-to-date. Although the market is still feeling the impacts of the pandemic, rents have continued to increase.

Numerous class A properties have increased rents as a result of high demand. Centra Point Office Park increased rents by 9.1% in the quarter. The UnCommons mixed-use project has increased rents twice during construction.
Capital markets
Total office investments year-to-date reached $450 million. Annualized dollar volume from for 2021 is outpacing the pre-COVID five-year average by 3.8%.

Average annual asset pricing increased by 5.8% per year between 2015 and 2020. In 2021, average asset prices have only increased by $1 psf or 0.5% year-over-year. The COVID-19 pandemic seems to have accelerated the slowdown of asset price increases that began moderating in 2019.