News release - Las Vegas
Avison Young appoints Harry Klaff as U.S. President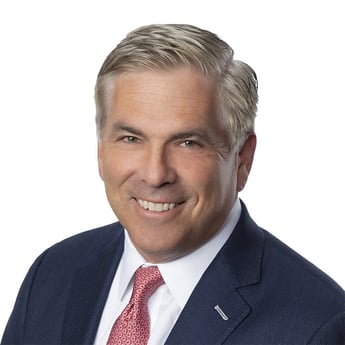 June 20, 2023
Klaff will focus on providing client-facing value and revenue generation
Chicago, IL – Avison Young today announces that Harry Klaff will transition to the role of U.S. President. Klaff's deep industry knowledge within the firm and the commercial real estate industry will position him to lead Avison Young's U.S. team, working closely with the firm's CEO, Principals, and executive team. He will continue to operate out of Washington, D.C., overseeing the firm's U.S. markets and leading its 2,000+ employees.
"Harry has been an integral part of Avison Young's team for nearly three years and I'm excited to see him transition into the role of U.S. President," said Mark E. Rose, Chair and CEO of Avison Young. "He has made significant strides in bolstering our reach and offerings in the occupier, owner, and investor spaces, and his depth of experience – specifically in client-facing roles – will allow him to provide invaluable support to our teams as we work to continue creating real value for clients."
Since joining Avison Young in October of 2020 as President of Clients, Klaff has successfully led the firm's client engagement platform, leveraging its collaborative culture to build connectivity across service lines.
"I look forward to strengthening the close partnerships I've built over the years with Avison Young's country and service line leaders across the globe, further driving alignment and collaboration among teams," said Klaff. "Avison Young's technology and data capabilities are the best in the industry, and our teams are well positioned to provide differentiated insight to better support our clients. I'm excited to lead this endeavor and be a part of such an innovative and transformative firm."
As U.S. President, Klaff will continue to build relationships globally as he has over the last three years. He will also work closely with Avison Young's market and functional leads across the U.S., developing strong, customized go-to-market strategies that resonate within different sectors and asset classes.
Harry succeeds Juan Bueno, who is leaving the firm for a new opportunity. Bueno has been a valued partner for nearly two years, bringing a dynamic leadership style, and an entrepreneurial and creative approach to the firm's teams across the United States.
Avison Young creates real economic, social and environmental value as a global real estate advisor, powered by people. As a private company, our clients collaborate with an empowered partner who is invested in their success. Our integrated talent realizes the full potential of real estate by using global intelligence platforms that provide clients with insights and advantage. Together, we can create healthy, productive workplaces for employees, cities that are centers for prosperity for their citizens, and built spaces and places that create a net benefit to the economy, the environment and the community.
Avison Young is a 2023 winner of the Canada's Best Managed Companies Platinum Club designation, having retained its Best Managed designation for 12 consecutive years.
For more information:
Media Contact: