Memphis industrial market report (Q2 2021)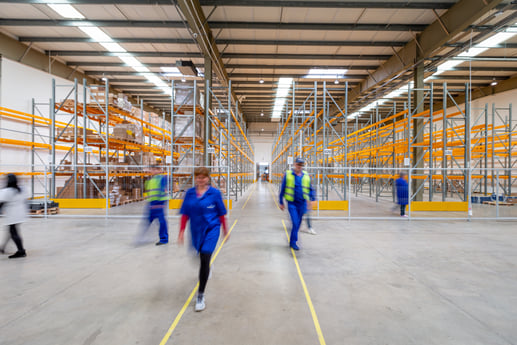 July 15, 2021
The Memphis industrial sector continued its hot streak through midyear as large space requirements by distribution and e-commerce users fueled demand, sustaining the wave of unprecedented activity that seized the market at the beginning of the COVID-19 pandemic.
Encouraged by vaccine availability, the region's economy is on the mend following a year of uncertainty stemming from mandated business restrictions and closures. At the beginning of April, the State of Tennessee announced that vaccine distribution would no longer be gated by age and/or health-related risk factors, and although Shelby County's vaccination rate had slowed slightly by the end of the quarter, it continues to grow in a positive trajectory.
According to the U.S. Bureau of Labor Statistics' June 2021 report, 850,000 jobs were added to the economy nationally, with favorable returns in both the Government and the Leisure and Hospitality sectors. As people return to the office, improvement in the Professional and Business Services sector is expected; however, the unemployment rate still remains higher than it was prior to the pandemic. In Memphis, the May 2021 unemployment rate was reported to be 6.3%, down 6.7 percentage points (pp) from its April 2020 peak of 13.0%.
The outlook for the industrial market in the coming months is positive. Demand for warehouse and distribution space will remain competitive as e-commerce continues to drive occupancy gains.
Leasing
The market recorded 8.1 million square feet (msf) of leasing activity this quarter, bringing the total volume for the first half of the year to 12.2 msf. New transactions accounted for 6.8 msf of the total, while renewals consisted of 1.3 msf and subleases comprised 57,285 sf. The largest deal this quarter was Milwaukee Tool's 1.1 msf lease at I-269 Industrial Park Site 1 that is currently under construction in Marshall County. The deal brings the tool manufacturer's total footprint in the MSA to more than 2.5 msf.
Amazon is expanding in the market once again with a 1-msf lease at Gateway Global Logistics Center Building 11 in Marshall County. The e-commerce giant has developed a significant presence in the region since their entrance into the market in 2018; between its Sort Facility in the Northwest submarket, its Receive Center in the Southeast submarket, and other fulfillment centers, the company occupies more than 6.7 msf in the area.
The direct vacancy rate recorded 6.6%, representing a slight increase from last quarter as projected due to the delivery of 2.8 msf of new speculative buildings. Direct net absorption reached 3.7 msf, driven by Hamilton Beach's 1 msf build-to- suit and their 340,000-sf move-in at 100 Nemec Way in Marshall County. In the Southeast submarket, Yeti's 971,800-sf build-to-suit delivered at Memphis Logistics Centre Building 3.
Sales
Industrial investment volume took a dive this quarter with only $44 million in sales. In the largest transaction, Atlanta-based Robinson Weeks Partners sold Memphis Global Crossing Building 2, a 321,298-sf speculative development that recently delivered, to Imperial Industrial Supply Company for $19.7 million. This is Robinson Weeks' second disposition in Distriplex Farms after developing and selling Memphis Global Crossing Building 1 to DHL Supply in June of 2020 for $20.3 million.
Construction
Supply chain and e-commerce demand continue to drive the market as consumer spending increases and business to consumer delivery volume remains elevated. The Memphis industrial market delivered seven buildings totaling 4.6 msf of product this quarter; surpassing last year's fourth quarter record-breaking 4 msf of inventory added. This trend is expected to last as 14.4 msf of product is under construction, 80% of which is speculative development. As a result, the delivery of new speculative buildings will temporarily increase vacancy rates but will balance out as most new speculative development is leased within a year.