Avison Young Closes Sale of Two Redevelopment Parcels in The Gulch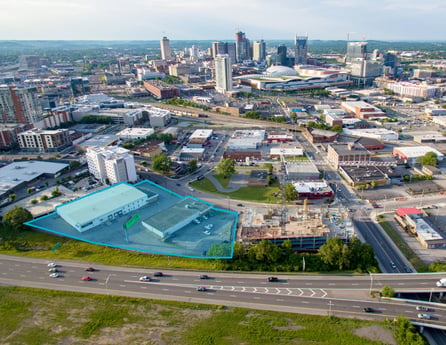 11 Dec 2019
Nashville, TN (December 11, 2019) - Avison Young is pleased to announce the sale of RJ Young's two redevelopment parcels located in the Gulch in Nashville, Tennessee for $20.7M to The Dinerstein Companies (TDC). The disposition team at Avison Young led by Lisa Maki, CCIM and Mike Jacobs, CCIM, represented RJ Young in this transaction.
The two parcels, 805 & 809 Division Street totaling 2.38 acres, are prime redevelopment sites in one of the most coveted areas in Nashville. The Gulch is one of the top-performing and highly sought after micro markets in Nashville. "We are pleased to have selected a buyer that understood our need to make our move to the new facility as smooth a transition as possible" said Chip Crunk, President and CEO of RJ Young. "The Dinerstein Companies was a great fit in helping us achieve our goals on timing and we are very excited to have our entire Nashville operation operating at one property now" added Chip. RJ Young purchased a 19.21-acre MetroCenter property located on Freeland Station Road in 2017 for its' new headquarters. RJ Young was a long-time Gulch resident, putting roots down in 1955. They simply out grew their former headquarters and wanted to accommodate their growth.
The buyer, TDC, bought the two for a mixed-use redevelopment. "We are excited about our new development on Division Street. Aspire will be TDC's third high density apartment project in Nashville's urban core and we are excited to add to the city's already impressive skyline." said Brian Dinerstein, President.
About Avison Young
Avison Young (avisonyoung.com) is one of the world's fastest-growing commercial real estate services firm. Headquartered in Toronto, Canada, Avison Young is a collaborative, global firm owned and operated by its Principals. Founded in 1978, with legacies dating back more than 200 years, the company comprises approximately 5,000 real estate professionals in 120 offices in 20 countries. The firm's experts provide value-added, client-centric investment sales, leasing, advisory, management and financing services to clients across the office, retail, industrial, multifamily and hospitality sectors.
About RJ Young
RJ Young (rjyoung.com) RJ Young is the largest, privately held dealer in the Southeast and one of the largest in the nation, specializing in managed IT services, document management solutions, managed print services, remote support, remote monitoring, fulfillment services, and office imaging for small to enterprise level businesses. Headquartered in Nashville, Tennessee, RJ Young has been partnering with businesses since 1955 and has over 650 employees in over 30 sales and service locations across nine states. Under the corporate tagline "Your productivity is our mission," RJ young helps modern professionals become more successful in their businesses with solutions to securely manage paper and digital information and empowers businesses with leading printing technologies. Learn more about RJ Young.
About The Dinerstein Companies
The Dinerstein Companies (dinersteincos.com) Founded in 1955, TDC has developed over 65,000 multifamily units nationwide. The company currently has over $2.76 Billion in Apartment Assets under Management and is the leading "green" developer in the country with $3.03 Billion in LEED product completed or under construction.
_______________________________________________________________________________________________________________________________________________________________
PR Contact: Elise Durant | 615.727.7400