Sneak Preview: How Real Estate Legend Bruce Ratner Got His Start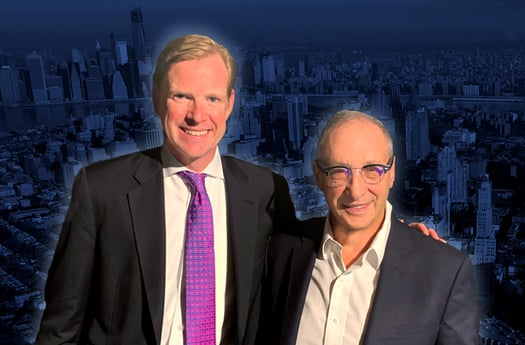 4 Oct 2019
Please subscribe to our podcast on Apple Podcasts, Spotify, Google Play or Stitcher.
By James Nelson
For this month's Nelson Report I was thrilled to get a rare interview with real estate visionary Bruce Ratner. Ratner has had a hand in some of the largest New York City developments including the Barclays Center and Pacific Park Brooklyn, a four-million-square-foot planned development. Since co-founding Forest City Ratner Company in 1985, Ratner's company has built around 50 ground-up projects in New York City, including New York's tallest modular tower, the New York Times building, the 16-acre Metro Tech office complex and a Frank Gehry apartment tower. Until recently, Ratner was an owner of the Brooklyn Nets and on top of all his business achievements he is also chairman of the Museum of Jewish Heritage and is on the board of Memorial Sloan-Kettering Cancer Center and Weill Cornell Medicine.
I began the interview by asking Ratner about his childhood in Cleveland, Ohio.
"My father was born overseas in a little town in Northeastern Poland, which was then Russia, called Bialystok and he came here when he was 20 years old in 1920. And it was one of the last groups of Eastern European immigrants to get to the United States. He had a fourth-grade education, and he started working on a construction job carrying water for bricklayers."
Eventually, Ratner explained, his father found himself in the building supply business where he sold brick and block, and concrete. Ratner began working with him at 12 years old loading and later driving trucks. "They used to fix the trucks, so I would watch. I learned how to weld. I kind of liked it. I always liked to work. And I would like to even do physical labor... It was also the '50s, and there was a lot of home building happening. My father primarily supplied home builders [like] Levittown. I remember the sign on the houses that he would supply brick to. They said, '5,999'. That's $5,999 for a house after the war."
Ratner went on to explain that after his father's death in 1961 he ended up going to Harvard University then followed in his brother's footsteps to Columbia Law School.
"Right after passing the bar, one of my professors called me and said, 'Bruce, would you like to run a neighborhood office in Queens?'," Ratner said.
This led to his job with the Lindsay administration where from 1970-1973 Ratner was director of the Consumer Protection Division and head of the Model Cities Program, the federal urban-renewal program that was a key part of President Lyndon Johnson's War on Poverty. He then spent the next four years teaching law at New York University before serving as commissioner of consumer affairs for Mayor Ed Koch from 1978 to 1982. I asked Ratner if his work imparting knowledge on others stuck with him as he grew a company.
"I love to teach," he began, "My goal when I decided to go into business…was to earn $130 000, I don't know why I picked that number, $130 000 a year as passive income so I could teach the rest of my life. I gave myself eight years to do that...Of all the things that I've probably done, I think I enjoy teaching the most." After four years of working for New York Mayor Ed Koch, at 37 years old, Ratner decided to go into real estate to achieve that goal.
"I said to myself… "You know what, Bruce? You're really kind of running a business [as Commissioner of Consumer Affairs], so now you've got to make some money. You've got two kids in school, you don't have a lot of money, and you've got to figure out how to earn more money.' …And I said to myself, 'Oil and gas is to Texas, as real estate is to New York.' And so, it's going to be real estate, and I just made that decision."
Ratner went on to explain that his first office was a 110-square foot sublet in the Flatiron Building with a desk made out of a door. He became proficient at Lotus 123 to make spreadsheets and projected setups for properties. Eventually he found some buildings he could syndicate.
"I wound up buying and syndicating, the Herald Tribune Building, which happens to be between 40th and 41st between Seventh and Eighth," Ratner said.
There were 36 units to be sold at $125 000 a piece. He was able to sell half the units before enlisting the help of Steve Ross who was able to sell the second half.
"All of a sudden I found out I was now the general partner. The building cost $11 million dollars. It was 200,000 square feet, 50 bucks a foot. And so, I had my first syndication. So, that's how I started."
When tax laws changed in 1986, Ratner's syndication business was less profitable so he ended up joining friend Michael Belkin's law firm. The firm represented Polytechnic University, which was planning to leave Brooklyn unless the city agreed to let them build a "Silicon Valley type" project in downtown Brooklyn.
"Now, you have to understand, this was 1986. And while the economy was pretty good then, there was no development in Brooklyn, there was minimal development in the city…So, Belkin comes to me, he says, 'Bruce, it's zoned for a million square feet, you ought to talk to him.'"
And that's how Ratner's first development, MetroTech Center, got started.
To hear more about Bruce Ratner's path to development, building the Barclay's Center and what it was like to work with Jay-Z, please listen to "Real Estate Investing – Live from New York", James Nelson's new radio show broadcast on the VoiceAmerica network starting on October 29th at 7pm EST with a rebroadcast on October 30th at 7am EST. The episode will also be available in podcast form on Apple Podcasts, Google Play, TuneIn, Stitcher, iHeartRadio and Spotify.