PRESS RELEASE: Avison Young Named Exclusive Leasing Agent for 27-Story FiDi Office Building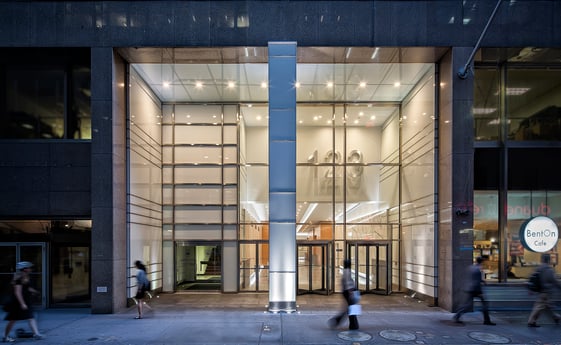 23 Jun 2020
Renovated property at 123 William Street has undergone transformational change
New York City – Avison Young has been named the exclusive leasing agent by New York City REIT, Inc. for its 27-story, 550,000-square-foot office building located at 123 William Street in Manhattan's Financial District ("FiDi").
Todd Korren, Principal of Avison Young, will be leading the assignment on behalf of building ownership.
"We're thrilled to be serving as the exclusive leasing agent for 123 William Street and look forward to reintroducing this prime renovated office property in the heart of the Financial District to both tenants and brokers," Korren said. "The building's excellent transportation options, proximity to an extensive array of restaurants, bars, green spaces and extensive waterfront, and open layouts of 12,000 square feet with great views and light make it ideal for TAMI, FIRE and non-profit tenants."
The building is steps from the entrance to the Fulton Street Transit Center, which offers access to 11 subway lines including the A, C, E, 4, 5, J, Z, 1, 2, 3, R and PATH trains; ferries to New York and New Jersey; and a few blocks to the FDR Drive.
The assignment will be a strategic alliance between Avison Young and InterRelate Group's Thomas Kaufman, CEO, and Jeremy Dukes, Senior Vice President. Kaufman added, "This building has undergone a transformational change in recent years, boasting a renovated lobby, redesigned entrance, upgraded mechanical systems including narrow profile convectors and tenant-controlled equipment, new windows and new bathrooms."
In addition, 123 William has a Wired certified Silver rating and is being considered for the Building Owners & Managers Association (BOMA) Pinnacle Award.
Avison Young also is the exclusive leasing agent for another New York City REIT, Inc. property located at 1140 Avenue of the Americas where Korren and his Avison Young team's hands-on and proactive strategy has resulted in over 61,000 square feet of office space leased in the last year.
About Avison Young
Avison Young is the world's fastest-growing commercial real estate services firm. Headquartered in Toronto, Canada, Avison Young is a collaborative, global firm owned and operated by its Principals. Founded in 1978, with legacies dating back more than 200 years, the company comprises approximately 5,000 real estate professionals in 120 offices in 20 countries. The firm's experts provide value-added, client-centric investment sales, leasing, advisory, management and financing services to clients across the office, retail, industrial, multi-family and hospitality sectors. For more information, please visit Avison Young New York or follow them on Twitter.
Media Contacts:
Gail Donovan, Senior Director of Marketing, Tri-State
Avison Young
[email protected]
212.210.5990 - direct
or
Tom Nolan | Great Ink Communications
t
[email protected]
908.392.0333