PRESS RELEASE: Avison Young Report Shows Manhattan Office Vacancy Rate Rose to Record Level in the First Quarter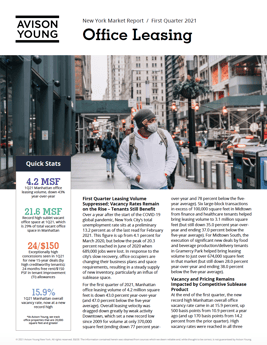 April 8, 2021
Leasing volume remained weak; asking rents fell
New York, NY –Manhattan's overall office vacancy rate rose to a record high of 15.9 percent at the end of the first quarter, up from 10.9 percent a year ago and 14.2 percent in the prior quarter, according to Avison Young's New York Office Leasing Report-First Quarter 2021.
High vacancy rates were reached in all three major market segments in Midtown (15.5 percent), Midtown South (17.0 percent) and Downtown (15.9 percent).
"The vacancy rate can be attributed in part to the 52 million square feet of direct space on the market, but also to the influx of sublease space," said Marisha Clinton, Senior Director of Research, Tri-State, and the report's author. "Since March 1, 2020, over 10.2 million square feet of sublet space has been added to the Manhattan market, bringing the total sublet space to 21.6 million square feet, a record high. Sublet space now accounts for 29.4 percent of the total vacant space available and, at this percentage level, we have seen the impact on direct average asking rents and downward pressure on overall pricing."
Manhattan overall average asking rents ended the first quarter at $74.67 per square foot, down 10.1 percent year-over-year from $83.07.
Clinton continued, "When we compare the current average asking rents to where they were at the end of 1Q20, just after the start of COVID, the declines range from 2.0 to 11.0 percent. Due to additional competitive lower-priced sublet space on the market, with possibly more to come, we can expect to see further decreases in average asking rents as well as continued increases in vacancy rates."
With the unemployment rate at 13.2 percent in February 2021, New York City's slow recovery has altered business plans and space requirements.
Office leasing volume in Manhattan totaled 4.2 million square feet in the first quarter, a decline of 43.0 percent year-over-year and 47.0 percent below the five-year average. Overall leasing velocity was dragged down greatly by weak activity Downtown, which set a record low since 2009 for volume at only 370,000 square feet, ending down 77 percent year-over-year and 78 percent below the five-year average.
Smaller tenants, however, are in the market and seeking to take advantage of attractive deals. In terms of space preference, buildings with high quality pre-built offerings (sublet or direct) under 15,000 square feet remain highly sought after.
For the first quarter of 2021, 91.0 percent of closed transactions were for space requirements under the 15,000-square-foot threshold. This is up from 79.0 percent for the same period last year. Although an active part of the market, some of this smaller deal activity came with shorter terms, with lease expirations of five years or less. More times than not, landlords were still generous with concessions and other incentives in an effort to boost occupancy during this COVID-19 environment.
To read a copy of the full report, please click here.
Avison Young creates real economic, social and environmental value as a global real estate advisor, powered by people. As a private company, our clients collaborate with an empowered partner who is invested in their success. Our integrated talent realizes the full potential of real estate by using global intelligence platforms that provide clients with insights and advantage. Together, we can create healthy, productive workplaces for employees, cities that are centers for prosperity for their citizens, and built spaces and places that create a net benefit to the economy, the environment and the community.
Follow Avison Young
Twitter (News) │ Twitter (Deals) │ Blog │ LinkedIn │ YouTube │ Instagram
For more information: