Avison Young arranges 38,000-square-foot lease for TMRW Life Sciences at 250 Hudson Street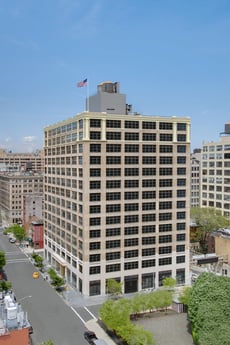 August 16, 2021
The innovative life sciences tech company will expand to the entire sixth floor and a portion of the ground floor of the building
New York – Avison Young's New York City office announced today that it has arranged a new 38,000-square-foot (sf) lease for TMRW Life Sciences, the world's first and only automated platform for the safe management and care of the frozen eggs and embryos used in IVF. The fertility technology company inked a 12-year lease for the entire sixth floor and a portion of the ground floor of 250 Hudson Street, where they currently occupy 5,500-sf on part of the seventh floor. TMRW will utilize its new space for its corporate headquarters, including its research and development and product and engineering teams, as well as a sales, marketing, and training center for use with existing and potential partners.
Mitti Liebersohn, Principal and Managing Director of Avison Young's New York City office, represented TMRW in the negotiations while Adam Rappaport represented the landlord, Jack Resnick & Sons.
"TMRW Life Sciences is a pioneering force in IVF technology and as the company continues to rapidly grow, the opportunity to expand its presence in the same building where it had already been successfully operating was a natural fit," said Liebersohn. "TMRW's expansion reflects the need for its revolutionary platform as well as the continued appetite for class A commercial space from life sciences occupiers in the Manhattan market."
Melanie Goldey, Chief Operating Officer and Chief Financial Officer at TMRW, added, "This marks an exciting time in TMRW's growth as we work to provide cutting-edge solutions in the field of IVF care. Having established a rapport with Mr. Liebersohn prior to joining TMRW, it furthered our confidence in Avison Young's ability to recognize our real estate needs and secure a modern, functional space that can accommodate our company's future growth and opportunities."
TMRW Life Sciences has pioneered the first-ever automated platform for the management, identification, and storage of the frozen human eggs and embryos at the center of nearly every IVF procedure. Unlike the manual storage tanks used in IVF clinics worldwide, the TMRW platform automates the management tracking and storage process using integrated software and hardware. Through state-of-the-art technology, TMRW is setting a new standard of IVF care and working to streamline tasks prone to human error.
Avison Young creates real economic, social and environmental value as a global real estate advisor, powered by people. As a private company, our clients collaborate with an empowered partner who is invested in their success. Our integrated talent realizes the full potential of real estate by using global intelligence platforms that provide clients with insights and advantage. Together, we can create healthy, productive workplaces for employees, cities that are centers for prosperity for their citizens, and built spaces and places that create a net benefit to the economy, the environment and the community.
Follow Avison Young
Twitter (News) │ Twitter (Deals) │ Blog │ LinkedIn │ YouTube │ Instagram
For more information:
Mitti Liebersohn, Principal & Managing Director, New York City: +1.212.729.7734
Natalie Weiner, Media Relations & Content Specialist, Northeast: +1.212.219.7055