New York office market reports
Q2 2021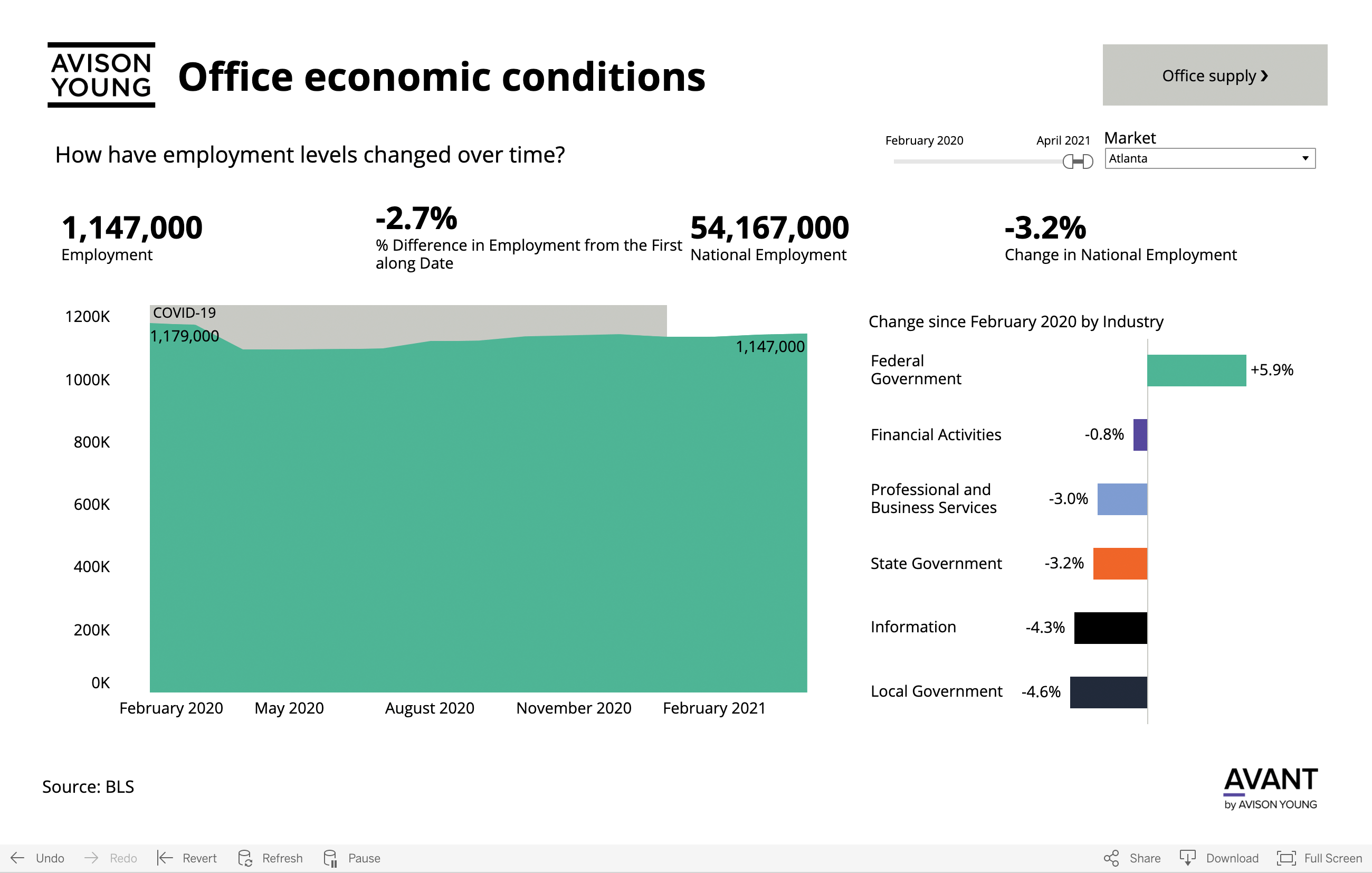 This dashboard is best viewed in a wider browser window.
The Manhattan office market showed signs of reawakening in Q2 2021 as accelerated vaccination rates allowed many pandemic-related governmental restrictions to get lifted, enabling employers to increasingly return to the office. However, the post-COVID office return-to-work recovery rate as measured by extrapolated smartphone data remains low, totaling just 12.3% through June 20, 2021. This recovery rate is expected to rise considerably by Labor Day, enabling office occupiers to cement their long-term occupancy strategies and navigate the predominantly tenant-favorable market environment with more conviction.
8.3%
Unemployment rate as of April 2021
Reopening efforts enabled the Manhattan economy to recapture more than 110,000 jobs year-over-year, an increase of 15.4% of the labor force.
12.3%
Post-COVID office recovery rate
Bellwether companies are increasingly mandating their employees to return to the office by Labor Day, which should cause this recovery index to rise considerably.
+7.2%
Average lease term length since January 2021
Leasing activity remained sluggish by historical standards, though increasing lease term lengths indicate that a rebound in demand could be forthcoming.
19.2%
Total Q2 2021 availability rate
The Q2 2021 vacancy rate represents a post-2000 high in terms of sublease (4.4%) and total (19.2%) percentages.
-10.8%
Net effective rents from April 2020 to June 2021
Net effective rents have shown signs of stabilizing since March 2021, signaling that demand has incrementally risen.
-20.5%
Asset pricing from December 2019 to June 2021
Weaker occupier fundamentals have been partly to blame for softened asset pricing since the pandemic.
Your source for the latest New York office market reports
Get in-depth office market reports and insights from commercial real estate experts in the Greater New York area. Avison Young advisors look at New York commercial real estate activities and the latest New York statistics to provide you expert market research on New York's office properties.
Explore different topics like the latest office market pricing trends and analysis of New York's current office real estate market conditions. Gain a better understanding of New York's office real estate outlook and stay ahead of current office space trends. Make smart decisions when it comes to investing in office properties in New York's competitive office real estate market. Avison Young is your trusted source for commercial real estate office market insights in New York.
The dashboard was delivered through AVANT by Avison Young: leveraging real-time data and analytics to make cities and location-based decisions more transparent and efficient. Learn more about AVANT.
Get the latest New York office market reports right in your inbox