East Bay/Oakland office market reports
Q2 2021: The East Bay/Oakland vacancy is made up mostly smaller size ranges (under 20,000 sf) but the number of full-floor availabilities has been on the upswing. A few sizeable leases would help to bring vacancy back down to historical averages.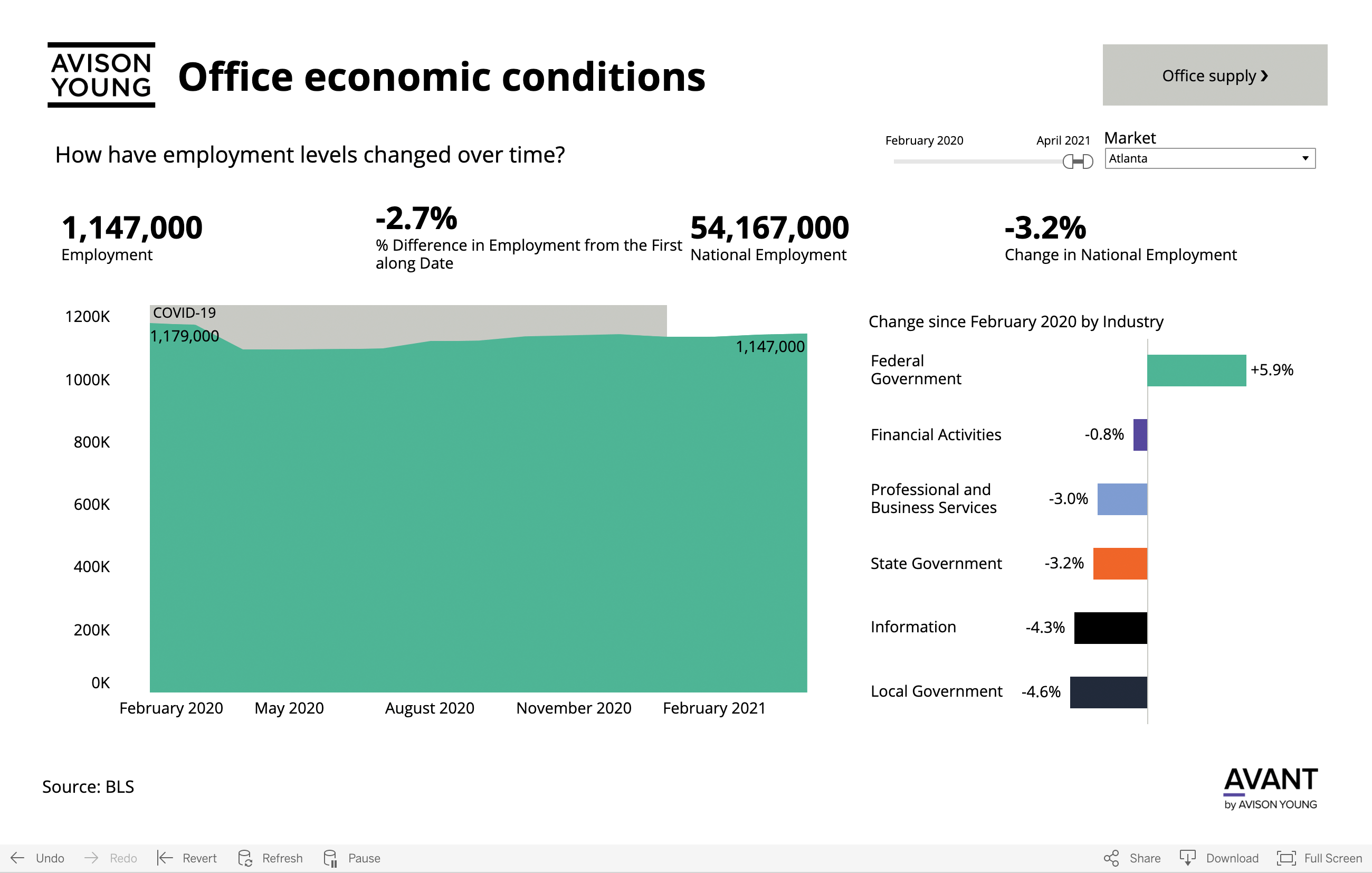 This dashboard is best viewed in a wider browser window.
Demand has been similar pre and post COVID. It is still early in the return to office process and companies have yet to make solid real estate decisions. The shakeout may lead to more subleases coming to the market during the second half of 2021.
6.3%
Economic conditions
Reopening efforts and higher vaccination rates have allowed the East Bay/Oakland unemployment rate to rebound from a high of 14.6 percent in April 2020 to 6.3 percent now.
-48.4%
Leasing activity
Leasing activity has paused, decreasing by 48.4 percent compared with long-term historical averages.
14.8%
Vacancy
Direct and sublease vacancy have achieved levels approaching all-time highs, totaling 14.8 percent.
939K
Sublease space
The sublease market continues to drag aggregate fundamentals, accounting for 939,900 sf of vacant space.
-3.7%
Rental rate
East Bay/Oakland Class A average asking rents decreased by only 3.7 percent from the peak in 2020 through 2Q21.
38.4%
Capital markets
Asset pricing has grown by 38.4 percent from November 2019 to present. Interest in this market, coupled with abundant capital and no new inventory, should sustain this growth.
Your source for the latest East Bay/Oakland office market reports
Get in-depth office market reports and insights from commercial real estate experts in the Greater East Bay/Oakland area. Avison Young advisors look at East Bay/Oakland commercial real estate activities and the latest East Bay/Oakland statistics to provide you expert market research on East Bay/Oakland's office properties.
Explore different topics like the latest office market pricing trends and analysis of East Bay/Oakland's current office real estate market conditions. Gain a better understanding of East Bay/Oaklands office real estate outlook and stay ahead of current office space trends. Make smart decisions when it comes to investing in office properties in East Bay/Oakland's competitive office real estate market. Avison Young is your trusted source for commercial real estate office market insights in East Bay/Oakland.
The dashboard was delivered through AVANT by Avison Young: leveraging real-time data and analytics to make cities and location-based decisions more transparent and efficient. Learn more about AVANT.
Get the latest East Bay/Oakland office market reports right in your inbox