News Item - Orlando
Avison Young closes court-ordered $23M sale of Biscayne 79, a transformative ±3.5-acre development site and former Immigration and Naturalization Service location, on Miami's famed Biscayne Boulevard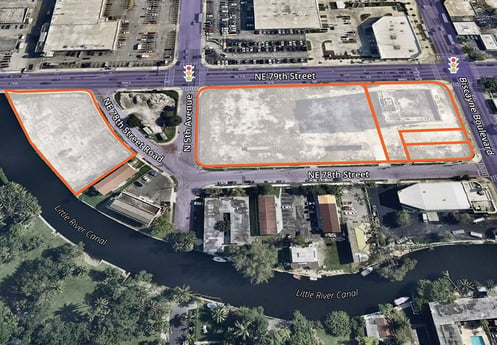 May 18, 2023
MIAMI – On behalf of court-appointed receiver Michael Goldberg, Avison Young's Florida Capital Markets Group completed the $23 million sale of Biscayne 79, a prime development opportunity including the former Immigration and Naturalization Service location at 7880 Biscayne Blvd. in Miami.
Avison Young Principals Michael T. Fay, who is also Managing Director of the firm's Miami operations; Jay Ziv; John K. Crotty; David Duckworth; and Brian C. de la Fé completed the sale. The buyer was Miami-based B Group Capital Management.
Biscayne 79 includes a ±2.6-acre parcel with direct frontage to the hard corner of Biscayne Boulevard and 79th Street and a non-contiguous ±0.9-acre waterfront parcel along Little River, ideally positioned directly in the northern path of high development growth extending from Greater Downtown Miami. Both parcels are zoned for mixed-use, allowing for the construction of 500 residential units in addition to commercial uses across two towers built to a height of up to 12 stories, and a total buildable area of ±889,000 square feet.
"Situated in the heart of Miami's bustling Biscayne Corridor with the potential for a developer to build office, retail, residential, and hospitality components, this rare opportunity attracted offers from a variety of potential buyers," said Fay. "Ultimately, the right buyer proved to be a locally-based investor with a deep understanding of the site's value, which allowed us to achieve the highest possible price for all stakeholders involved."
Upon the appointment of Receiver Goldberg, Avison Young successfully spearheaded several court-ordered real estate asset dispositions over the years, including the 2022 sale of the Champlain Towers South land in Surfside, Florida, for $120 million. Well-known for complicated high-profile land transactions throughout Florida, Fay and team most recently marketed the 15.5-acre Downtown Miami waterfront development site which is set to sell for $1.225 billion.
The Avison Young Florida Capital Markets Group is currently marketing Biscayne 85, a contiguous ±15.9-acre opportunity at 8500 Biscayne Blvd., located partially in the town of El Portal and partially in the City of Miami. With aggressive mixed-use zoning, Biscayne 85 can accommodate a massive, planned development comprising ±3.45 million square feet of buildable space and ±2,380 residential units.
Over the past 2.5 years, Miami has become a Tier-1 American city, on par with New York City and Los Angeles. It was ranked the fifth-most walkable of the largest cities in the U.S. in 2022. Additionally, high-income earners and some of the most successful financial services, technology and cryptocurrency firms continue to relocate to Miami from other major metros. As a result, rents across commercial real estate asset classes in Miami are at all-time highs, and development sales continue to break records.
About Avison Young
Avison Young creates real economic, social and environmental value as a global real estate advisor, powered by people. As a private company, our clients collaborate with an empowered partner who is invested in their success. Our integrated talent realizes the full potential of real estate by using global intelligence platforms that provide clients with insights and advantage. Together, we can create healthy, productive workplaces for employees, cities that are centers for prosperity for their citizens, and built spaces and places that create a net benefit to the economy, the environment and the community.
Avison Young is a 2022 winner of the Canada's Best Managed Companies Platinum Club designation, having retained its Best Managed designation for 11 consecutive years.
For more information: