Phoenix office market report Q3 2021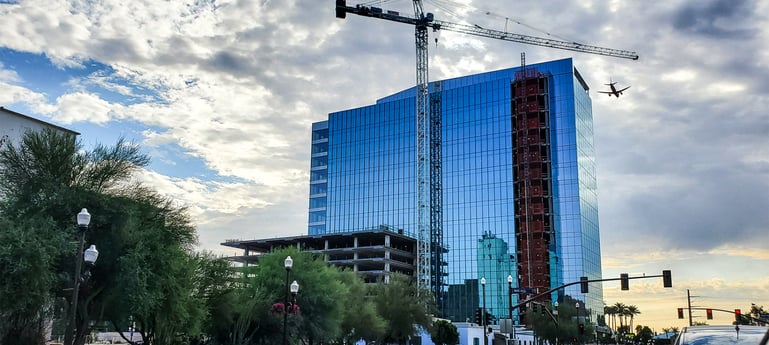 October 13, 2021
Key takeaways:
Economic conditions
Reopening efforts have enabled the Phoenix unemployment rate to rebound from a high of 13.5 percent in April 2020 to 5.7 percent in July 2021.
Post-COVID office-using job losses totaled 4.2 percent compared with leisure and hospitality job losses that totaled 13.2 percent, underscoring the disproportionate impact the pandemic had on the discretionary segments of the local economy.
Recovery rate
Numerous economists and business leaders believe that Phoenix is on pace to recover quicker than the national average. Minimal COVID-19 restrictions since the end of Q1, relatively low cost of living expenses, and an influx of new residents and corporations are a few commonly cited reasons for the positive outlook.
In July, Phoenix surpassed the prepandemic employment high with just over 2.45 million workers currently employed.
Office demand
Leasing activity has slowed compared with pre-COVID levels as office workers gradually return and the economy begins to reopen. Postpandemic leasing activity has decreased by 22.9 percent compared with the prior 20-year annual level.
Two notable leases signed in the quarter come from health and fitness related companies. Banner Health signed a new 70,000 sf lease, while Peloton signed a new sublease for their member support team totaling just under 45,000 sf.
Office supply
Direct and sublease vacancy totaled 19.3 percent in Q3 2021. While elevated compared with historical levels, the aftermath of the Global Financial Crisis caused the Phoenix vacancy to surpass 24.4 percent from 2010 and 2011.
The sublease market accounts for 2.2 msf of vacant space.
Approximately 9.0 msf of office space is currently proposed or under construction. The development pipeline is largely comprised of speculative projects, rather than build-to-suits, potentially applying pressure on future supply risk.
Pricing trends
Base rents continued to rise, increasing by 1.7 percent through the first three quarters of 2021. Price increases can largely be attributed to competition for the highest quality office spaces on the market.
Concessions have remained above their historical average since the start of the pandemic as landlords provide incentives to induce tenant commitments.
Capital markets
Deal volume is moving closer to preCOVID levels. Nearly $1.6B of Phoenix offices have been sold since the beginning of 2021, just $93M less than the total level of deals made in 2020 with the typically active fourth quarter upcoming.
Asset pricing has increased by 18.6 percent from September 2020 to Q3 2021, driven in part by higher demand from investors that were less active in 2020.