News Item - Reno
Foot traffic data reveals next normal for 52 markets across North America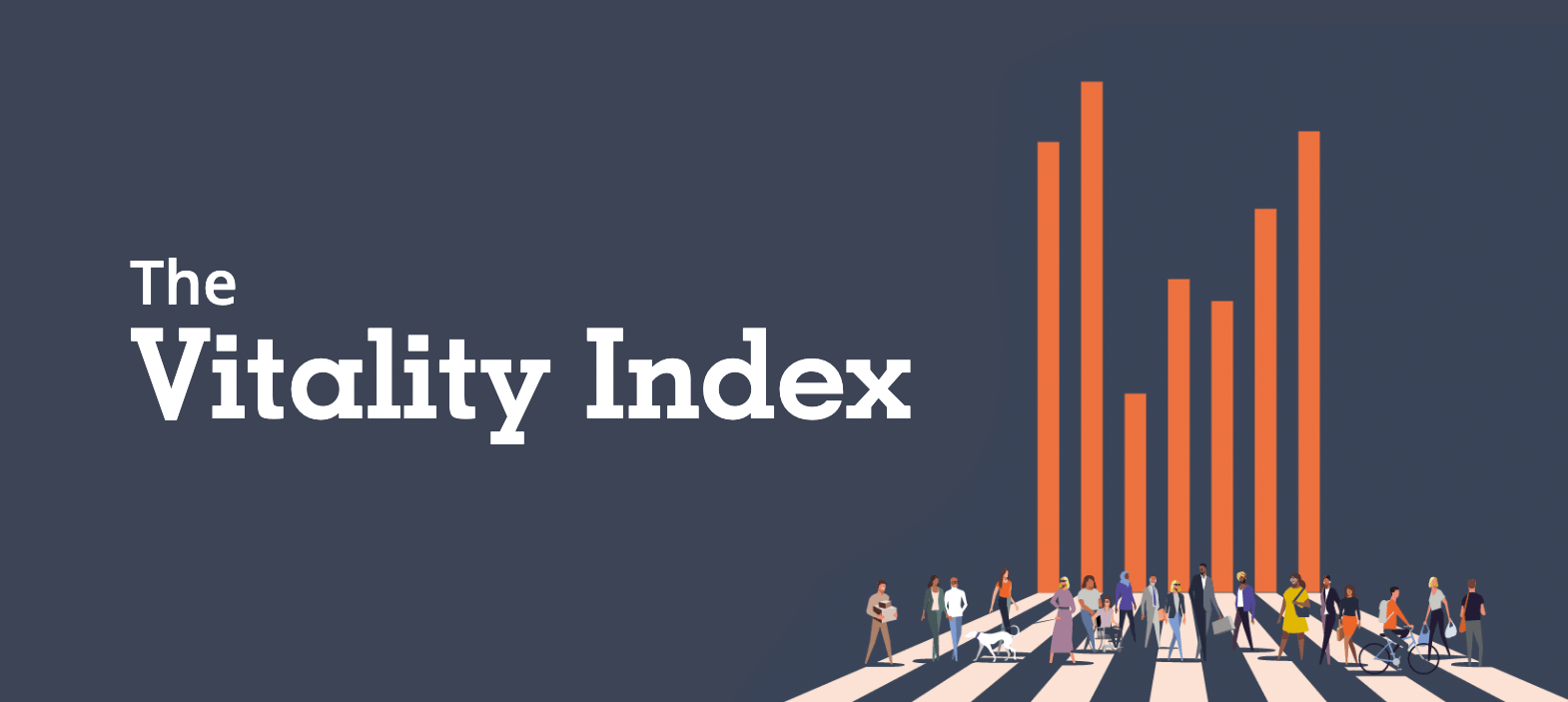 October 6, 2022
Avison Young's Vitality Index offers unmatched snapshot of patterns around different locations, cities and suburbs, days of the week, and office and retail industries
Chicago and Toronto – Avison Young has launched its refreshed Vitality Index, a dynamic dashboard of weekly foot traffic patterns from 52 markets across North America – offering holistic, big-picture views of the vibrancy of our cities that uncover trends and insights in sectors beyond office such as retail, hospitality, healthcare, education, and government.
Data for the week of September 19, 2022, demonstrates a modest increase in foot activity in major North American markets since Labor Day Weekend. In the U.S., average foot traffic has increased by 5% and in Canada, it has increased by 10%. Meanwhile, since the week prior to the lockdown in March 2020, average foot traffic in the U.S. remains 19% lower whereas it is up by 4% in Canada.
Avison Young has taken extraordinary steps to develop a truly unique, differentiating index unlike any other mobility data tracking system. The Vitality Index goes further by refreshing weekly and offering an interactive experience, delving deep into foot traffic patterns in markets and sectors. Data science modeling is used to isolate urban versus suburban foot traffic, to identify patterns on different days of the week, as well as differences among office industries and building classifications. Another layer of the index looks at retail mobility data, dissecting in-person and online shopping experiences to draw parallels between economic conditions, consumer behaviors, and retailer performances.
"We're at a moment in time where culture is driving foot traffic patterns – and the Vitality Index provides insight into what, how, and when spaces are attracting people," said Mark Rose, Avison Young's Chair and CEO. "Our clients are seeking solutions to the very trends tracked by the index. We are witnessing a next normal that is deeply connected to the human experience and we're working closely with clients to help them navigate this journey, informed by the Vitality Index."
The Vitality Index allows owners and occupiers to make timely, informed decisions using market-leading data analytics that provide a comparative lens to pre-pandemic timeframes or other customized dates. Partnering with Orbital Insight, the interactive AVANT by Avison Young dashboard anonymously collects smartphone pings geofenced to unique, strategic locations. Local market experts verified each of the nearly 4,000 index locations to authenticate findings.
About Orbital Insight
Orbital Insight is a geospatial analytics company based in Palo Alto, California. The company analyzes satellite, drone, balloon and other unmanned aerial vehicle images, including cell phone geolocation data, to study a range of human activity, and provides business and other strategic insights from the data.
About Avison Young
Avison Young creates real economic, social and environmental value as a global real estate advisor, powered by people. As a private company, our clients collaborate with an empowered partner who is invested in their success. Our integrated talent realizes the full potential of real estate by using global intelligence platforms that provide clients with insights and advantage. Together, we can create healthy, productive workplaces for employees, cities that are centers for prosperity for their citizens, and built spaces and places that create a net benefit to the economy, the environment and the community.
Avison Young is a 2022 winner of the Canada's Best Managed Companies Platinum Club designation, having retained its Best Managed designation for 11 consecutive years. Avison Young was named to Fast Company's prestigious annual list of the World's Most Innovative Companies for 2022, earning the number one ranking in the Urban Development category.
Contact:
Sandra Hill, U.S. Media Relations: +1 281 853 5548
Andrea Zviedris, Canadian Media Relations: +1 416 891 7416