News Item - San Mateo
Avison Young arranges 47,350-sf of leases nationally for Acorn Health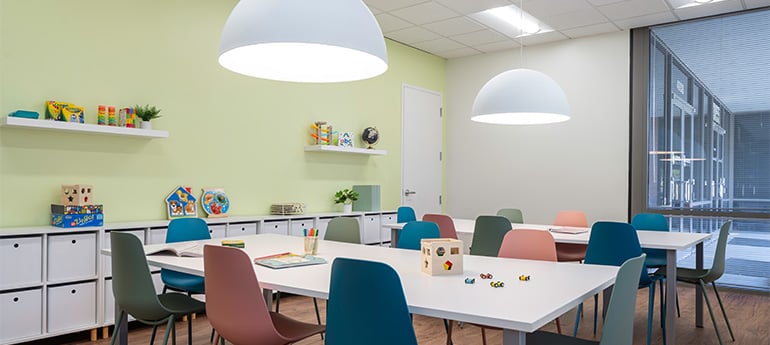 November 3, 2022
New York-based team helps enable strategic, nationwide expansion for autism therapy provider
NEW YORK, NY – Avison Young announced today that it has arranged leases for a portfolio of properties across the U.S. for Miami-based Acorn Health, an autism therapy provider for children, who are often underserved. The properties, located in submarkets throughout Maryland (Ruxton, Owings Mills), Tennessee (Knoxville), Florida (Miami, Tampa & Winter Garden), and Pennsylvania (Allentown), as well as renewals in Crofton, Maryland and Okemos and Clarkston in Michigan.
On Acorn Health's behalf, Avison Young has arranged a combined total of 47,350-sf of leases so far this year across 10 locations with plans to expand into more markets prior to the end of year. Acorn Health is among the foremost autism therapy clinics in the U.S. and continues to grow.
Acorn Health is represented nationally by Brooks Hauf, Senior Director, and Albert Wu, Director who are based in the firm's New York City office. Many of the properties are currently under construction with plans of opening each location in the coming months, along with several lease renewals at existing locations. New locations will include multiple therapy centers in each aforementioned state, including a new headquarters in Miami.
"At Avison Young, we are continuing to grow our investment in the intersection of real estate and healthcare and are passionate about bringing high quality tenants to new markets," said Hauf. "Acorn Health's mission is personally very important to me, and we have worked with exceptional landlord partners such as such as St. John Properties, Inc., and Continental Realty Corporation. To bring these resources to communities like Owings Mills at 2 Crossing Way and Ruxton at 1421 Clarkview Road and expand in three new locations is exciting. When we go beyond the typical framework of brokerage. It just means more." said Hauf.
The team, aided by the firm's AVANT by Avison Young technology, was able to source information to understand the submarkets within each state that could best use these services. "We have been leaning into our demand, competition and demographic healthcare data to pinpoint the most optimal locations for the foreseeable future based on treatment type." said Hauf
"From the start, our relationship with Brooks and his team, has been seamless. We have capitalized on a data-driven, forward-thinking approach that aligns with our objectives for growth," said Brittany Hightower, Director of Site Selection, Acorn Health. "Our partnership with Avison Young opened many new opportunities to properly execute our growth strategy across our portfolio. We are excited to continue our relationship with Avison Young and expand our services in new territories year over year."
About Acorn Health
According to the CDC, one in 44 people are diagnosed with autism. Acorn Health is committed to concentrating our growth where we find families in need and where the number of children requiring our services outweighs the capacity of service providers. Acorn Health is focused on neighborhoods with high concentrations of schools, especially those in urban and urban-adjacent communities where neighborhood demographics report a projected population growth that is impacted by autism.
About Avison Young
Avison Young creates real economic, social and environmental value as a global real estate advisor, powered by people. As a private company, our clients collaborate with an empowered partner who is invested in their success. Our integrated talent realizes the full potential of real estate by using global intelligence platforms that provide clients with insights and advantage. Together, we can create healthy, productive workplaces for employees, cities that are centers for prosperity for their citizens, and built spaces and places that create a net benefit to the economy, the environment and the community.
Avison Young is a 2022 winner of the Canada's Best Managed Companies Platinum Club designation, having retained its Best Managed designation for 11 consecutive years.
For more information:
Download property photos here.
Media contact:
Nathan Reyna, Regional Media Relations & Content Specialist, Northeast: +1.917.877.1697
Business Development:
Brooks Hauf, Senior Director, Office Leasing, New York: +1.202.729.3202
Albert Wu, Director, Office Leasing, New York: +1.212.729.1364